BOP funeral home caught up in gang tensions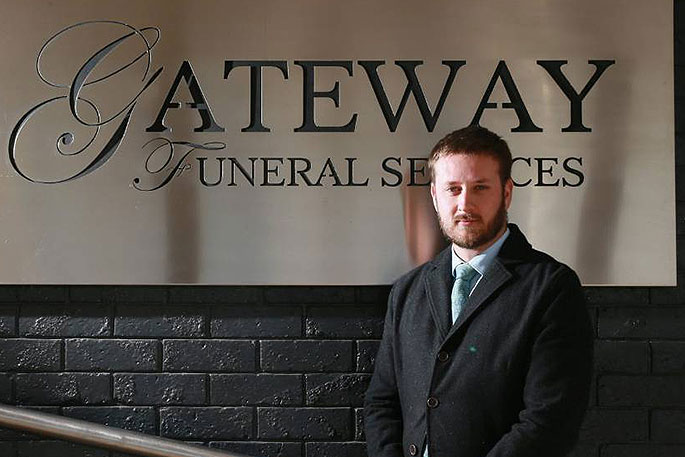 Amid the freshly trimmed lawns and flowerbeds of a suburban Whakatāne street, it's easy to miss the blue patches of a Black Power hotbed.
But as dusk fell on Awatapu Dr one night in June, guttural shouts and the sound of bottles shattering outside a funeral home roused neighbours from their dinners.
Despite police being on standby and a senior Black Power member keeping watch over Gateway Funeral Services, chaos erupted when rival gang, Kawerau Mongrel Mob, made the 28-minute journey to collect a body from the funeral home.
The body of Norman Te Rangi, who drowned after jumping into a river while fleeing police, had just been embalmed when machetes and bats began to be flung.
For Kawerau, a town of 7000 with a strong Mongrel Mob presence, the closest funeral homes are in neigbouring Whakatāne, less than half an hour away.
When young, red-patched mob members swarmed out of their cars to collect Te Rangi's body on June 28, the rival gang's long running feud with Black Power reignited.
When Gateway Funeral Services director, 24-year-old Bradley Shaw, showed up to work after the clash, his inbox was flooded with emails from worried residents asking him to move, and to stop accepting bodies of those with Mongrel Mob affiliations.
It's not the funeral home's first brush with gang clashes. In 2017, Kawerau Mongrel Mob member Tahu Kingi's death sparked a violent brawl when Kingi's body was collected.
Shots were fired in broad daylight on a busy road and a member of the public was dragged from his car with a gun held to his head. Three guns were pointed at police and an officer was hit by shotgun pellets.​
In 2007, swords and knives were reportedly used in a brawl following an Ōpotiki Mongrel Mob member's death.
"It's a hard one because I'm not sure whether these kinds of issues can be stopped," says Bradley.
"Regardless of where I put my funeral home, if I'm dealing with a rival gang, what's the chances [the other gang] is going to drive past or get word? It's hard to have it on the quiet when you have people in patches."
Often funeral homes won't realise a family has gang links until people turn up with patches but nonetheless it wouldn't be right refusing them, says Bradley.
"We look at everybody as a person. They deserve a dignified farewell regardless of colour or gang."
He says despite the fracas, both gangs had been "respectful" to himself and his staff.
"There's never been an issue in the building. It's just outside of it unfortunately."
Aria Taylor was home with her children and among those watching the gangs brandish bats, machetes and throw bottles at each other.
A car tried to ram a cluster of gang members standing on the road. The car was set alight later that night.
"It was a bit scary for the little ones."
Officers and the Armed Offenders Squad were called for back up, areas were cordoned off, and six people were charged with rioting.
Black Power member Charles Wharton lives across the road from the funeral home and had been keeping an eye on things that night but, "it took off too fast".
He understands his neighbours are angry at Gateway Funeral Services, but it wasn't the funeral home's fault, he says. The problem is "tricky" but one that would be solved between the gangs.
While there was a level of respect between senior members of the opposing gangs, which usually entailed an understanding for body retrievals, young gang members didn't always listen to their elders, he says.
It doesn't help that Whakatāne Black Power is divided into many different chapters meaning, "they've got no direction, running riot, no leader".
It's an issue that's "festering" and can't continue for two towns living a stone's throw away from each other, Kawerau mayor Malcolm Campbell says.
A week before the brawl, a Black Power member had been attacked while having lunch in Kawerau.
"We're used to it and that's the sad part about it. It's normalised but it's not really normal."
But the problem wouldn't be solved by Kawerau simply building a funeral home - it wasn't sustainable for such a small town, he says.
Instead, he plans on proposing a hui between Eastern Bay of Plenty mayors, gang leaders and Kaumatua to hash it out.
"This is crazy. If they can't walk into each other's patches without going to war that's bloody nuts.
"Whakatāne is our main service town for the eastern Bay of Plenty. It makes it quite difficult for people to be going shopping with that sort of carry-on."
Mob member turned Kawerau District councillor Warwick Godfery says the territory problem grows worse as senior gang members grow too old to keep the "young and dumb" in line.
"[Their] influence over the younger gang members have diminished. It's just the cycle."
The violent territory clashes date back to his patched days and he says it's understood between members that hospitals and court were a "neutral area" and it stood to reason funeral homes would be too.
All the children in Kawerau go to decile one schools and grow up surrounded by gang members, Godfery says from a Kawerau Youth Council day.
He's surrounded by bake sales and children - including his moko - playing on playgrounds.
"These are awesome kids. We want them to grow up in a safe community."
More on SunLive...