A home for transformation and healing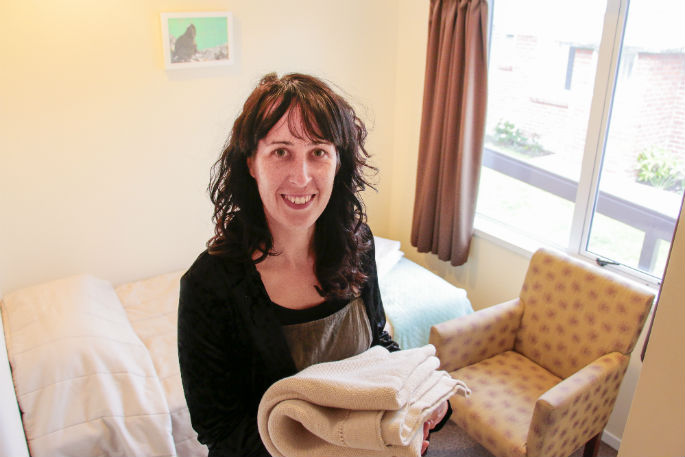 In te reo Māori the word 'awhi' means to embrace.
That is exactly what they are doing at Awhina House – fully embracing homeless women, providing them with a supportive and safe space to live.
The shelter in opened in April this year and is currently housing ten women ranging in age from 18 to 64.
Lead support officer Delwyn Rowan says there is a real need to help homeless women in Tauranga due to their extreme vulnerability when living on the streets.
"It's a diverse range of wahine in here with a range of needs, and the referrals just keep on coming.
"Women's homelessness is so much more hidden than men's and they are so much more vulnerable.
"They don't sit out on the street as much, they just keep to themselves and it's those women being referred to us."
General manager Angela Wallace says since opening, it has been "amazing" walking alongside each resident to help them find their feet.
"We want to support each woman so this space can be a launching pad for them to carry on and be independent."
Angela highlights the importance of providing each female with their own bedroom, saying that it gives them a space to rest and reflect.
"We offer a safe place to be, to sleep, somewhere to get out of their vulnerable situation.
"I had a lady say to me the other day that it's just amazing to have a bed to sleep in. She was so stoked to be able to find who she is again through having that space."
Awhina House offers women wrap-around services, including budgeting advice, counselling and different workshops.
Delwyn says she works closely with each client, helping them to achieve long-term goals.
"It's very much client lead. Everyone is completely different and it's about what they want for their way forward.
"Our eyes are on helping them to be housed in the community and living independently."
Angela says many of the women living in the shelter are mothers and the end goal is to have some of them reunited with their children once they are housed.
"We don't have children here but a lot of the women are mums and they have children in the care of Oranga Tamariki.
"We are always working on reconnecting them with whanau, and once they are housed we would love to see them reunited with their kids."
She points out that the facilities are not a band aid for homelessness, rather a place for transformation.
"Our board's vision for this place is to see people leave here in a better place than when they came in, with support around them, housed and succeeding in the community."
Positive stories are already starting to emerge from Awhina House, with women enrolling in tertiary studies and another about to be reunited with her children.
"We have one young girl who has just enrolled at polytech, and another is looking to do full-time social work next year, and she has never had an education," says Delwyn.
"One lady is just about to have her children back for full-time care, and the work she has done is phenomenal."
Both Angela and Delwyn agree that they require private rental homes for their clients to live in once they are finished at Awhina House.
"We do a really good service and I would love private rental people to give our girls a go. The need is having a space to go once the programme is completed, with support continuing from us," says Delwyn.
More on SunLive...