Call goes out for new Bill Simpsons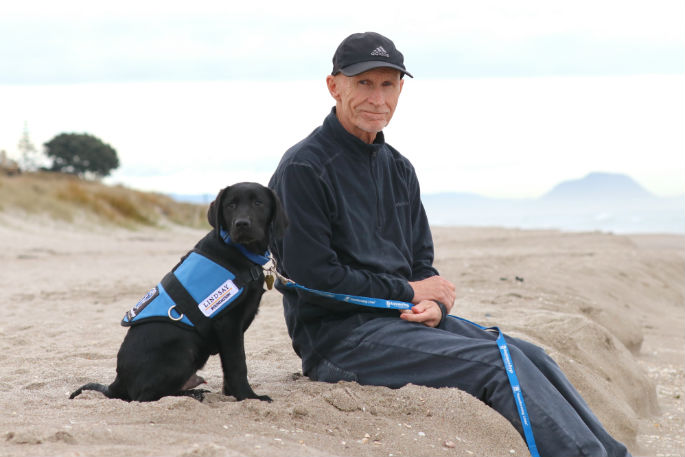 "Kevin, that's right, Kevin's his name."
Kevin the dog. But he also gets Kev, or Kevy.
"A bit unfortunate," laughs the puppy raiser, Bill Simpson. "It's like calling your cat John, isn't it. This is my cat John, and this is my other cat David." In some countries, the name Kevin has achieved pariah status, in Germany there's even a quasi-disease called Kevinismus. And American research shows given names - like Kevin - can negatively influence outcomes throughout life.
But our Kevin, a little black Labrador puppy, dead set cute with a forceful personality should cope with all those societal pressures, should they eventuate. "Kevin will be good," says the puppy raiser. "I am sure he will be a good little fella."
And so is Bill Simpson a good 'fella.' The 65-year-old works in sales in the building industry, lives alone, likes dogs, but didn't think it fair to own one and leave it home all day.
But then one day he bailed up a guy walking into Pet Essentials with a pup in tow. It was wearing a little blue coat – the distinctive livery of Assistance Dogs New Zealand. "He told me they were always looking for puppy raisers and suggested I apply."
Assistance Dogs NZ train service dogs to be companions and a big brother to people with disabilities like autism, Down syndrome, cerebral palsy, brain injury, developmental impairment and diabetes – to help them navigate a difficult world. At eight weeks the would-be assistance dog goes out to a volunteer puppy raiser - like Bill - to be cared for, socialised and get some initial obedience training.
That's how Bill got started. That's how it still rolls – team Bill and Kevin. "He's with me at the office, at show homes, on-site visits – all the stuff that's part of my job. My boss gave it his blessing because without it, this wouldn't have worked."
And no-one said parenting was easy. "There's no disguising it, they're hard work to get house trained." So the puppy-raisers see them through the difficult times, like parents with a recalcitrant teenager, and when they come out well-adjusted young adults, they hand them over for the business end of training, six to eight months of more extensive training for the assistance role they are likely to perform.
But handing Kevin back? Surely it's like surrendering a child for adoption. "I have this kind of throwaway line that Kevin could spend the next ten years with boring old Bill, or he could go and do something useful." Funny and self-effacing. "Yeah, it does mask what you're actually feeling, you grow very attached, and you know when you get to that stage, it's a very loveable well-behaved dog you are about to give up." So, what's in it for Bill?
"Well you have to love animals first and foremost. But the reason you do it is you know Kevin will make a difference to someone's life. You would have to examine your sanity if you wanted to continually raise pups for no good reason."
He uses another analogy to explain coping with handing back. "I tell people, and again it's a bit tongue in cheek, if you remember when you were young and you got a new girlfriend and you weren't the one that was dumped. It was a lot easier.
"So just focus – because the pups are demanding, and while you do miss a dog, you've just got to focus on what you're doing in the moment. That helps me with the transition."
There's a delightful family synergy at play here. "I had Kevin's Dad." You see, Kevin is Bill's fourth charge, the fourth time he has offered welfare, development and early training to an assistance puppy. "Guide Dogs Queensland donated Kevin's Dad to Assistance Dogs New Zealand for the breeding programme. They froze his semen and now Kevin is the pup of the old dog."
Kevin's got his own personality – pushes the boundaries, a bit noisier but already responsive to Bill's voice.
So what does all this tell us about the voice itself, Bill Simpson – a single, full-time working man, who enjoys swimming three times a week, and juggling the welfare of a demanding pup? "Sounds like one of those questions you get at your corporate interview, isn't it? What do you think your biggest weakness is? I don't have any mate?"
He guesses he is a fairly compassionate person, "A mixture of pragmatism and compassion which sometimes fight with each other.
"Kevin gives me a purpose, something to focus on as well. And I feel like everyone wants to contribute or feel like they are contributing to something. And I suppose, as an assistance puppy raiser, you are contributing in a very small way to Assistance Dogs NZ. And they're a good organisation. Nice to be part of it."
Back to 'K' for Kevin. A vet in Te Awamutu who sponsors care for assistance dogs was given the letter K to choose a name. "Some dogs get really cool names." But Kevin, Kev or Kevy got Kevin. "They just had a bit of fun and everyone thinks it's funny. It's cool."
Assistance Dogs NZ have their annual appeal from August 5-10. They're always looking for new Bill Simpsons. For more information go to: www.assistancedogstrust.org.nz
More on SunLive...