From Katikati to Ms Great Britain finalist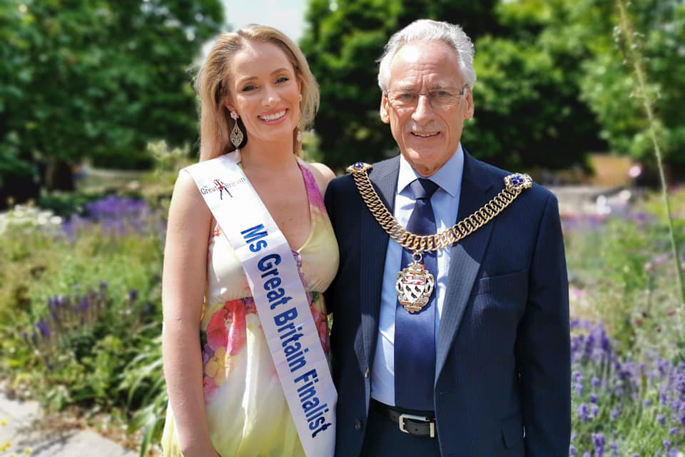 Hailing from a family property near Katikati in the Bay of Plenty, Shelley Grierson is now a finalist in the Miss Great Britain competition.
For the competition's 75th anniversary they have opened a new category. The new category dubbed Ms Great Britain is for women over the age of 27 with no upper age limit, and no marital or parental limitations, whereas Miss Great Britain is required to be 18-27, single and has no children.
Shelley says what made her first enquire into the competition was after meeting the former Miss Congo UK winner on LinkedIn, which lead her to do some research on who the current 'Miss' title holders were in the UK.
After doing this research, she found out about the new category and got in touch with organisers to say it was a great idea.
"After a bit of back and forth, I was encouraged into applying, and I'm very glad I did!"
In her working life, Shelley is a director of marketing at a neuromarketing consultancy called Space Between. She also host LinkedIn Ladies UK – a networking event that aims to support and mentor women in leadership roles within business. She also works as a mentor for young women with the Princes Trust Charity and lectures by distance for a University in West Africa on Digital Marketing.
Although not coming from a pageant background and never doing something like this before, Shelley sees this as an advantage.
"I can bring a fresh perspective and audience to the competition, into what has traditionally been a very niche market.
"The Miss Great Britain televised final takes place in Leicester, at the Athena Arena on February 20 -21 2020.
"All the finalists in the category of Miss and Ms Great Britain will be there, and the two winners will be announced on the final night. The decision is made by a panel of judges based on performance on the night and interviews with the judges.
"In the meantime, the Miss Great Britain and Ms Great Britain finalists are also required to get involved in some key initiatives: fundraising for charity, social and community initiatives, and positive PR/media. The official charities for the event this year are Cancer Research UK and Alex's Wish."
Once she made peace with the scary part of applying, and then the scarier part of being selected as a finalist, Shelley started to embrace the competition as a challenge that pushes her boundaries and comfort zone.
"I also had the epiphany that it's probably people like me that the competition are actually trying to reach – women that are genuinely spearheading these social and community initiatives – because they enjoy doing it – and not just as a requirement of being a contestant in a pageant.
"So my aim is very simple – to challenge myself, and regardless of the end result, to have a positive impact on the Ms Great Britain brand. The ultimate aim is to encourage more women to give it a shot, more businesses to support the event, and more awareness in general about all the great charities and causes it supports.
"I just think it's fantastic that the inaugural year for the Ms Great Britain title is so well timed, as body image and perception of women in beauty, and ageism is so topical. The Ms Great Britain category is for women over the age of 27, with no upper age limit, and no marital or parental limitations whereas Miss Great Britain is required to be 18-27, single, and no children.
"This is a result of Miss World's international regulations, so it would be great to see the international impact of Ms Great Britain, and to see if New Zealand will follow suit with a similar category. Ultimately, it would be amazing to see a Ms World as well!"
To support Shelley in the Ms Great Britain competition check out her official fundraising page at https://uk.virginmoneygiving.com/ShelleyGrierson1. To follow along with the competition, follow the hashtag #MsGreatBritain
More on SunLive...