Saying no to plastic in Te Puke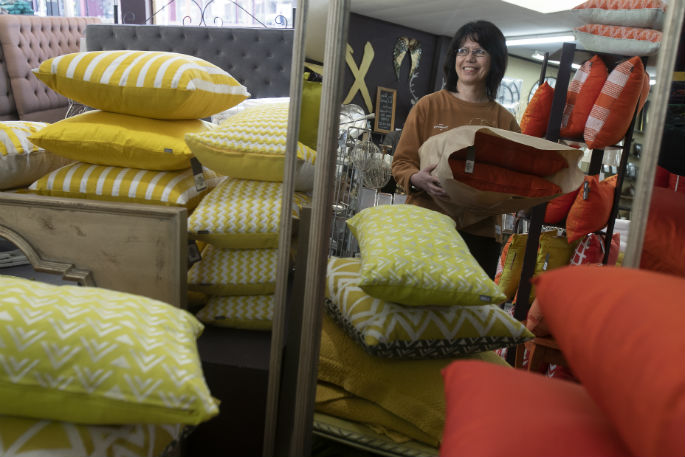 It's not shoplifting, it's not a robbery – don't call the cops!
That person emerging from Xcetera on Te Puke's main street laden with cushions and knick-knacks is making an environmental statement - not a getaway.
"Our customers do not expect a plastic bag for their purchases anymore," says Xcetera owner Emily Schwartfeger.
"They're opting not to have a bag, any sort of bag at all."
Clients at this Manchester, kitchenware, occasional furniture and gift outfit at the other end of Jellicoe Street have not just embraced the single-use plastic shopping bag ban, but are growing it.
"They're saying keep your paper bags and save the planet."
As a proud retailer Emily doesn't feel comfortable sending customers out onto the street cradling an armful of purchases and no packaging.
"That's just conditioning. I will get used to it." Because not so long ago, customers would comment or complain if we dared not put something in a bag or wrap it. Now it's the other way round.
Up the road and right at the roundabout, they're making coffee – the aroma is trance inducing and draws you to the front door of The Daily Café. They've also made some serious choices here.
"We encourage customers against a sippy, or takeaway cup," says Bex Billington of The Daily. "Get a keet cup or a boomerang cup, which means that they can borrow a cup. If it's returned, great, if not it's also fine." They're donated. "And it means one less take away cup going into landfill."
That's one cup out of the 295 million cups of takeaway coffee believed to be produced in New Zealand each year. The coffee isn't a problem, the single use cups are. Do those sippies get the official glare at The Daily – are users branded pariahs? It comes down to relationships, communication and education.
"In most cases we would ask if there was a reason they prefer a take away cup and we would tell them we are café that promotes environmental awareness, that it matters to us what we do in here and we have enough take away cups to wrap around a planet eight times and so we are trying to minimize those stats."
And, apparently when you say stuff like that, when you confront people with the facts, a lot of people will admit their ignorance. "Then they are happy to have it in a cup while the odd one will still insist to have it in a sippy cup."
The reason The Weekend Sun dropped in at Xcetera and The Daily is because both businesses are two of 19 Te Puke signatories to Zero – an Envirohub campaign aimed at eliminating, or at least reducing, single use plastic in their businesses and lives.
Emily Schwartfeger is doing it in her private life. "We used plastic bin liners at home and the shop." That has stopped. "And this morning at home I picked up a plastic bag that we had been re-using. I stopped and thought: 'shoot, I really shouldn't be doing this'."
At Xcetera all the polystyrene packaging, plastic wraps and strapping that protects the product arriving at the shop goes to the Te Maunga transfer station rather than in the council rubbish bags bound for the tip. And Emily is pro-active. "It's up to our suppliers, but we do question them about whether packaging does meet minimum requirements."
Up at The Daily they're incentivising attitude changes. If customers buy a keep cup they get a free coffee with it and 50 cents off the price of a coffee each time after that. If they insist on a takeaway cup, a sippy, 50 cents is added to the cost. And they also carry the shame to the car.
Is there any plastic in this café? "Yes, there," says Bex. Like the sleeve holding the takeaway coffee cups. She's not shy of the truth because The Daily is fighting back. "We have started challenging our suppliers, saying you can't bring stuff to us in big plastic bags. Can we have it in a paper bag or a crate."
They started arguing health and safety issues but The Daily argued back saying it was okay with that. "Sort of pushing their policy a little bit. Now we are receiving things in crates or paper bags. So they are not bringing as much plastic to our doorstep." They're also trying to give back boxes that food comes in so suppliers can then reuse those boxes. "So it's not just minimising what comes in, it's reusing what does."
This is not difficult or new at The Daily – it's been part of the café culture since it opened. So it's a case of educating and pulling people along on the journey. It's all second nature to Bex Billington, who's from Sweden.
"Sweden's had zero waste for a few years now. I grew up recycling and being really mindful of what we consume and where it goes.
"But people here often stop and have a little frown when you have that conversation with them. They haven't even considered that coffee cup or plastic bag would be something that goes into a landfill. And that's what blows my mind a little bit."
Perhaps New Zealand is not as far ahead in terms of how we view the environment and recycling and consumerism. But there are lessons, Swedish lessons, now Te Puke lessons to be learned.
"We have generations to come after us and we are leaving them with one heck of a mess," says Bex.
More on SunLive...