Suva schoolboys dream of Kiwi stardom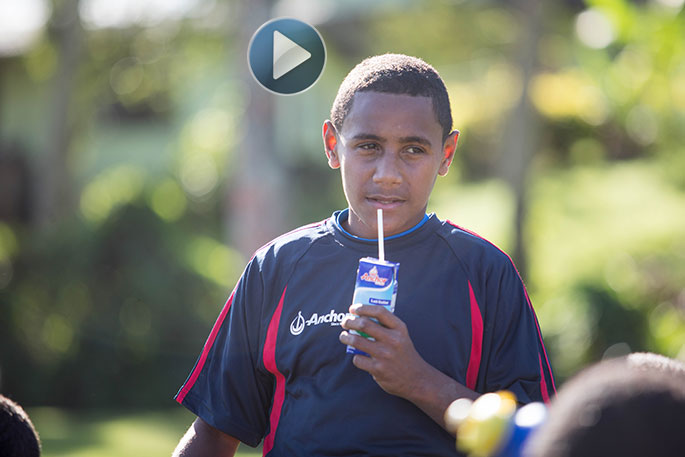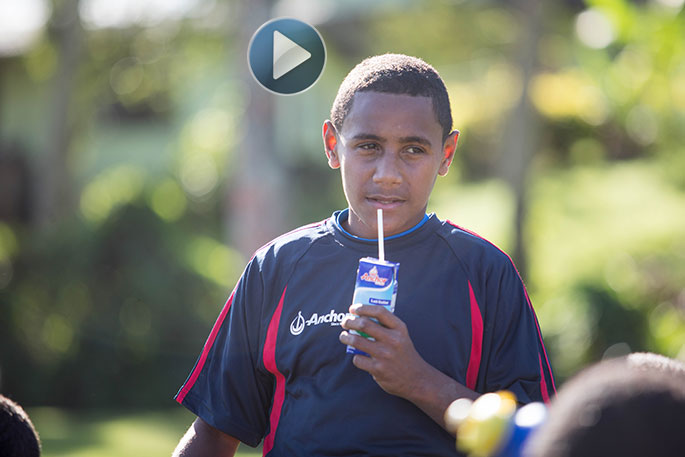 Click the image above to watch the video
Seru Suinumila has lofty dreams of rugby riches and sporting superstardom but his waking hours are spent pounding a puddle-pocked school field in Suva.
The 13-year-old is the captain of the Gospel Primary School rugby sevens team in Fiji's capital city.
In September, he and his teammates will embark on a life-changing journey, heading to New Zealand to compete in the Anchor AIMS Games, in what they hope will turn their dreams into reality,
For Suinumila, the chance to face the best intermediate-aged rugby talent in New Zealand is the ideal way to test if he's the real deal or not.
"We've been training really hard and we're all very excited," Suinumila said. "We want to meet a lot of other people and we want to be famous rugby players and hopefully get scholarships in New Zealand."
Suinumila's prospective path is one well-trodden by many young Pacific Islanders, including a number of All Blacks, over the years. Wing Sevu Reece is the latest exponent, having won a scholarship to Hamilton Boys' High as a teenager.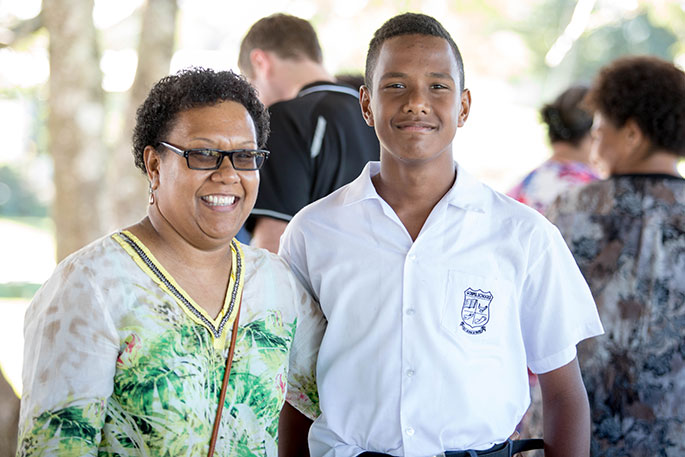 Sovaia Finau and her son Tomi at Gospel Primary School in Suva, as his side prepares for their upcoming trip to the Anchor AIMS Games in Tauranga. Photo by Jamie Troughton/Dscribe Media .
This year, however, will be the first time a Pacific Island will be represented in rugby sevens at the annual sporting tournament in Tauranga, which will see more than 11,500 athletes compete across 23 sporting codes.
Bolstered by the addition of the QuickRip version of the game, rugby has a record-breaking presence at the tournament, with 103 teams in total.
For Gospel Primary School and its 850 students in the heart of Suva, it's a very big deal. And there's a certain symmetry in sending a team back to New Zealand; missionaries from Te Puke, Nelson and Auckland were among those who helped build the school in 1961.
The school also produced the likes of Wallabies wing Taqele Naiyaravoro, along with a handful of current Fijian 15s and sevens team members, while former student Malakai Cama played in the championship-winning Te Puke AIMS Games side last year and is now on a scholarship at Rotorua Boys' High School.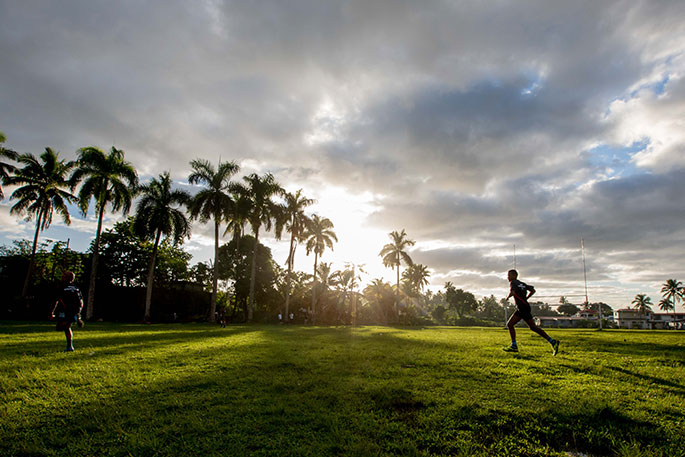 Cama's younger brother Tomi Finau is in the Gospel team this year and the siblings' mum Sovaia Finau said the Gospel Primary staff and community were just as excited as the 14 traveling students.
"Our team here is so fortunate - it's a big opportunity for the boys, not only for the rugby but for education as well," she says.
Northern Hemisphere critics like to level charges of Pacific Island poaching at New Zealand rugby but parents of Gospel's stars see it differently, albeit with the same wrench parents face everywhere.
"It was very hard for us to stay far apart from Malakai because he was only 13 went he went last year.
"It was very hard for the first few months but we speak to him every now and then and we have to be strong, looking at it in positive ways.
"The boys who go over find it a bit different, learning different things in New Zealand compared to what they learn in Fiji, but they soon find it very easy to adapt. They are so fortunate opportunities like that are coming to them these days, through rugby and education."
Tomi and Malakai's father Tomi Snr was a former Fiji Bati rugby league representative and is now chairman of Fiji Rugby League and his wife is comfortable with which ever code they eventually choose.
"The boys like to play rugby league as well as rugby and we told them whatever opportunity comes, they have to take it."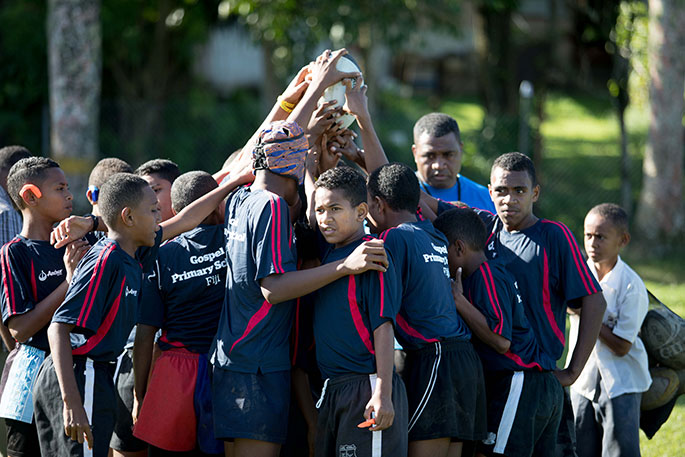 The excitement is palpable as players assemble on Gospel's main rugby field, rugby posts doubling as soccer goals.
Most mornings, the team are there at 6am, running through drills, using resistance bands and playing 7min games again and again.
Seven of the 14 players coming out to New Zealand are still in Year 7; most are likely to feature again next year with head teacher Kelemedi Vecenayawa confirming the school wants to send a sevens team, a netball team and a soccer team in 2019.
AIMS Games tournament director Vicki Semple says the increasing interest from Pacific Island schools - badminton players and swimmers from the Cook Islands, Tonga and Samoa will join the Fijian team this year - added to the experience of all competitors.
"Sport is such a universal language and it's also such an amazing tool at breaking down social and ethnic barriers," says Vicki.
"Having international teams like Gospel Primary involved not only adds to the prestige of the tournament but also shows New Zealand teams just how lucky they are to have the opportunities they do. And hopefully the support and passion Gospel's team bring will rub off on their fellow athletes."
As the team heads into a round of warm-downs, their strength and conditioning coach Jesoni Naivalutoki - whose son Josaia is in the team - is already plotting how best to unleash his side on New Zealand teams.
Foremost in his mind is playing to their strengths.
"We've been telling them all year that when we get to New Zealand, whatever their talent is like stepping or speed, they need to showcase that," says Jesoni.
"They just need to play their natural game, although we've been giving it a bit more structure because some of the New Zealand schools will be very tough. Fijians are known for their open play but we've tried to get some of Gordon Tietjens' style in there."
Naivalutoki is a corporal in the Fijian Army, specialising in personal training - a role he's also employed with the Fiji Army sevens side.
He's conscious of getting his charges in as good a shape as possible.
"They're naturally fit - we don't use the gym or body weights but just use running and speed work mainly. But I'm always telling them that no matter how fit they are here, when they're in New Zealand that fitness will drop just because of the cold. So we have to train even harder here."
Suinumila, meanwhile, is immensely proud to be representing not only his school but his country. He counts current Fijian stars Ben Volavola, Eroni Sau and Semi Radradra as his favourite players but knows that individual skills won't be enough for his own team.
"Our team bonding is very strong. We just need to work together and we can achieve our goals."
Gospel Primary rugby sevens team: Aporosa Vata, David Towdah, Elijah Pai, Ilaitia Bulai, Isaiah Leqa, Josaia Naivalutoki, Joseva Nokelevu, Josua Naituku, Mausio Perau, Moape Vakarau, Inoke Vakasama, Serupepeli Suinumila, Tomi Finau, Anasa Qio, Viliame Roqica.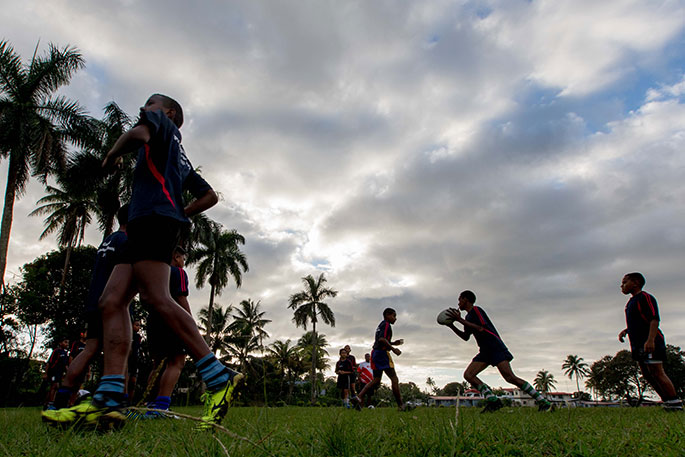 More on SunLive...