Inspiring women through sport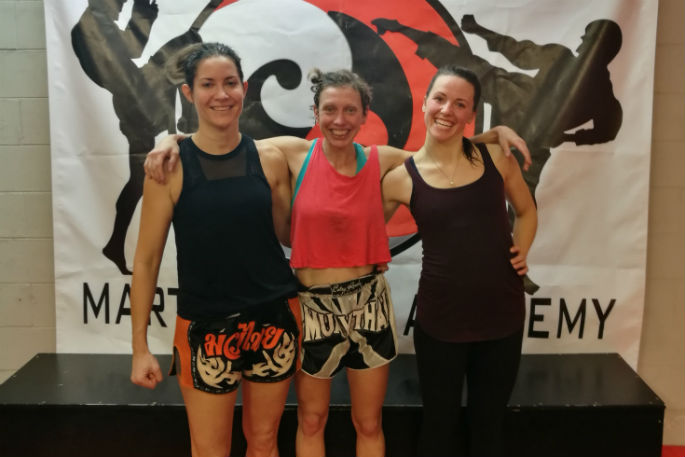 Clare Williamson is determined to get more women into martial arts.
The amateur female fighter and trainer with The Martial Arts Academy (TMAA) is inspired to help others reach their full potential – and have some fun and get fit along the way.
On July 23 she is holding a free Warrior Women Fitness Class at their new facility at 29 Reynolds Place, Papamoa.
Clare says the free class is open to all fitness levels and newcomers are very welcome.
"This will be a free taster of TMAA's new Warrior Women's Fitness Kickstart, starting Tuesday, July 30. A women-only class to improve your fitness, increase your strength, lose weight and empower you to build a stronger body and mind.
"Don't miss this opportunity to enjoy a free class, work up a sweat, make some new friends and learn how the six-week Kickstart will improve the way you move, think, eat, and feel.
"There is an idea that martial arts is hard, and it is, but it is a sport where you can push through your limits. Doing that has helped me in every single aspect of my life which looks different now thanks to that sport."
Clare has a riveting personal story to relate to women about her own journey and how a traumatic experience in South America 14 years ago changed her outlook on life.
"I have a story about why I got into martial arts in the first place and I realised during a recent experience taking part in a Reality Show in Florida that it is a story I am ready to tell to help and inspire other women.
"In short I realised my life has been about hiding the shame of who I truly am because of the scars that have marked me, and now I want to embrace the vulnerability of that to show others that there is a way forward through our limits."
Mindset is a massive part of Warrior Fitness where the adage of everything is possible is central to the programme.
Clare is also a life coach and has many tips and techniques she will be sharing with women on the course.
"I have these tricks and techniques because my own mindset has been a work in progress since I had to step out of fighting completely in 2017. My limiting beliefs were eating me alive and it was affecting me in every area of my life.
"It's been an awesome two-year journey since, learning and growing and finding my way towards becoming limitless."
Find course information at: www.facebook.com/TMAAPAP
More on SunLive...