Cricket bat registers big hit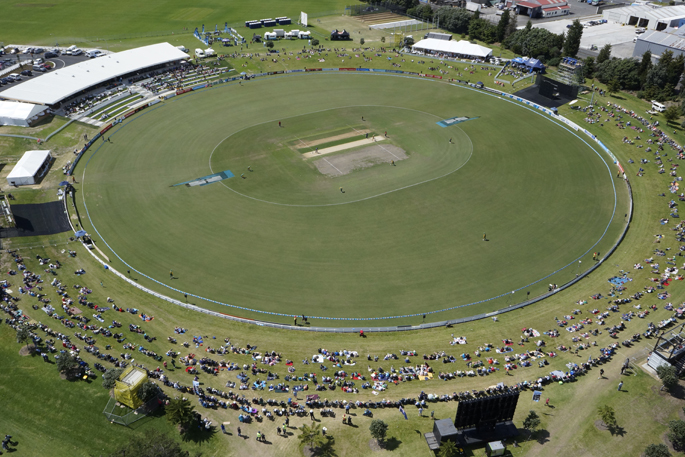 A Tom Hayward bat with signatures of some of cricket's celebrated names is starting to attract overseas interest.
The bat belongs to Jim McTamney, a retired Rotorua school principal now living at Mt Manganui.
Signatures of celebrated English and Australia names of two eras are etched on both sides of a bat Jim has owned for over 40 years.
Included is an illegible signature of Sir Donald Bradman, but which has been declared as authentic.
The bat was manufactured or endorsed by Tom Hayward, born in the 19th Century, a prolific right-handed batsman who scored 3518 first class runs, a record which stood 41 years until surpassed by Denis Compton.
Now, in a magnanimous gesture, Jim wants to return the bat to the "home of cricket where it belongs" – England.
The bat, which would not be out of place behind glass at Lord's or the Melbourne Cricket Ground, was until recently displayed at the Bay Oval, Mt Maunganui, the latest venue for scheduled one- and five-day men's and women's tests.
The caretaker was Chris Rapson, who has since left.
It was signed by the 1912 England and Australian teams' in 1930, the visiting Australians, of which the young Bradman was a member, left his imprimatur on the reserve side.
It features such names as CB Fry, Jack Hobbs, Wilfred Rhodes, Sydney Barnes and Frank Woolley.
It recognised a match between 'The Tom Hayward Eleven' and the 'CB Fry Eleven' in Ireland on September 12, 1912, with the Fry Xl winning by eight wickets.
In 1930, the Australians added their signatures to the willow. A member of the Australia team was leg spinner, Clarrie Grimmett, a Kiwi, the first two captured 200 international wickets.
Jim has sent details (and a picture of the bat) to an auction house in London from one "who has enjoyed many years of involvement in the great game – playing, coaching and avid viewing level."
A message of the auction house, Ewbank, described as premier entertainment and memorabilia auctioneers, drew an immediate reply.
Alaistair McCrea, of the London company, describes the item as "very nice … which should do well at auction". Subject to inspection, he estimates the bat's value to a collector at between £1500 and £2000 ($3000 and $4000).
Jim and his late brother Martin had researched details of the signatures, with Martin carrying out the major research.
"We have compiled a booklet of our findings that can be set alongside the bat," Jim says.
"I feel that such an historic record of the great game really should return to the country that best reflects the contribution these fine men have made to the game.
"The signatures … are among the greatest cricketers who have ever played the game."
Within a whisker of winning the Cricket World Cup against England last week, Jim adds mischievously: "What about I donate the bat to you and in return you add our name to the 2019 Cricket World Cup as joint winners? Just an idea…"
Footnote: Jim McTamney was for many years involved in coaching junior cricket. Two, Bernard Julien (Australia) and Shane Thomson (New Zealand), were members of one Bay of Plenty junior team he coached.
More on SunLive...