Fun and mischief On The Couch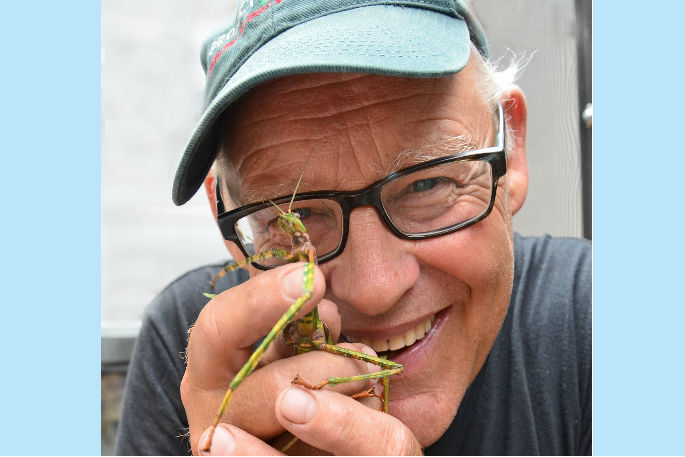 He's got plenty of experience dealing with creepy crawlies and asking questions, and once again resident 'bug man' Ruud Kleinpaste will be hosting the Bay of Plenty Garden and Arts Festival lead-up event, On The Couch on August 23.
Ruud is clearly a mischievous man and he's excited to bring that cheekiness and fun to this year's On The Couch.
"It was great fun hosting last year, so I'm expecting even worse behaviour this year," Ruud laughs.
"It's really cool to talk to people who are enthusiastic about what they do and for some reason, festival director Marc Anderson seems to pick up people who are like that."
If you've never heard of On The Couch, Ruud says to think of it as a local version of British talk show The Graham Norton Show – guests are local and just there for a good chat.
"I think it's important – in all the places I go and see and interact with the local folk, you'll find that every town, every city and village has their own little characters and if you can bring those out in a cool way, everyone is so much richer."
Ruud's got plans for keeping the guests on their feet.
"I'd like to have an unscripted chat rather than 'questions and answers'. That's why this is such a great gig because you can start anywhere," he says.
"Sometimes I throw them totally in the deep end – including Marc who has questions on a cue monitor and pulls his hair out when I go off-script. If you can make it really unpredictable it's great!"
And as far as keeping the audience entertained? Ruud says he might bring along some helpers for that.
"Maybe I'll get some help from some small friends – I might bring my trained fleas with me," he laughs.
"I usually bring something with me that's worth taking a look at or mucking about with or touching or cuddling, and this time it might be fleas – maybe not, I don't know yet!"
If you're interested in making sure you attend this unpredictable evening of laughter, surprises and a lot of fun, find more information and buy your tickets at: www.ticketek.co.nz and search 'On The Couch'.
SunLive has two double passes to On The Couch for two lucky readers who can tell us who is hosting this year's On The Couch event.
Enter online at www.sunlive.co.nz under the competitions section to be in to win. Entries must be received by August 7.
More on SunLive...