Funding for Tauranga's kerbside glass collection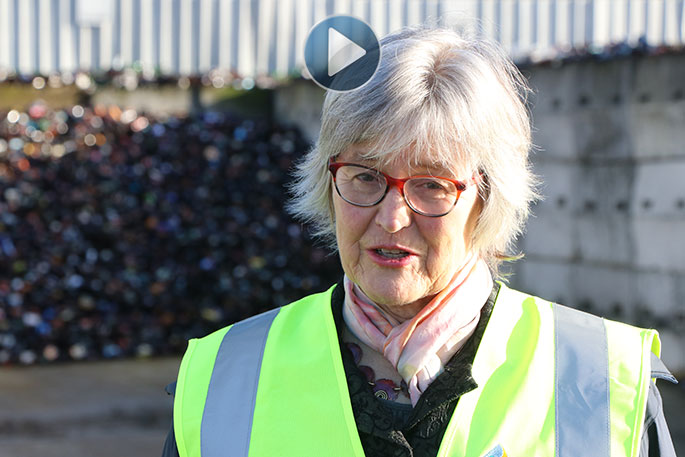 The kerbside glass collection scheme in Tauranga is being given a boost with $256,000 of funding from the government.
After private kerbside glass collection services were withdrawn in March 2018, The Tauranga City Council and Ministry for the Environment took the matter into their own hands.
The kerbside glass collection was reintroduced in October last year, and Associate Minister for the Environment Eugenie Sage says the reintroduction of the service has been a great success.
Eugenie is pleased to announce the ministry's Waste Minimisation Fund is contributing $256,000 to fund half of the 52,950 kerbside glass collection crates tagged with radio frequency identification readers.
She made the announcement during a visit to the Te Maunga Transfer Station in Tauranga on Thursday.
"It is on track to help divert from landfill 6000 tonnes of glass waste generated in Tauranga each year.
"Prior to the support being provided fewer people were recycling, as the alternative was visiting a transfer station and having to wait to recycle."
Eugenie says she admires the council's decision to set up separate collection for glass.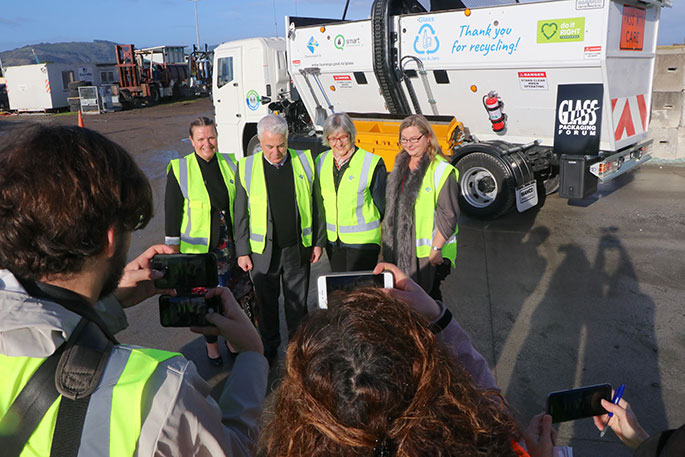 "Keeping glass out of the recycling stream, keeping it separate makes it much easier to recycle the glass, and to recover and recycle the materials like paper, card and plastic, because broken glass contaminates those recovery streams.
"It makes it much easier to be reused in the big furnace in Auckland."
Getting out into the regions and provincial cities is important for Eugenie, as she says it's great to see the initiatives that are happening on the ground to improve the recovery of materials.
"We can do much to do better, New Zealand hasn't got a great record.
"We've been sending far too much waste to landfill, but in this project, people putting their glass in the crates so that it can be recovered and recycled back into glass in Auckland is a really great initiative.
"It makes the economy more efficient and it creates more jobs, and it reduces the impacts on the environment."
Tauranga Mayor Greg Brownless attended the funding announcement and welcomed Eugenie to the site.
Greg says he is pleased with the government's decision to contribute to the project which encouraging recycling.
"Anything that's coming from government's efforts is less money than rate payers have to put in, and obviously we really appreciate that assistance.
"The whole glass recycling thing did actually come as a call from most members of the community who were just horrified when they had to start putting glass into their normal waste."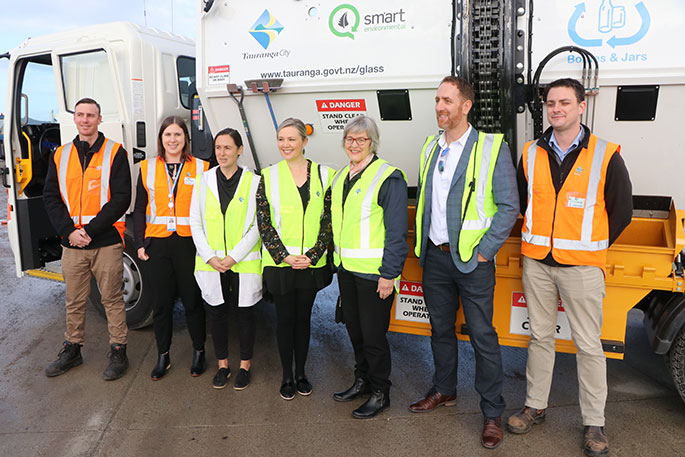 Greg says over time we have developed into a throwaway society, therefore it is great to see residents working hard to reuse.
Also attending the event were representatives from the Glass Packaging Forum and Smart Environmental, as well as council workers who are heavily involved in the kerbside glass collection project.
More on SunLive...