Raw speed not enough for kayaker Callum Gilbert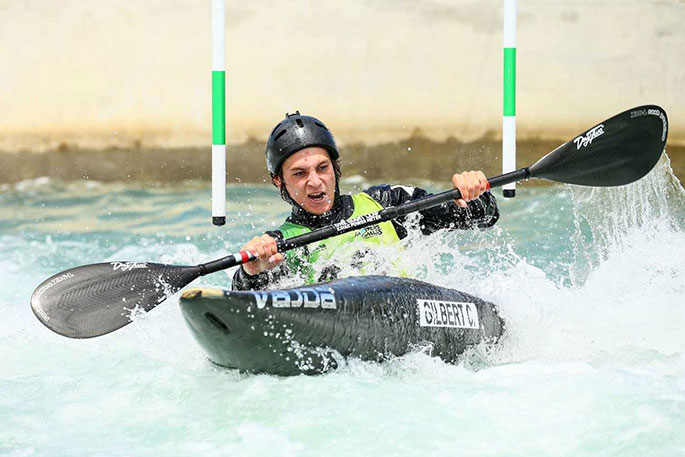 Mere inches came between Callum Gilbert and another piece of kayaking history at the ICF junior and U23 canoe slalom world championships in Krakow, Poland overnight.
The Tauranga paddler finished ninth in the under-23 men's K1 final but a classy overall result could've been so much more.
Searching to wring every last drop of speed out of the challenging Krakow course, Gilbert missed Gate 5 by the tiniest of margins and picked up a 50sec penalty, also touching the final gate to finish with a time of 137.88secs.
Frenchman Pol Oulhen won the gold medal with a clean run of 86.02secs, just 0.30secs ahead of compatriot Mathurin Madore, but Gilbert's raw time of 85.88secs was faster than them both.
"It was a really good run - I was obviously just a little too tight on Gate 5, so I picked up a 50, and I was a little bit gutted with the touch on the last up-stream, but other than that everything came together and I was happy with the run overall," says Callum.
Callum qualified second-fastest for the semifinals and reached the final with the seventh-fastest time, making his first under-23 world championship final and emulating his eighth-placing in the junior (under-18) final in 2014.
"I just wanted to come here and deliver solid runs, especially when the pressure came on, being second-to-last off in the semifinals. I pretty much did that, other than those small mistakes, so I'm pretty happy."
It's been a dream season already for Callum, who finished fifth in the opening senior World Cup of the season in London. He will now take a week off before building to the open world championships in Spain at the end of September, where he'll try to qualify a New Zealand boat for next year's Olympic Games in Tokyo.
Auckland's Hannah Thomas, meanwhile, finished 15th in the semifinals of the junior women's C1, while Pukehina's Oliver Puchner finished 35th in the semifinals of the junior men's K1.
French paddler Anatole Delassus won the under-18 K1 event with an incredible time of 85.15secs, faster than any of his under-23 counterparts, while Czech Jakub Krejci also dipped under that mark for silver.
Brazil's Ana Satila broke through for her first major win of her career, taking gold in the under-23 C1 final ahead of Russia's Alsu Minazova, with Slovakia's Monika Skachova taking bronze.
Czech Gabriela Satkova successfully defended her 2018 junior C1 world title with an impressive performance to add more gold to her country's collection for the week.
A number of New Zealanders are back in action tonight as the championships conclude with finals in extreme slalom.
NZ finalists at world championship level:
U18: Mike Dawson (K1 9th, 2004), Andrew Robinson/Bryden Nicholas (C2: 9th 2006), Kelly Travers (C1: 6th 2010), Daniel Munro/Luke Robinson (C2: 2nd, 2014), Callum Gilbert (K1: 8th, 2014), Zack Mutton (K1: 8th, 2017), Zack Mutton (K1: 5th, 2018), River Mutton (extreme: 3rd 2018), Jack Egan (C1: 9th 2019).
U23: Jane Nicholas/Haylee Dangen/Kelly Travers (C1 teams: 3rd 2014), Finn Butcher (K1: 4th, 2018), Callum Gilbert (K1: 9th 2019).
Open: Luuka Jones (K1: 4th, 2017), Donald Johnstone (K1: 5th, 1987), Mike Dawson (K1: 7th, 2017), Luuka Jones (K1: 7th, 2018).
More on SunLive...