Museum scores exhibit coup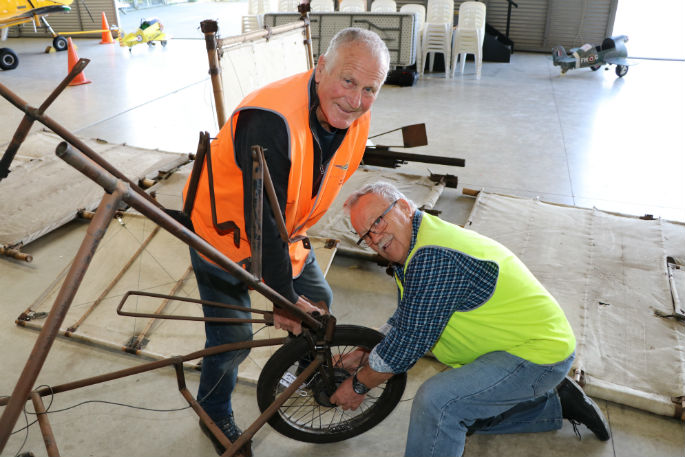 "It's just a dusty pile of nothing."
Classic Flyers boss Andrew Gormlie is right. A few cane struts here, a bit of metal tubing there, a tangle of light rope and some piano wire. But it's actually a significant piece of New Zealand aviation history.
For many year this 'dusty nothing' was a showpiece at MOTAT – Auckland Museum of Transport and Technology - a true-to-life model of Richard Pearse's monoplane, arguably the first in the world to go aloft.
For many years it was suspended in perpetual flight from the roof of one of MOTAT's galleries, gazed on in wonder by hundreds of thousands of museum patrons. And now it has been scored by the local flying enthusiasts at Classic Flyers.
"What it does really is make everyone focused on the fact that it was Richard Pearse who was the first person in the world to fly," says Andrew.
Richard William Pearse was a Kiwi farmer and inventor who tinkered with pioneering aviation experiments. Witnesses interviewed many years afterwards claimed Pearse successfully flew and landed a powered heavier-than-air machine on 31 March 1903.
"And as far as Classic Flyers is concerned he was the first person in the world to fly," says an adamant Andrew Gormlie.
Because March 31, 1903, was a full nine months before Orville and Wilbur Wright – the two American aviation pioneers generally credited with inventing, building and flying the world's first successful airplane called the Wright Flyer.
Classic Flyers plans to make a strong statement on world aviation history and New Zealand's role. The Richard Pearse model monoplane will be a hanging display right at the main door entry to the hangar. Visitors will not be allowed to miss it, nor the Classic Flyers take on history.
"The opportunity just popped up and I thought perfect."
Perfect because every museum goes through cycles of regeneration.
"MOTAT's got more bits and pieces and some better display items. Including bits of the original Pearse aircraft. And if the model was stored too long, it would start to deteriorate, plus people can't see it.
"And moving it to a sort of secondary base – another aviation museum – is suitable for them and of course it helps us."
So right now the model of Richard Pearse's second and successful monoplane sits stacked in a sad heap on a pallet in the middle if the Classic Flyers hangar. Sad for the moment because it's the sort of project the behind-the-scenes boffins at Classic Flyers feed on.
"We do what we call recovery missions," explains Andrew. "It's like boys own annual stuff for all the guys. They grab trailers, trucks and cranes depending on the size of the item and in this case it was a large trailer two cars and about five guys to MOTAT and home.
"And by the time we've got it together, done some remedial work to the ravages of time, we will probably having it hanging from the ceiling within six or eight weeks at the most."
The replica is very true to the original.
"Reasonably close I believe."
Then there's a respectful nod from the 21st century New Zealand enthusiast to the 20th century world pioneer.
"Pearse had a huge skill set, exceptionally clever and hugely driven ….to turn his hand to something that had never been done before. He just wanted to fly and said I can do that, why can't I? All I have to do is engineer how to do it."
The model which will shortly hover over the Classic Flyers hangar and take us back to that moment 116 years ago when Richard William himself soared.
"It's our aviation roots. And of course, being a small country, we're quite proud of aren't we?"
Yes, we are. And let the history books reflect that.
More on SunLive...