Taekwon-Do'ing to the top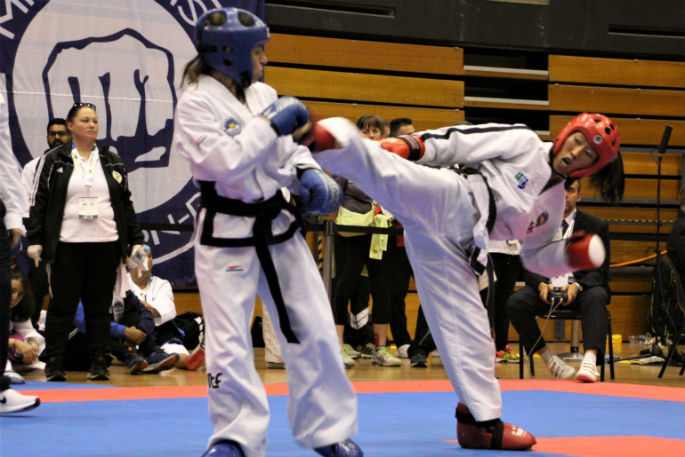 The Tauranga Hwa-Rang Taekwon-Do club are victorious after winning the New Zealand club of the year title on Saturday, July 13, in Auckland.
The club took home numerous titles at the national awards, which coincided with the national tournament last weekend.
Not only did the Hwa-Rang club achieve highly as a club at the awards, but individually they shone against rival competitors.
Christine Young-Jasberg took home the senior sportsperson award, Kelly Collis was named outstanding official of the year, and Elisha Tie won the student award.
Christine, who has been involved in the sport for 34 years, says she is very proud of her club.
"We won four different awards, which celebrate the season from the 2018 year to 2019 in June.
"The competition over the weekend was really tough and competitive and everyone was challenged.
"There is always personal best performances, and then there are some disappointments as well."
Out of the 46 clubs, Hwa-Rang Tauranga TKD stood out with their community involvement, their student leadership programme and tournament performance results throughout the year.
On Sunday, Christine says some of the Hwa-Rang athletes were given an opportunity to go into the What Now studio to feature on the programme, which Christine says was very much a treat.
"They did some performances for What Now, some pre-arranged sparring, and some fun stuff with the presenters."
Throughout her time in the sport, Christine has undertaken many roles, from competing, to coaching, and more recently, umpiring.
"Every ten years I retire from competition, and then I say come on, one last one," says Christine.
"Last year I came out of retirement is because the world cup event that we attended was in Sydney, so I trained up for that.
"I started instructing properly about 20 years ago, and then I spent about four years doing some coaching for the New Zealand team, then I've been umpiring. There are so many aspects of Taekwon-Do you can get involved in."
Christine says she gets a thrill out of Taekwon-Do, as it is both mentally and physically challenging, and it all comes down to preparation.
"With all physical performance sports, I think we all have to prepare. The foundation of our fitness, our strength, endurance and stamina; without them, we won't get the results on the stage.
"The difference between winning, coming second or third comes down to mental strength."
Because there are many different aspects to Taekwon-Do, Christine puts her success down to mastering different disciplines of the sport.
"I train about five to six times a week, about two hours a day, and then I would supplement that with a one hour strength and conditional session.
"You have to drill the technical skills, and as an athlete I think the physical strength and conditioning is important. Building up strength, conditioning and flexibility.
"There is a lot of time commitment."
More on SunLive...