Coming together to support Te Puna rugby teams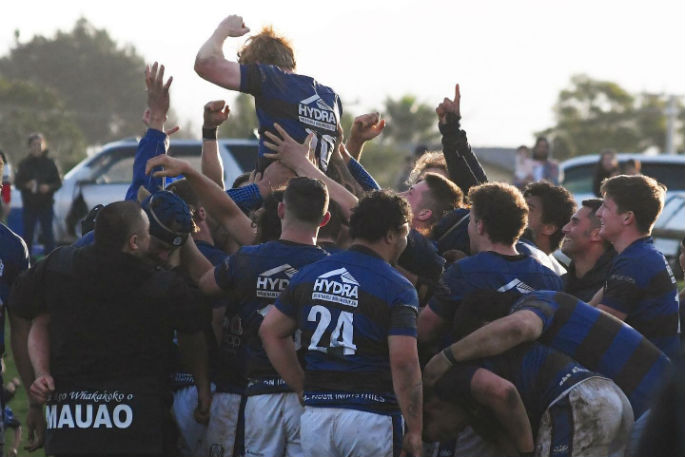 Te Puna community members are banding together this weekend to get behind their boys in blue and black at the Baywide Men's Club Rugby finals.
The clubs Premiere and Development teams will both be playing hard on their home ground today, July 20, at Maramatanga Park.
Te Puna Rugby Football Club treasurer Donna Bidois says they are planning on decking out local roads with balloons and flags in support of the two teams.
Last weekend the community painted the town black and blue for the Baywide semifinals, but Donna reckons they are going to put in double the effort for today's finals.
"The whole road will have double the balloons we had last Saturday, we have got little blue and black flags as well. It's gonna be amazing.
"It's going to be a community effort because we are so whanau oriented. You just put the call out and everybody shows up."
Donna says love for rugby runs deeply through the community which is why they take club support to the next level.
"We have always been like that, hard blue and black. This community – rugby is their grail. They are so hearty, it's hard to explain."
Donna and Te Puna coach Aidan Kuka agree that the rugby club is the town's meeting hub that brings people together.
"It's just that closeness, we are all whanau. We have four maraes round here, and the rugby club is our fifth," says Donna.
"We all just and breathe rugby. Te Puna is a bit spread out, but we luckily we have our own hub," says Aidan.
The club is in its centenary celebration this year, and Aidan thinks a heap of people will be turning up this Saturday to support both teams.
"Even a lot of people who don't follow the game as closely will be coming down to get in behind the lads.
"It would be a great year to do well on the rugby field, it would just add to the centennial celebrations," says Aidan.
Te Puna has already had one victory, with their Senior Reserves team winning the Baywide Senior Reserves Final two weeks ago.
"Our reserves won the Baywide. Now it's time for the Development and Prems to play. It will be unbelievable if the three teams win their final. I don't know if it's ever been done," says Donna.
Aidan praises Te Puna for their ongoing encouragement, saying they are blessed to receive the support they do from the community.
"Once again, let's make our world blue and black, pack out our ground and make noise for our boys."
For more information about the event, visit www.boprugby.co.nz/community-rugby/senior-club-rugby/draws-and-results/
Te Puna Development VS Te Puke Development are playing at 12.30pm on Field 1.
Te Puna Premiere VS Tauranga Sports Premier are playing at 2.35pm on Field 1.
More on SunLive...