Labour education caucus visit Tauranga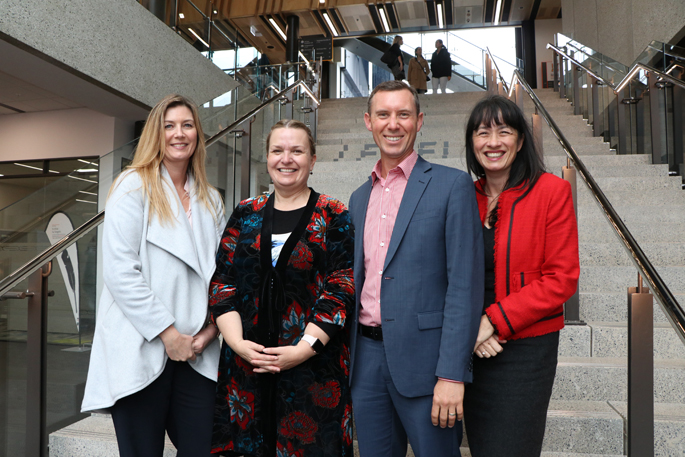 Members of the Labour Education and Workforce Caucus committee visited Tauranga today to meet businesses, organisations and stakeholders to discuss issues within the region.
Four Labour list MP's, Jan Tinetti of Tauranga, Jamie Strange of Hamilton East, Marja Lubeck of Rodney and Jo Luxton from Rangatahi were taken on a tour of the University of Waikato's Tauranga CBD campus as part of their trip.
The Labour caucus' visit to Tauranga has a horticulture focus, and Jan says from today's visit they will report any issues on the ground back to the ministers.
"This is our second visit we've been on as a caucus committee.
"We go to areas where we think there is issues, not just issues but good things happening in the workforce and education space, we look at what's happening and report that back."
Prior to the caucus' university tour, the group visited Robotics Plus and Priority One to see what they are doing in their workplaces.
Jan and the other caucus members will be meeting with some teachers from Katikati College to see the work they are doing around trying to fill the gap between secondary schools and the horticulture industry.
"They are doing some really amazing work there, I really wanted the rest of the caucus committee to hear this, because I think this is where we are heading in the education space in New Zealand; really making those connections between industry and education, in secondary and tertiary."
The group will also visit the Port of Tauranga to talk to different contractors, and finally the day will finish at Zespri, to see their new building and to discuss horticulture and the labour shortage.
"I can say this is what we are doing here in Tauranga, we just came from Priority One, and they all said there are fantastic things happening here on your patch Jan, and I felt so proud.
"It's about showing people what's happening, being able to do that so we can get the story back to Wellington so people understand that."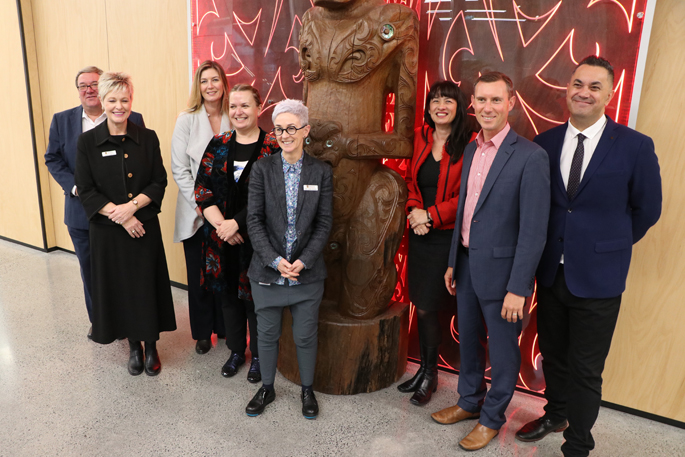 The education and workforce caucus members with some of the university staff. Photo: Daniel Hines/SunLive.
Labour list MP Jo Luxton who is based in Rangitata, which encompasses Temuka, Ashburton and Timaru, says some of the issues the caucus discussed this morning are both similar and different to her electorate, particularly around filling workforce roles.
"In the South Island unemployment is around two per cent or under around Ashburton in fact, we have so many jobs, and not the people to fill it, and we rely a lot down there on migration.
"Here it's a different perspective, down home the housing affordability isn't an issue like it is here, where prices are increasing hugely and at home you can get a nice big three bedroom home for around $350,000 to $400,000 on a quarter acre section."
Jo says the university is an amazing facility, and will help local people in the area, unlike in the South Island where they normally experience young people moving away for university.
"They all go off and venture somewhere else, and so I think this is amazing."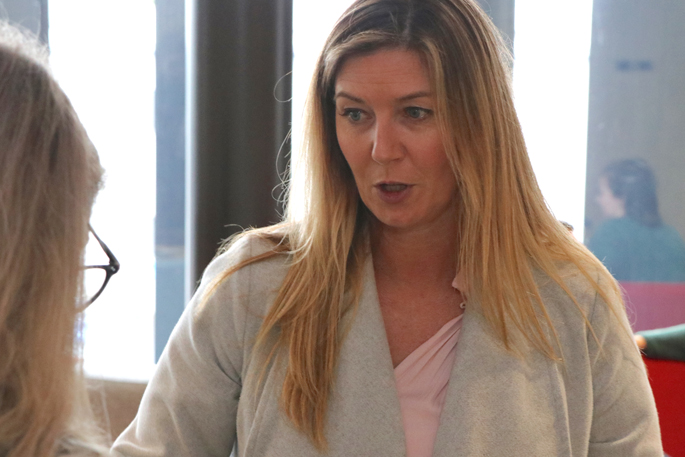 Jo Luxton. Photo: Daniel Hines/SunLive.
Jo also has a connection with the Bay, as she was born in Rotorua, attended Mount Maunganui College for a short time, and her father resides in Katikati.
"I haven't been here for a long, long time, but it's great to see how much it's growing," says Jo.
"One of the best things about this tour is getting out and seeing what's going on in the country, and you can take home things that are working really well or take ideas from other places and share that with different agencies in our own home towns."
More on SunLive...