Arataki bus facility options explored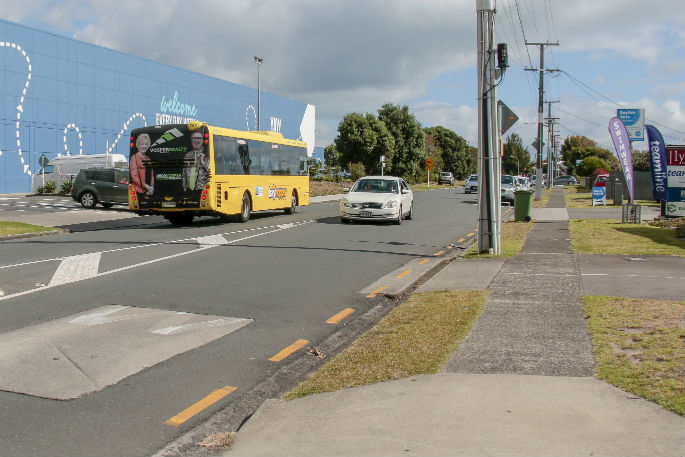 Tauranga City Council is working with Bayfair Shopping Centre to explore the viability of a bus facility on Bayfair owned land.
Residents of Farm Street and adjacent streets were updated on the status of the Arataki bus facility during a 'drop in' session on Thursday.
Over the last few years, council has investigated a number of locations for a permanent facility in the Arataki area.
Land adjoining Farm Street was one of the recommended options in a report produced by Abley transport consultants.
Other options were also explored, including siting the Arataki bus facility on council-owned land on the west side of Maunganui Road.
Initial findings indicate that the latter is not attractive from a user perspective. Additionally, the recent decision by NZ Transport Agency not to proceed with a pedestrian underpass significantly affects the accessibility of that site.
"We are keen to find a permanent home for the bus facility, to minimise impact for residents Farm Street and surrounding residential areas," says Tauranga City Mayor Greg Brownless.
"During this process, we will continue to engage with local residents, businesses and bus users, to ensure that any final decision reached offers the best possible outcomes for the community. Also it is important to note that other options are still being considered."
Bayfair is a key destination for many of their bus services with over 155,000 passengers boarding here per year and a further 30,000 transfers have occurred there since 10 December 2018.
During the 'drop in' session in Arataki, residents shared concerns about the current temporary situation on Farm and surrounding streets.
Until a decision on the permanent facility is made, Tauranga City Council's road safety and traffic engineers will be looking at measures to address the current safety concerns of residents.
Meanwhile, Tauranga City Council will continue work on the wider Arataki transport network to improve the area for people walking, cycling and using buses while at the same time seeking to reduce the number of vehicles using the suburban streets for "rat running".
More information about the results of the modelling investigations around the potential location of the bus facility will be discussed at the Urban Form and Transport Development (UFTD) committee meeting on 23 July.

More on SunLive...