Smaller and cheaper is the ticket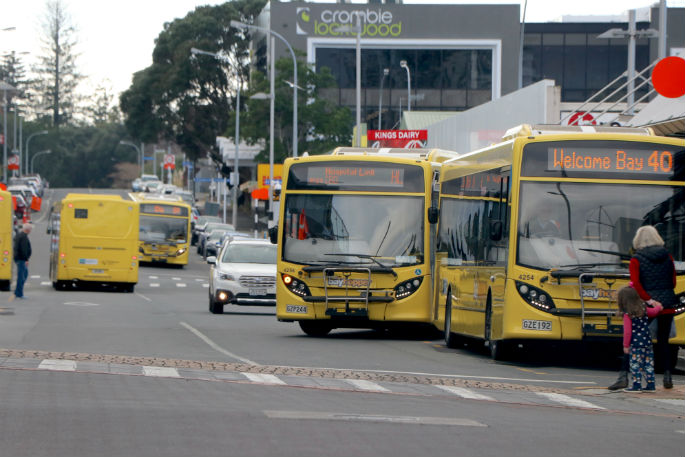 Simon Bridges is in touch with the hoi polloi. He takes a bus.
"Not often to be fair. But I have taken the kiddies – Emlyn, Harry and Jemima - on them a few times."
And the man who's entitled to a Crown chauffeured limo, or even a cab chit to the airport, says he would definitely use the 'big yellow' from Matua – his hood – if he was a regular commuter into town.
He is also aware of the perception that buses are travelling to and from all points of the city at all times of the day with very few passengers. They've been dubbed the 'yellow circus' – going round and round but few people paying for a ride.
"Everyone acknowledges the need for developing public transport in the Western Bay of Plenty. But it needs to be done right," says the Opposition leader and Tauranga MP. "And to me, that's about smaller fit-for-purpose buses rather than these big yellow barns which everyone can see, have no-one in them. It's about regular times and smaller buses."
The Regional Council which runs the buses say they are onto it. It's considering the place of smaller buses.
"It's a balancing exercise between catering for peak loads in the morning/afternoon and smaller loadings in the inter/off peak," says the council's transport policy manager, Garry Maloney.
"Clearly it's not economically efficient to run two fleets to cater for larger or smaller loads." So the council will do some work on 'right-sizing' of buses. "But having said that, you don't pay small wages for driving small buses," says Garry.
And despite the perception of a seemingly endless traffic of empty 'yellows', patronage from December last year to the end of June was actually up 3.1 percent or about 26,000 passengers to 863,682. "The council's pleased the new network has reversed the trend of declining passengers, but is always eager to see it grow further."
Simon also has issue with fares.
"The fare structure needs to be sorted. They should look at cheaper fares because the council can afford it. It does very well out of the Ports of Tauranga and that would encourage more people to use the buses."
The Regional Council explains it plans a fare review next year. But it will have to balance what users can pay with what it is reasonable for the community to pay.
But the MP can't talk transport without mentioning roads.
"None of this gets away from the number one issue and that's to fix the bloody roads."
He says the region needs both.
"The order of importance is a greater transport network, the roads being done right and then moving onto public transport. The problem is the government and the regional council seem to want to do it the other way round which will never work."
More on SunLive...