Record attendance for Kawerau Pit Stop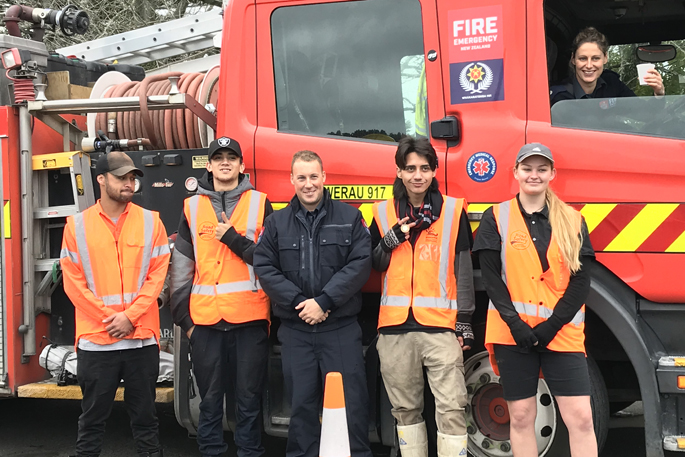 A record number of Kawerau drivers took part in a free Winter Pit Stop event to raise the awareness of their vehicle's safety in winter driving conditions.
Over 100 vehicles were checked by automotive students from Toi Ohomai and overseen by a NZTA technical support officer.
The regional community event was run by the Eastern Bay Road Safety programme and BOPRC and took place on Wednesday July 10 in the New World Kawerau car park.
The event was timed around winter driving which can be especially hazardous when vehicles aren't in good condition.
Regular vehicle checks have shown to reduce the risk of serious damage to drivers, their passengers and other road users. The TWIRL check involved: tyres, windscreen, wipers and mirrors, indicators, rust and lights.
Of the 100 vehicles checked on the day, 47 per cent were found to have faults, which is well above the national average. Inadequate tyre tread or bald tyres accounted for nearly half of all the faults found in the vehicles checked.
"The minimum legal depth is 1.5 mm but the more tread you have the better the grip and the safer you will be especially in wet weather," says Bay of Plenty Regional Council's sustainable transport officer Jenny Mack.
"Bald tyres make it nearly impossible to brake safely in an emergency, affect your vehicle's handling, and you also run the risk of a tyre blowout."
Other faults found included no WOF or Rego and defective lights.
The event was a multi-agency initiative between NZTA, BOPRC, Eastern Bay Road Safety Programme, Proevents and Radio 1XX with the knowledge and encouragement of police and played an important role in educating drivers about their responsibility to keep their vehicle roadworthy and safe.
Drivers who participated in the checks were rewarded with more than the knowledge around the safety of their vehicle. While they waited, drivers were offered free hot soup and were given a road safety pack including a hand sanitiser, pack of tissues, car cleaning cloth, a key ring and a twirl chocolate bar.
Some lucky drivers also received fuel vouchers and emergency breakdown kits.
Another Winter Pit Stop event will take place in Opotiki later this month.
More on SunLive...