Tauranga choir says everybody can sing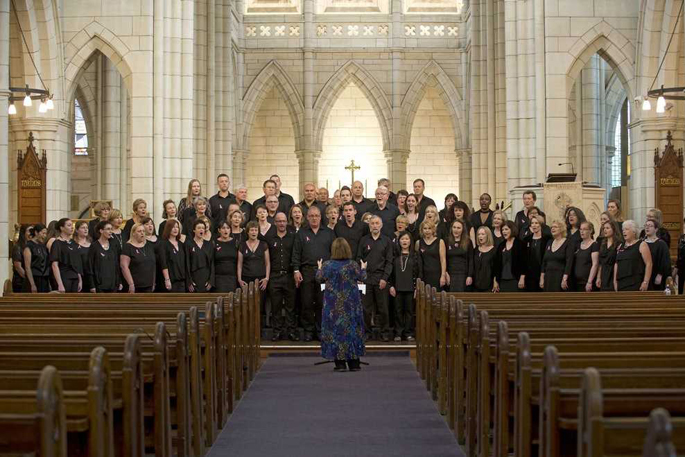 Everybody Sings Tauranga is a local choir getting started in the city, with the purpose of bringing communities together through singing.
What makes this new choir different is that it's for local people who can sing, or who want to sing, but haven't had the confidence in the past.
Everyone is invited to come along to the Omanu School Hall, Mount Maunganui at 7pm on Wednesday, August 14 to join in and see if the choir is for them.
Tauranga choir leader Rose Treadwell believes everybody can sing.
"It's like learning to drive. You just need to practice. Everyone can get a license to sing.
"We actually spend most of our time helping people with their confidence and finding their voice, because we believe everyone has one. And once people get started we can give them some skills so that they sound even better...and then there's no stopping them.
"We had a successful night with our choir taster workshop. Everyone who attended was enthusiastic and ready to participate," Rose says.
"We worked on our technique, a waiata, a gospel piece, and a Latin piece. I was impressed with the willingness of the choristers to give everything a go, and am excited to bring the choir to fruition and begin weekly rehearsals."
Rose is part of Everybody Sings, which has six adult choirs in Auckland, and is about to open its first children's choir - a possibility for Tauranga if all goes to plan.
Everybody Sings makes it as easy for people to join in, Rose says. They have a "no auditions" policy, and a set list that works for everyone's voice range and taste.
They sing classic pop arrangements, African songs, Maori waiata, world music, gospel and even some 17th century tunes.
Andy Bolton, a member of Stonefields branch in Auckland, nearly didn't join.
"I sat outside the hall in my car, frozen with nerves. A year later, I'm loving it and considering doing a solo."
Howick member Dawn Elliott gave up on her choir ambitions when a primary school audition went horribly wrong.
"No sound came out of my mouth due to nerves. It took me some time to pluck up the courage to join, but here I am, and I love it!"
Melonie Roberts and Kate Bell, founders of Everybody Sings, say they are amazed at the range of people who become part of their singing community.
"The folk who join come from all walks of life and ages, and they tend to bond quickly," Mel says.
"They enjoy the sense of community and confidence they build over time. When you hear it, the choir sounds so good that initially people think it's only for good singers, but they soon realise it's a place for everybody to sing."
More on SunLive...