Break out the bunting for Kane in Tauranga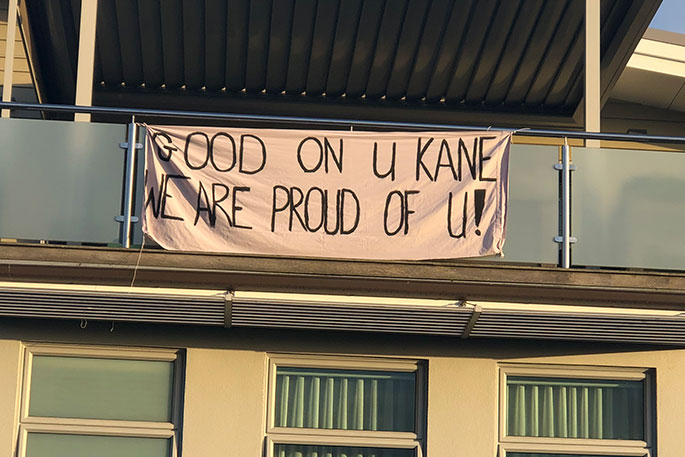 Josh, Ella, Macy and Taylor probably feel like everyone else in New Zealand.
We didn't win the Cricket World Cup, but we certainly didn't lose it either. Afterall, Kane Williamson himself declared no-one lost the final.
But above all else, it left the nation dripping with pride when one of the game's greatest Sachin Tendulkar shook Kane's hand at games end and named him captain of the world cup tournament for his batting, his leadership and sportsmanship.
Which brings us back to Ella, Josh and twins Macy and Taylor Svendsen here in Tauranga. They're all cricket nuts and got up early to watch the nail biting end of the Cricket World Cup final against England.
Ella was at the local supermarket with her grandmother, Eves general manager Karen Worley, when they bumped into a bloke called Brett Williamson who just happens to be Kane's dad.
"Ella asked me how I knew him and I explained he's a neighbour, he lives up Maxwells Road."
Then when the CWC final had run its course and the nation was collectively reaching for tissues, the kids decided they wanted to paint a sign and hang it from Karen's road facing third-storey balcony just opposite the entranceway to the Daisy Hardwick walkway.
"Simply because they're proud of Kane Williamson. His Dad might see the sign going up and down Maxwells Road and Kane himself might see when he visits his Dad when he gets home."
So up went the banner – "Good on u Kane, we are proud of u!". They're a 'wholesome awesome bunch of kids' according to a grandmother who's just as proud of the brood as she is of the deeds of a cricketing hero.
"They put so much effort into this banner, it just had to go up." And it will probably stay up for as long as it takes. Not that Brett Williamson needs to be reminded of a nations feelings towards his son.
More on SunLive...