Thieves target one-legged Tauranga man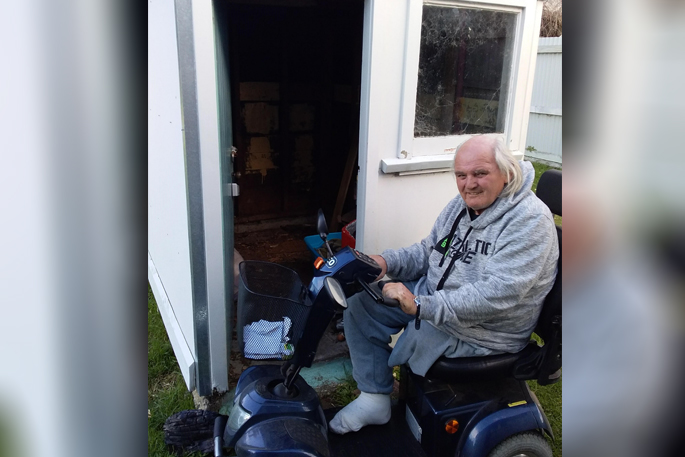 A Tauranga man is desperate after mean-spirited thieves stole his firewood.
"It's a bit heart-breaking at the moment because I've got about two nights of wood left and then I've got no wood after that."
Those are the words from Maungatapu resident Terry Sullivan, who got all of his wood stolen from his shed on Friday night.
The 67-year-old lives alone, and is in a wheel chair after having his leg amputated. He also had a stroke six months ago and has ulcers on his other leg, which might have to be amputated soon.
All of the firewood that Terry stores in his shed was taken on Friday night and has been left with very little left.
It's believed whoever stole the wood came through the back path, through the bush, and Terry's friend Derek Renz says there is evidence of that.
Derek says Terry has lived in his house for years and is a very open house.
"It's one of the most public houses in Tauranga, there is no fencing around here and it's an exposed site," says Derek.
"Everyone knows that he is here, and knows that he is here by himself, and some local whatever you want to call them have come in and cleaned his firewood out.
"He's called the police, it's been reported but nothing can be done about it. Whoever did it won't come forward, it's probably not going to be easy to track them down.
"They've come in, into his shed. There was a padlock on the door and it's not a forced entry, maybe someone hasn't locked the padlock properly. But it's been a planned theft."
Derek says the wood theft has really affected Terry.
"He's slumped over in his chair, it's really affected him. It's as bad as someone breaking into your house.
"He's got no money to buy any more. How he bought that firewood was with a loan from Work and Income, which he's been paying off.
Terry says how he found out that his wood had been taken was through one of his carers. He get visited by support workers three times a day.
"I can't access my shed because I'm in a wheelchair and consequently my carers will bring in wood for me and keep me topped up," says Terry.
"One of them noticed that it had gone down very quickly. I said it shouldn't have because I had two loads of wood brought in and the cost me just over $300, and I'm paying it off through WINZ."
The price for firewood in Tauranga ranges from $70-$100 a square metre.
"Basically what I asked a lady to do for me was to just bring in the rest of it in that was left there. I've probably got another two to three nights of burning wood, and then I've got no wood at all after that."
Terry thinks it's pretty disgusting.
"Most people around here know of me, they know I'm in a wheelchair, that I live on my own and everything else. I've got neighbours that walk past and if it looks like it might rain they might bring my washing in for me," says Terry.
He says because he's already been to WINZ for some firewood already, he thinks he won't be able to do another one.
If anyone in the community can spare some of their firewood to help Terry out, please give him a call on 022 103 5326.
More on SunLive...