Scratch and win scam making the rounds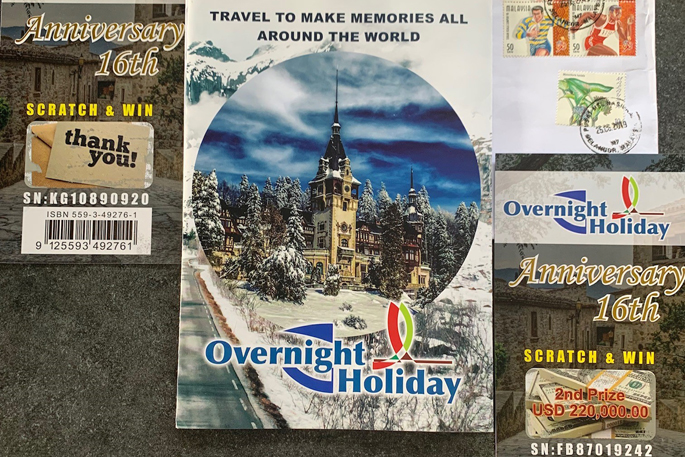 Another scam is making its way through the mail boxes in the Bay of Plenty.
Local resident Bruce Glover says he received a scratch and win pamphlet in the mail.
"This came out of the blue, hence our suspicion being aroused."
The pamphlet offers a 2nd prize of $220,000 USD, with all you need to do is scratch and win to 'travel to make memories all around the world'.
Bruce says he is unsure if anyone else has received the same mail, but he says he'll bet his hat that they aren't they only ones in the area.
His advice to others who may fall for the tempting large sum of money is never be rushed into a decision. If it sounds too good to be true, it probably is.
"We get phones calls commonly from people purporting to be from Spark, and you can always ask for the caller's name and number and then call back on the real number and check.
"The worst thing you can ever do is allow someone onto your device as a result of contact that you did not initiate. There is so much that can be done in the background that you cannot see, to never allow such access."
Bruce owns and runs his own IT company and says he has seen an upsurge in this sort of activity in recent times.
He says he has had several clients fall victim.
"Most realised before money was taken and called me to get rid of the software that had been installed."
A police spokesperson says the scratchie/raffle-type scam is very common and has been around for a long time.
"We would encourage people to familiarise themselves and be aware of common scams – there is some really helpful information on the Consumer Protection website: www.consumerprotection.govt.nz/general-help/scamwatch
"Scammers often target more vulnerable members of our community – so we would also encourage people to talk to elderly family members and share information and advice with them."
More on SunLive...