K Valley Rollin' & Strollin' event cancelled today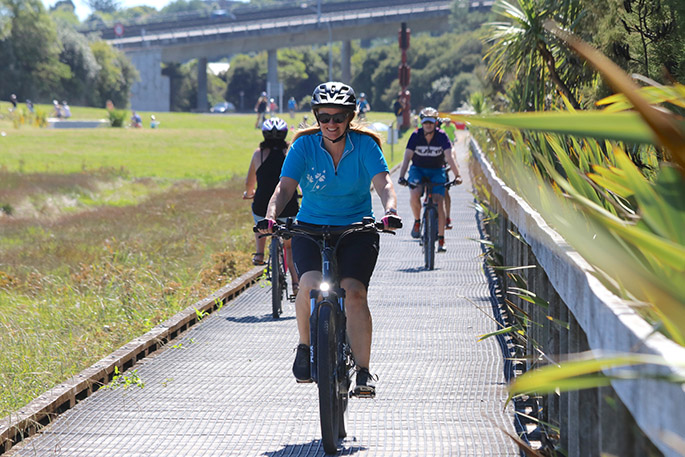 The Rollin' & Strollin' event planned to open the new improved walking and cycling track in the Kopurererua Valley Reserve today has been cancelled.
"Unfortunately, rain and winds are predicted," says a Tauranga City Council spokesperson.
"As soon as we have a new date for the event, we'll let you know. This will be in spring when the days are warmer and the skies are brighter."
Tauranga City Council recently finished the upgrade of a 6km long track, creating a safe walking and cycling link between The Lakes at Tauriko and Tauranga city centre.
The upgrade cost $600,000 with 51 per cent of it coming from NZTA through the Government's $390 million programme to make it easier for kiwis to walk and cycle around New Zealand. That's $100,000 per kilometre.
Kopurererua Valley is a 300-hectare block of low-lying rural land situated between residential neighbourhoods in Tauranga. Running from Judea in the north to Tauriko in the south, the valley is bordered by the neighbourhoods of Te Reti, Gate Pa, Greerton, Westridge and Cambridge Heights.
"This project is an important step in helping Tauranga become a more active city as it offers people the opportunity to walk or cycle through one of our most beautiful reserves," says Martin Parkes, Acting General Manager Infrastructure for Tauranga City Council. "We expect this route to become even more popular than it already is as an off-road recreational experience and a year round off-road route for people to get to work and school."
Taranga City Council had planned the official opening of the new upgraded facility to mark its completion and to encourage people to use it.
The free dog-friendly community event was due to be held today from 10am – 12pm, with a formal opening at 10am, followed by family-friendly activities such as a superhero dress-up, Circus in a Flash, a bike creation station, funky bikes by Lex Spencer, a sausage sizzle, spot prizes and a community bike ride.
People are encouraged to bring their bikes, scooters or balancing bikes, put on their walking shoes and come visit the reserve on a finer day. There is easy access via the Faulkner Street entrance.
More information on: www.mytauranga.co.nz/kvalleyopening
More on SunLive...