Sky Waka opening a boost for tourism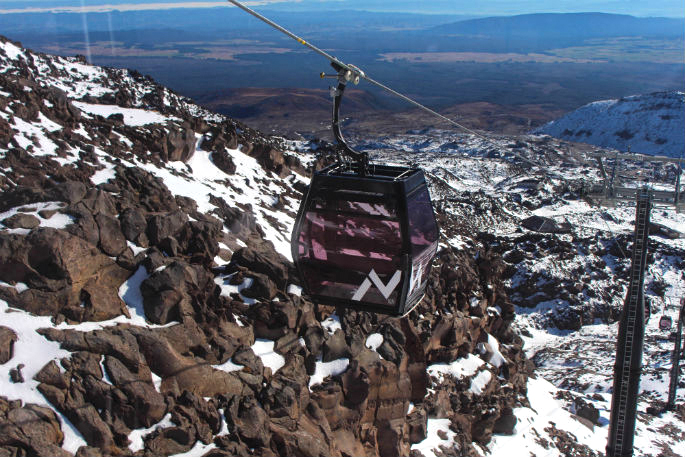 Mt Ruapehu's newest and most exciting tourism attraction, the Sky Waka gondola, opened last week and is expected to be a 'game changer' for tourism in the North Island.
Sky Waka gondola travels 1.8 km's through one of the North Island's most rugged and spectacular landscapes high on Mt Ruapehu, past waterfalls and snow-laden peaks.
The ride will be equally as spectacular in the summer months.
The gondola travels from the Top of the Bruce base area directly to the Knoll Ridge Chalet and at peak times it will transport 2,400 people per hour over the 1.8km in approximately 5 minutes.
Ruapehu Alpine Lifts CEO Ross Copland says it's a proud and exciting moment for not only the RAL team but the whole of New Zealand. "Sky Waka is one of a kind in New Zealand and will transform the mountain visitor experience lifting it to a whole new level.
"Sky Waka also brings with it a huge economic boost for the local economy through accommodation, restaurant and other sightseeing activities, and also opens up a lot of job opportunities for locals all year round," says Ross.
"And a big thank you goes to the Provincial Growth Fund for granting us a loan and recognising the value of the Sky Waka to the local economy and people."
In June 2018, council chose to buy $1 million of investment bonds in the Ruapehu Alpine Lifts project, which attracted funding from the Government's Regional Growth Fund, Ruapehu District Council and iwi.
Mayor David Trewavas says the investment had not had an impact on rates, as it came from the TEL fund, which has a diverse investment portfolio including property, bank deposits, shares and bonds.
"Not only is this a good, sound investment, it is a game changer for the tourism industry here. The gondola brings a whole new dynamic to Mt Ruapehu, making it an all-year-round destination, with something spectacular for families and visitors in the summer months, as well as skiers in the winter.
"We have a really good relationship with our neighbour Ruapehu District Council and it was a fantastic collaborative effort with all involved working together for a great outcome."
Locals as well as visitors from as far afield as Brisbane, Melbourne and Sri Lanka enjoyed the gondola ride and scenery. A very excited seven-year-old Charlie Fry and his mother Victoria McAnulty from Pukekohe queued for over an hour to be the first on the Sky Waka.
"We were first in the queue at Whakapapa this morning to get on. Super excited, beautiful day!" says Victoria. And Charlie loved it.
Ross says the gondola is one of a kind in New Zealand and transforms the mountain visitor experience lifting it to a whole new level. "Sky Waka is the culmination of years of planning and today is an exciting day for not only mountain visitors but also the region as whole."
Sky Waka has fifty gondola cabins with floor to ceiling glass for breathtaking views, internal ski racks, audio and lighting and individual leather seats. It offers business-class luxury to passengers befitting of the UNESCO Dual World Heritage status of Whakapapa Ski Area.
Each cabin accommodates 10 passengers and even the tallest skiers will be able to stand upright in the cabin with more than 2m of internal clearance.
Until the upper mountain ski fields opens Sky Waka will only be operating for sightseeing. Once riders reach Knoll Ridge Chalet they can experience the newly renovated dining areas.
More on SunLive...