When Mr Nice Guy is not being nice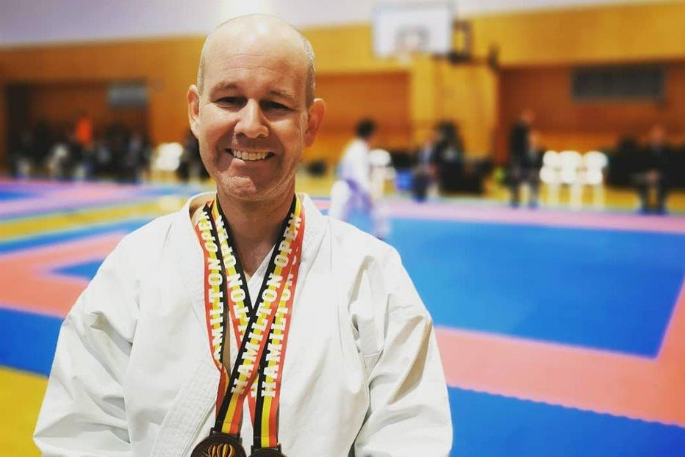 He's the chocolate smooth tonsils on the Breeze easy listening breakfast show – the nice guy, the Mark of Mark and Jolene.
But don't be lulled – the voice could probably kill you with his bare hands, not that there is the propensity to do so.
Because Mark Eagle, the man who likes to make listeners feel special for four hours each morning, is a 30-year karate exponent.
"There's the kumite side to karate - the full contact fighting side," says Mark. "And there is kata, I love the kata side."
Kata is the expressive side of karate, it's about forms, the karate specific techniques, choreographed pattern of movements. But again don't be lulled.
"You have got your strikes in the air, some pretty nasty techniques when you find out what they're designed for."
They are designed to maim and kill.
"You know, the eye gouges and the nasty bit where you pull things off people. That's if you actually had to use those techniques."
And fortunately, in three decades of karate, he hasn't needed to. Probably never will.
This weekend the 45-year-old radio jock is in Auckland for the New Zealand national Karate Championships. And that is on the back of a very successful outing at the Hamilton just recently.
"A gold in the men's veteran open – 35 years and older. And bronze in the mens' open - so you're up against teenagers and guys in their 20s – half my age – so that was a good feeling."
A win at the nationals this weekend would mean nine New Zealand titles all up for the Breeze breakfast man. He's good.
"I suppose it's pretty good anytime when someone from Tauranga is beating someone from Wellington or Christchurch," says Mark.
He's not only an exponent but an advocate.
"It's especially great for kids to get into karate. They sort of exude confidence and tend not to be picked on. And if they do, then they can look after themselves."
But they don't go looking for fights, they learn not to. Karate is about self defence.
And for all three or four years Mark Eagle has been on the Breeze Tauranga, and successfully so, not one mention of his prowess at karate.
"I would feel a bit self-conscious talking about myself on radio."
Then with typical humility, the radio jock slips into a Breeze promotion.
"The Breeze is not about me and Jolene," insists Mark. "It's about making our listeners the stars… yeah!"
The latest survey results, the lifeblood of the radio industry, came through two weeks ago last week.
"Really good for us, the Breeze has gone up quite significantly," says Mark.
So it is like karate, the higher and harder you kick, the more it pays off.
More on SunLive...