Sharing a pie with Tauranga's pie king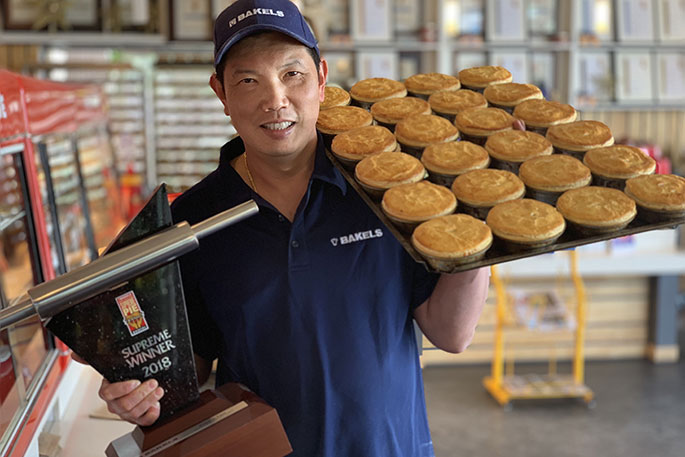 It's a damp morning in Tauranga and the pies are rapidly heading out the door at the 'official residence' of New Zealand's Pie King, Patrick Lam - six times winner of the Bakels NZ Supreme Pie Awards.
He's looking a bit edgy, a little stressed but still he takes time to sit and share a pie in his Gold Star Patrick's Pies bakery café in Bethlehem.
He admits he's facing a huge challenge as he prepares for this year's Bakels NZ Supreme Pie Awards judging day on July 25.
"Basically when you enter the pie competition you have a lot of preparation and pressure because people have high expectations for us and we put a lot of expectations on ourselves as well.
"For us the expectation is that we want to keep the high standard of our pies and ensure that our business performs at its best at all times. We owe that to our loyal customers.
"For us the Supreme Award is our mark of quality, that our pies: the standard and look of our pastry and flavour combinations are of the highest standard.
"That's why we enter the Pie Awards every year. It motivates everyone at Gold Star Patrick's Pies to keep our standard high. And when we win we celebrate as a team.
"We go out to dinner and we celebrate because our success is not just about what one person does; it is about everyone working hard to achieve that result, and I've got a great team so we celebrate our success together," says Patrick.
Last year it was Patrick's roast pork and creamy mushroom pie that earned the Supreme.
This year he's keeping it pretty quiet about flavours he'll enter, saying that he hasn't made up his mind yet as to what he'll enter in various categories or whether he's tweaking his recipes for his previous Supremes – Gourmet Meat, Bacon & Egg and Steak, Mince & Cheese.
"It's easy to make a pie but it's hard to make a perfect pie because anything can happen with the ingredients.
"When we're making pastry, the weather, particularly the temperature and moist in the air, can have a big impact on the flour, how soft your margarine is, the amount of water you use or how long you mix it for. That is where baking experience counts but even I am still learning how to get it right."
When it's all over and the fuss has died down from any Awards night success – it can increase production by more than 200 times normal quantity – Patrick will reward himself with a holiday, a short holiday only. So if he had his time again as a young man, would he choose to be a baker?
"Yes. To be honest it's very hard work and you have to work hard to make it pay off, to gain experience and knowledge.
"But when you see your business is successful and so many customers come back and give you feedback about your pies, and for even some of them to come from overseas and say that they've come to Tauranga or Rotorua especially for our pies, that's amazing, a very good feeling and knowing what that is like, I would choose to do it all again tomorrow," says Patrick.
More on SunLive...