More volunteers for the 'Milo Night' crew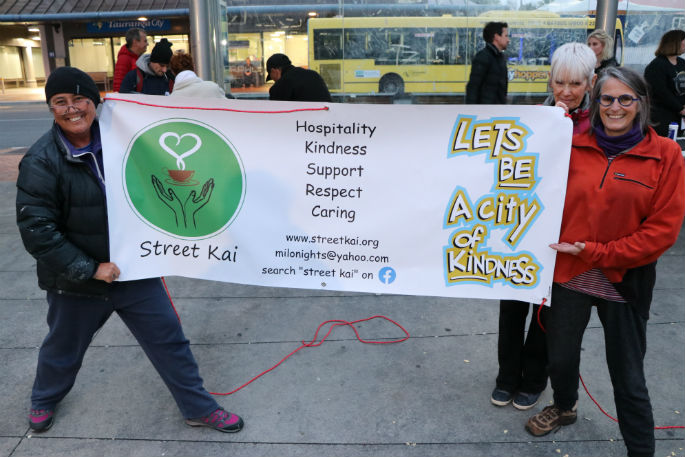 Street Kai gets together every Monday for 'Milo Night' at the Willow St bus stop, providing Tauranga's vulnerable community with hot food, warm clothes, connections and a cuppa.
Two weeks ago, The Weekend Sun published a story about how the crew were in desperate need of additional volunteers due to an increasing amount of rough sleepers showing up for kai each week.
Since the article was published, founder Tracey Carlton is seeing more and more volunteers showing up each Monday evening to give a helping hand.
"Some new vollies [volunteers] have totally committed to coming weekly, which is really fabulous for us because we need the support," says Tracy.
New Street Kai volunteer Linda joined the team two weeks ago. Humbled by her experience at 'Milo Night', she says she will definitely continue volunteering in the future.
"It was great to be part of a community that I haven't been in before. You can see how much Tracey and her team give of themselves."
"It is daunting to think in a prosperous place like Tauranga we have got a hundred people showing up for a meal on a regular basis."
Street Kai volunteer Ann has been getting involved with 'Milo Nights' for about a year.
Over the past two weeks, she has seen new volunteers and new people bringing along food and unfamiliar faces wanting to know how else they can help out.
One new volunteer even donated 15kg of fresh fish for the crew to cook with.
"It's just been fantastic. Normally we just had the core people to do it, whereas last week we had all these extra people, and all this extra food."
Another Street Kai volunteer Grant says extra support from new volunteers gives the crew more time to connect with the 'peeps'.
"Normally we are running around serving food and drinks. Now we can have more in-depth conversations with the peeps, which is awesome because they are all really good people.
"We had the time, energy, and aroha to get out from behind the kai table and mix and mingle with the peeps, which is what our nights are built on," says Tracy.
'Milo Night' volunteers range in age from four-years-old to in their seventies.
"Our youngest vollies that come are four-years-old. They make food with their mum, and then their aunty brings them over here.
"We have two teenagers that come along regularly, people in their seventies and people in their fifties. This shows that anyone can step up with us, young or old," says Tracy.
The Street Kai cooking crew are now looking for additional support from the community, hoping to see more people contribute to baking and cooking.
"We definitely need the kai support, and we are very specific about the kind of food we want. We ask the peeps what they need, and they need protein.
"They want scrambled eggs, baked potatoes, boiled eggs, lasagne, macaroni cheese, cottage pie, chicken stew and baking.
"If you talk to the peeps, they will tell you it's not about the kai, it's the caring behind the item."
For more information about how you can support Street Kai team visit: www.streetkai.org email: milonights@yahoo.com or visit their Facebook page: Street Kai.
More on SunLive...