No fair suck of the sav in Tauranga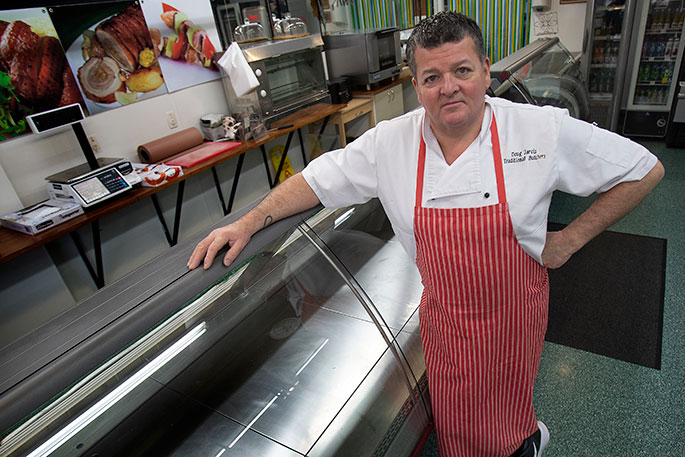 The traditional Cumberland sausages, Lancashire black pudding and pork pies have disappeared from Tauranga's main street… just as quickly as they arrived.
Doug Jarvis, the traditional English butcher, a man who knows his craft, a second-generation butcher with 38 years of experience, couldn't make his expansion into the Tauranga CBD work.
And after an 18-month dabble in the CBD, he's gone from Devonport Road.
"When I took it over from Jason and Dee, it was going well, very well."
But then Farmers closed and other shops followed. "Over the last four months it's gone from iffy-ish to nothing," says Doug. "No customers, zero, there's nobody in that street whatsoever."
So the signs went up in the window of Doug's Devonport Road shop. "Dear valued customer, it is with great sadness that I have no other option but to close down our Tauranga store until further notice. It is a sad day for this iconic butchery…" Doug hung on for as long as he could without losing too much money.
"Any queries contact me personally." Because the personal touch is the way this man operates.
"Damn!" said a passerby after reading Doug's windown notice. "He does great snags." She will just have to drive 8km to Owens Place or another 10km to Papamoa where Doug has other outlets.
"I was hoping to grow my business, get out there," says Doug. "But if I got 12 customers a week, that was a lot. Even then, they were buying a pie or four sausages. None of the big customers like in my other stores."
"Disheartening," says Mayor Greg Brownless.
"Definitely a decline and it's observable." Of course he would love to see the heart of his city pumping. Doug Jarvis did a count the morning the "closing" signs went up. "Twenty-two empty premises. It's a dying city. I would hate to see what that place will be like in 12 to 24 months."
The Mayor says events have conspired against retail in Devonport Road – like the malls and the opening of the Crossing with 100 shops and eateries, and Farmers temporary departure from the city.
"It's hard to know what would work in downtown Tauranga. Although when Farmers comes back, like may attract like. Let's hope."
Doug Jarvis says the one prickly issue raised by customers was parking – not enough and too expensive.
The new carpark building may help but the Mayor says only people will help. "Auckland's Queen Street died until people started living downtown. Now 50,000 to 70,000 people live in the CBD and it's buzzing."
So when Farmers return and apartments start springing up, creating a downtown population, things might change. But, says the Mayor, people need to do more than talk. "They have to support the businesses – they have to go out and eat and buy there."
But that will all come far too late for Doug Jarvis. "That's sad." There were a lot of sparkling stainless steel cabinets in his shop this morning and not so much as a lamb chop. It may be a wider problem. "Every retail butcher I know will say they're doing okay but they're not. It's a dying industry."
The soulless supermarkets are taking over, pre-cut and pre-wrapped meat – no chat, no smiles, no personal service.
"I am not sure there are any answers," says the butcher, turning his back on Devonport Road.
More on SunLive...