University of Waikato chancellor retires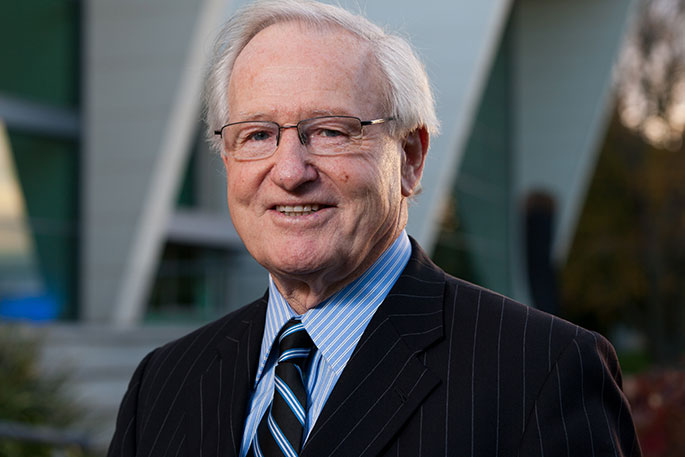 The Rt Hon James Bolger's term on the University of Waikato Council, and as Chancellor of the University, ended on 30 June 2019. He has been a member of the University Council since 2007 and has served as Chancellor for all of his 12 year term on Council.
James Bolger was a leading figure in New Zealand politics for 25 years, serving as a Minister for 16 years, as leader of the National Party for almost twelve years, and as Prime Minister of New Zealand from October 1990 to December 1997.
His 12 years heading the University of Waikato has seen the institution progress through a period of formative change and into a new era of tertiary leadership. He says "we're growing well, we're vibrant, we're very solvent as a university, we have high quality leadership – we have all the necessary conditions for success."
The completion of the Law building with the associated additional space for the Waikato Management School, and the completion of the first building in the new Tauranga CBD campus has been a highlight for James. Another highlight is the outreach to remote communities provided by the University's regional bus service to support students from families who have no traditional connection with the University.
During the 12 years that he has been Chancellor, James says the University has made a lot of progress in building teaching and research programmes of international quality and accepting the need to change to address the expectations of society. "Change is always challenging for big organisations, because it moves some staff out of their comfort zone, but it is essential.
"Universities should have the combination of intellectual knowledge and engagement with the world around them to provide leadership across the whole of society. Universities must always be encouraged to lead especially where that leadership uncovers the folly of what went before."
James considers the senior leaders and academics he has been working with at the University of Waikato as being of the highest quality. "I have worked with them to move the University into another gear moving forward. That has meant some change. And change can mean some disappointment for people who are happy with the status quo. But tomorrow's problems will not be solved by the status quo. That's reality."
One might imagine that leaving the Chancellor's role might free up a bit of time for James, but he says work seems to just come to him. "I don't think I've applied for a job ever. Even when I went into parliament a delegation came to me and asked me to step forward. My local community in Waikanae has asked me to help out. Who knows who will come along and ask me to do something else."
The new Chancellor will be elected by the University Council at its meeting in August.
More on SunLive...