Slow-slip event off East Coast has now finished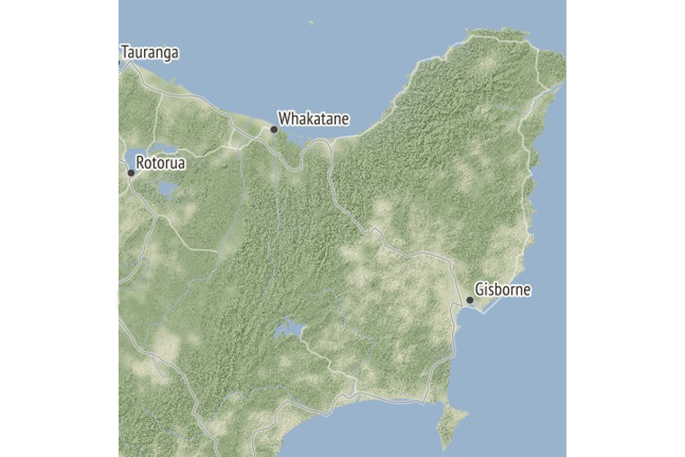 Earlier this year, GeoNet's GPS network recorded a large slow-slip event off the east coast of the North Island. Since about early June, this activity has tapered off.
GNS Science Geophysicist Laura Wallace addressed this slow-slip event, providing an update to the public on Thursday July 4.
"Some of you have been asking 'what's going on?' with that slow-slip event," writes Laura, "so we thought it would be good to provide an update."
Laura says the East Coast slow-slip event finished up about three weeks ago, in mid-June 2019.
The slow-slip event began offshore of Gisborne during the last week of March and spread southward towards offshore Hawke's Bay.
"You might remember that the movement during the event slowed down for a few weeks in April before picking back up again in the Hawke's Bay region at the beginning of May," says Laura.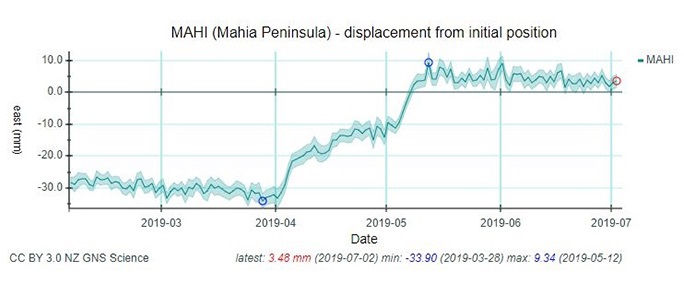 Timeseries plot showing displacement at Mahia Peninsula. The plate movement slowed for a few weeks before picking up again.
"During the slow-slip event, we recorded many small-to-moderate earthquakes in the area, including a M5.1 on 14 May," says Laura. "While these quakes have also tapered off, a model showing the evolution of the event indicates that many of the earthquakes appear to track the slow-slip movement."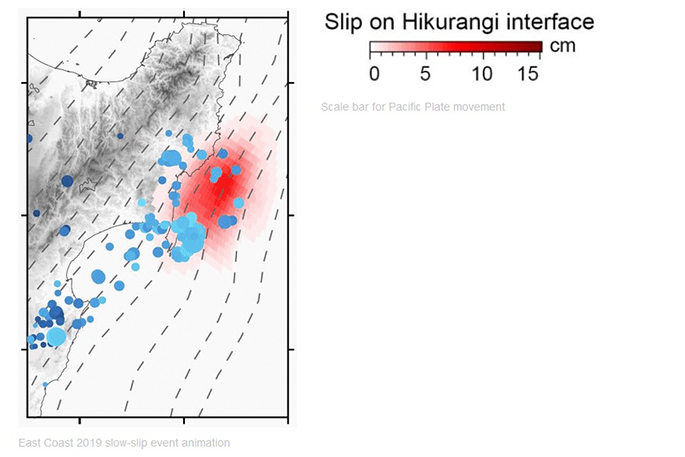 An animation showing the East Coast 2019 slow-slip event can be viewed here.
This animation shows movement on the Hikurangi subduction plate boundary during the 2019 East Coast slow-slip event and associated earthquakes. It shows that the event started offshore Gisborne and moved south to Hawke's Bay. Deeper red indicates increased rates of slow slip movement. See colour scale bar showing amount of movement on the plate boundary during each week-long snapshot. Models prepared by VUW PhD student, Katie Woods.
"Our scientists currently have over two dozen instruments beneath Poverty Bay and Hawke Bay that are recording seafloor movement and earthquakes during slow-slip events," says Laura.
In November, these instruments will be collected and the data they provide will help give GNS Science a better picture of what happened during this event.
Total movement along the Hikurangi Subduction Zone during this slow-slip event is estimated to be about 20-30 cm, which is equivalent to roughly four-to-five years of plate motion there. To look at it another way, if this had ruptured in a single, instantaneous fault rupture, or what we consider a typical earthquake, it would likely have been similar to a M7.0 earthquake.
"Our scientists had been anticipating this slow-slip event," says Laura. "That's why we have instruments on the seafloor right now recording movement.
"Our slow-slip record has shown regular events every one to two years with much larger events every four to six years. This most recent slow-slip event appears to be the largest event we've seen offshore the east coast and is slightly larger than the 2010 Gisborne slow-slip event - previously the largest we have observed in that area."
Laura says that slow-slip events are quite common in this part of New Zealand, due to the subducting Pacific Plate moving westward under the Australian Plate.
"We started detecting slow-slip events in 2002 after installing a GPS - Global Positioning System - network around New Zealand to monitor land movement.
"Since then, we've seen slow-slip events in this area every one to two years, with larger events every four to six years," says Duty Seismologist Dr Jonathan Hanson. "This event is currently about the size of the previous largest slow-slip event we recorded in early 2010."
"Slow-slip events, sometimes called silent earthquakes, are undetectable by both humans and our seismograph network because they move faults over weeks to months instead of within seconds like the earthquakes that you typically think of," says Laura.
Remember that if you feel earthquake shaking to DROP, COVER and HOLD. If you are close to the water, once shaking stops, immediately get to higher ground out of all tsunami evacuation zones or as far inland as you can. Remember, if you feel a LONG OR STRONG quake GET GONE in case a tsunami follows. Long is considered longer than a minute, and strong is classified as hard to stand up.
For GNS Science's previous updates on this slow-slip event, visit these links:
Slow-slip event off the coast of Gisborne
East Coast slow-slip event update
M5.1 quake off the east coast of the North Island
(Sourced from Geonet)
More on SunLive...