BOP Architecture award winners announced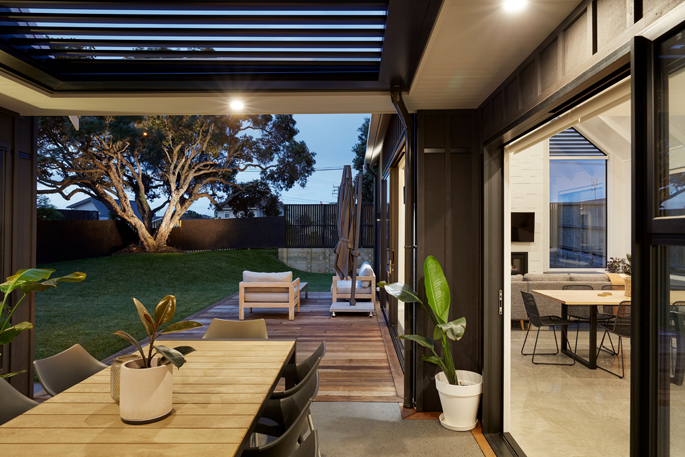 A traditional beachside family home, a compact holiday home and an extraordinary renovation were just a few of the winning designs celebrated on Friday, July 5 at a function to announce the winners of the Bay of Plenty ADNZ Resene Architectural Design Awards.
Held annually, the ADNZ Resene Architectural Design Awards celebrate the creative talent of architectural designers and architects from around New Zealand.
Awarding designs in multiple categories, projects include residential, commercial, alterations, interiors and multi-use designs. All designers must be members of Architectural Designers New Zealand to be eligible – a leading professional body for architects and architectural designers in New Zealand.
This year, five regional awards and two commended awards were given to four designers at the Bay of Plenty regional round. The award winners are Adam Taylor of Adam Taylor ARCHITECTURE, Jonathan McAlpine of TGA Ltd, Will Tatton of Will Tatton Architecture Ltd and Jason MacDonald of JMAC Ltd.
Jonathan McAlpine was a big winner on the night, taking away two regional awards and one commended award. He won a Residential New Home between 150m2 and 300m2 Architectural Design Award for a home titled 'Pure Forms', a Residential Interiors Architectural Design Award for a project called 'Textural Connections' and was recognised with a commended award for another design called 'Timeless Tradition'.
'Pure Forms' is a stunning family home nestled in the heart of Mount Maunganui. The brief given to Jonathan was threefold. The clients wanted to create a home that functioned well for their young family's needs and that had the feel of a traditional beach bach. It also had to utilise its unconventional site to its full potential, allowing for a boat park. The brief needed to be delivered under a strict construction budget.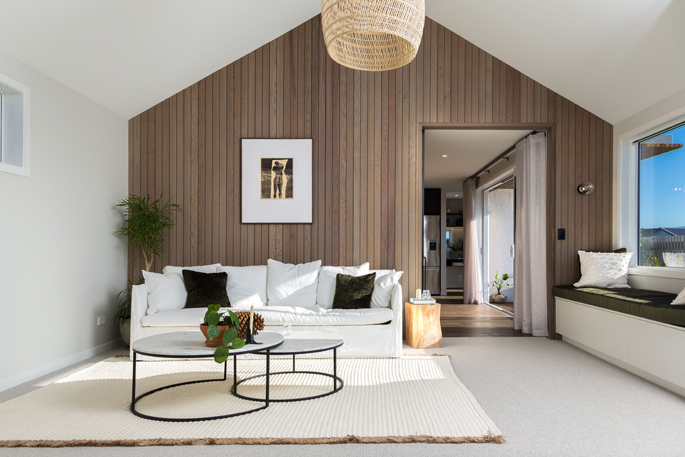 Jonathan's 'Textural Connections'. Image: Supplied.
Jonathan went for a simple design that used pure forms and a traditional aesthetic with strong rooflines. To accommodate the brief, they extended the footprint into the roof space. This maximised the floor area and limited construction costs. In keeping with the traditional architecture and Mount Maunganui bach theme, stained cedar plywood and batten was selected.
The judges say the substantial home carries its size well.
"The plan and the form have been carefully crafted to create a sequence of spaces, a combination of calm, dramatic, expansive, and intimate, all as a backdrop for family life."
Adam Taylor of Adam Taylor ARCHITECTURE won the Residential Compact New Home up to 150m2 Architectural Design Award for his design 'Tui's Nest'.
Created for a client looking to add a compact dwelling at the rear of their site to rent out, the design needed to be intimate enough for a couple and practical for multiple families. It also had to be removable, cost effective, durable and not feel small.
The judges say the angular forms and a splaying soffit created drama and a strong presence for a home wedged confidently into a tight and challenging site.
Will Tatton of Will Tatton Architecture received the Residential Alterations and Additions Architectural Design Award and the Resene Colour in Design Award for a Mount Maunganui home titled 'Shimmering Skin'.
The judges say the clever renovation of a two-storey home saw the façade of the house present an abstract textural face to the city while the interior felt like summer with white surfaces, clean detailing and natural light.
Jason MacDonald received a Commended award for 'Tuhua Lookout', a Waihi beachfront family home with spectacular views of Tuhua.
Architectural Designers New Zealand CEO Gregory Watts says that Bay of Plenty designers are masters of the beachside aesthetic.
"Whether contemporary or traditional, these beachside homes sit comfortably within their environment, embracing the views and the natural beauty of the region. Well done to all the award-winning designers."
The regional ADNZ Resene Architectural Design Awards will be held across the country from June through to August in the lead up to the national awards. National award winners and the Supreme Award winner will be announced on Friday October 18 2019 in Queenstown.
More on SunLive...