If the league gods are smiling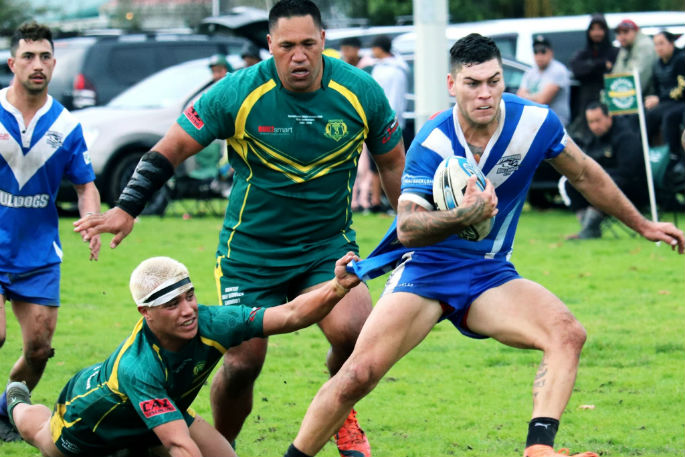 It's a simple enough equation for Jock Nicholson's Papamoa Bulldogs rugby league team next weekend - win and stay in, lose and you're dust, the season's done.
"College Old Boys are fifth, we're sixth and we just have to focus on winning or it's over," says Jock.
It's probably an easier path to the semi-finals of the Waikato competition for Otumoetai coach Grant Sundburn. But he certainly doesn't want his Eels squad thinking they will have a cakewalk against bottom-of-the-table Hamilton Hornets at Mitchell Park next weekend.
"If a couple of results don't go our way, then we will need to put 20 points on the Hornets. If other teams win as well it might just push us out of the top five, out of the semi finals."
Doesn't bear thinking about for Grant Sundborn. So he doesn't want his Eels starting that game thinking they have already won it.
"We don't want to miss out on the semis just because we went out against the bottom placed team with the wrong attitude and didn't score enough points."
The Eels need to put points on the Hornets. And to make that happen coach Sundburn will be "upping the training" as Otumoetai works out at Mitchell Park in preparation for "a most important game". They will play controlled, positive league, stick to their game plan and deliver those points to their coach.
The Papamoa Bulldogs may have stepped up to play in the strong Waikato competition, they'll be four and four this season with a win next weekend, but the tough league, the hard league, starts in the semis.
"We have been patchy this season, good in phases," says Jock. "We have a side to hurt other teams and win the competition. But doing it week in and week out is difficult."
And that Papamoa grit, the ability to "hang in there" might not be enough in the semis.
Last weekend's outing for the Eels was bitter-sweet for Grant Sundburn. The Eels were even leading against the second placed Ngaruawahia Panthers and Sundburn may have sensed something special was happening.
"We were hit with late injuries – that's a reason, that's not an excuse, and all things considered, we did well against a top flight team." There was also a late Panthers try that took the score out to 36-22 – a score which Jock Nicholson, who was on the sidelines, says belied the closeness of the game.
"It was a cracker," admits the Papamoa coach.
Even more of a cracker would be if the sums, the league gods, the results all come together in perfect harmony and Otumoetai Eels and Papamoa Bulldogs were squared off in a local semi-final derby. That would be worth parking on the hill at Mitchell Park and watching.
In the meantime it must say something about the state of the game in the Bay of Plenty when the two city clubs in the first year up are on the brink of semi-final berths first year up in the Waikato club rugby competition.
Papamoa Bulldogs Reserves play College Old Boys Reserves at Gordon Spratt Reserve, Papamoa on Saturday July 13 at 1.30pm. At 3pm, Papamoa Bulldogs Premiers play College Old Boys Premiers.
More on SunLive...