Greenpark to represent BOP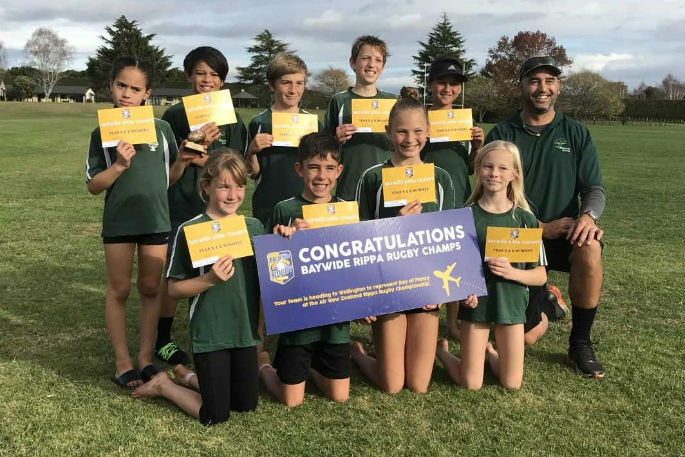 After being close so many times it is finally Greenpark School's time to contest the national Rippa Rugby championships.
The Year 5-6 team will represent Bay of Plenty at the Air New Zealand Rippa Rugby Championships to be held in Wellington on August 25-27.
The squad of five boys and five girls had to win both the WBOP Rippa Rugby champs and the BOP Rippa Rugby Champs held last month in Paengaroa.
Greenpark won all of its pool games against Mount Maunganui (4-1), Edgecumbe (7-2), Glenholme (5-3), Owhata (9-3), and Te Kura Kaupapa Maori o Te Koutou (9-2).
In the semi-final Greenpark defeated Putuaki from Kawerau 5-1 to set up another clash with the strong Mount side in the final.
Greenpark scored the first try which would prove to be vital because if the game is drawn at full time the winner is the team to score first.
That early try was the only time Greenpark led the match as the Mount went ahead 2-1 before Greenpark levelled. Another Mount try saw them set to win but an error in the final minute saw Greenpark grab the chance to score the final try to draw 3-3 and earn the right to represent Bay of Plenty.
Team manager Darren Leef says much credit has to go to coach Warren Smith and all the wonderful support the team has had from the wider Greenpark School community.
Warren says they have had some decent teams in the past but this year's group was probably the best team they have fielded in the competition.
"This year we had some good strong girls coming through with plenty of pace which has been a real strength for us. In Rippa Rugby there are seven players involved with at least three girls on the field at all times.
"Our boys are very skilful and quick on their feet. Making the right decisions at the right time is vital. As there is no contact you are taking the ball to the line all the time and having to decide to pass or hold on. How to put people into gaps is so important. The kids are so skilful these days."
Darren says there is excitement building ahead of the trip.
"It is really about the experience of going down there. Half of our team have never been in a plane before. NZRU are looking after our accommodation and travel down there plus giving the kids an opportunity to maybe meet All Blacks which is another first.
"And we get to play a bit of rippa as well wearing Bay of Plenty jerseys. For a lot of these kids it might be the highlight of their rugby career and for others the stepping stone to greater things."
More on SunLive...