Owner devastated after losing man's best friend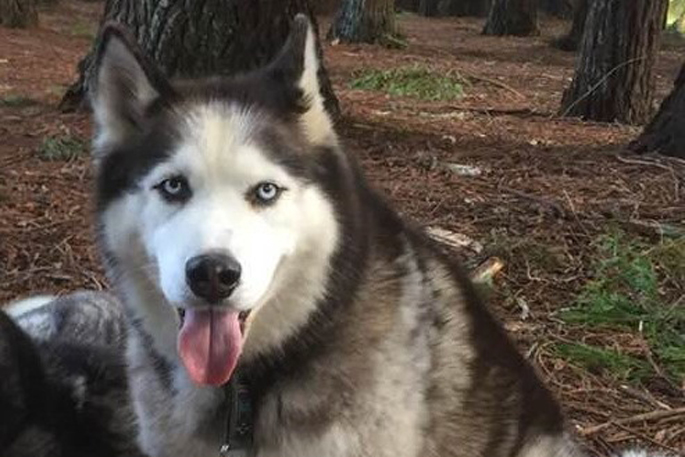 A Tauranga man is incredibly sad but grateful after his missing dog, Jet, was found on Tuesday afternoon.
A young man came across Jet at the bottom of Whakamarama in the Te Puna stream, after initially thinking he was a sheep or lamb that had been washed down.
Jet's owner Jeremy Longman says when the young man approached the unknown figure in the stream, he then realised it was Jet with his coat.
"He had seen posters around and photos on Facebook and he actually knows one of the veterinary nurses at the Tauranga Vets Clinic where Jet used to go for his vaccinations, so he got in touch with her straight away."
Jet was found 4.5km away from Jeremy's property.
"First and foremost I would just like to thank everybody in the Tauranga area and the greater regions around New Zealand, in the north island, the south island for sharing my posts through Facebook to try and reunite me with Jet," says Jeremy.
"It really means a lot to me, it's really humbling and I can't thank them enough really, I'll never get to meet these people but it really means a lot to me.
"I have got Jet back, not as I would've liked to, unfortunately he is now deceased. I'm going to arrange to have him cremated and have his ashes returned to me in a nice wooden urn, next to the other Siberian Huskies I've had over the last 30 years."
Jet originally came from the Te Puke dog pound, and Jeremy says he would've been coming up to 12 years of age.
Jet and Sire, Jeremy's other Siberian Husky, were "best friends for 11 years".
Jeremy and his two Siberian Huskies, Sire and Jet. Photo: Supplied.
Tauranga Vets Clinic business manager Janelle Nee says the young man who found Jet called on Sarah Prior, one of the nurses at Tauranga Vets.
"It was her day off and she rang the clinic immediately, and she said I think we might have found the Husky.
"They went down to the river and retrieved Jet, they bundled him up and took him into the Te Puna vets and scanned him for a microchip, thinking this is the missing dog.
"It was an exceptional effort by these two young people retrieving the dog."
Jeremy says he is arranging to meet with Jet's rescuer this afternoon.
"He is going to take me back to where he found him, with Sire, where I can have some quiet time and think about where we've been and what we've done."
Jeremy's property was completely secure, however he says when he returned home on Friday, June 14, a door had been opened and Jet had gone.
In regard to the young man who found Jet, Jeremy says he knows who he is, and he is a legend.
"He is a very, very amazing young guy, and he deserves everything coming to him, and I'm going to offer him the reward, he can take it or give it to charity.
"All I wanted was Jet back, and I've got Jet back, so we're all good."
As to how Jet got out of the property, Jeremy still doesn't know. After asking neighbours and the nearby petrol station owner, he says nobody saw anything.
"For a dog of his size, and he's a beautiful dog, somebody would've seen something somewhere.
"I'm still convinced someone knows something into how he ended up in the stream, but time will tell.
"At the moment I'm just grieving."
Jeremy doesn't know Jet's cause of death, however he says he can have an autopsy, x-rays and a toxicology report conducted, however for the moment he is going to think about it.
"Thank you to everyone in Tauranga region for the help, care and sharing my posts, that's all I can say from the bottom of my heart, I owe you a massive deal of gratitude, whoever you are or wherever you are, thank you."
More on SunLive...