New mall anticipates one millionth visitor in July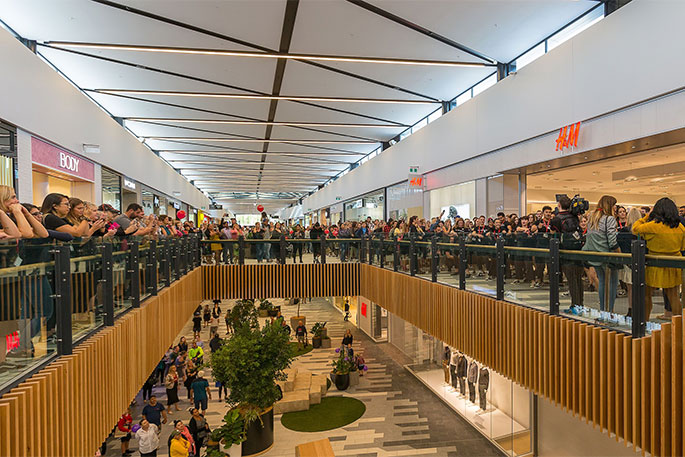 The new mall at the Bay of Plenty's premier retail destination is expecting to attract its one millionth customer this July, a month which will also include the mid-winter school holidays.
Since the grand opening of the mall in April when Tauranga Crossing saw over 70,000 customers through its doors on its first weekend, it has continued to garner impressive shopper numbers with its extensive array of specialty retailers, eateries and entertainment options.
There are lots of attractions for families at Tauranga Crossing and to top it off the Centre is launching its very own Floam Factory for the school holidays - where children can get their hands on the latest trend: Floam.
From July 8 – 19, Tauranga Crossing will be home to a Floam Factory where children will be given the opportunity to make their own creations.
Gooey, crunchy, green, pink, the floam will come in all colours and texture, providing the kids with endless artistic possibilities.
This free activity will complement the Centre's entertainment precinct anchored by Event Cinemas. Boasting with 800 seats, six screens and the only Vmax screen in the Bay of Plenty, Event Cinemas is set to entertain children and parents.
During the school holidays, Event Cinemas will be showing three highly anticipated animation movies: The Secret Life of Pets 2, Toy Story 4, and the remake of Disney sensation: The Lion King.
"Welcoming our millionth customer into the new mall at Tauranga Crossing is a real milestone for the Centre," says Tauranga Crossing centre manager Andrew Wadsworth.
"When we set out to develop the complex, we had a vision of it being a true community hub - and so we are so thrilled that it's been welcomed into the Bay of Plenty community with such open arms.
"There is a lot going on at Tauranga Crossing for parents looking to keep children entertained these school holidays - from the launch of our Floam Factory pop-up to the release of the highly anticipated Toy Story 4 and The Lion King- it's the perfect destination for a fun-filled day."
More on SunLive...