Single-use plastic shopping bags ban kicks in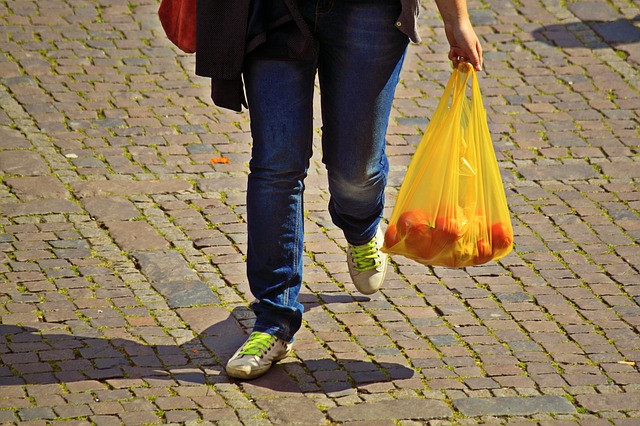 The ban on single-use plastic shopping bags, which takes effect on July 1, is a step towards healthier oceans and giving nature a hand, says Associate Environment Minister Eugenie Sage.
"New Zealanders are proud of our country's clean, green reputation and want to help ensure we live up to it. Ending the use of single-use plastic shopping bags helps do that" says Eugenie.
"From tomorrow, 1 July, the ban will cover all retailers. People who take their own re-useable bags help local businesses and markets. New regulations mean such businesses can no longer provide their customers with a single-use plastic shopping bag to carry their purchases."
"The ban should ensure less plastic ends up in rivers, streams, storm water systems and the ocean so seabirds, fish, turtles, and marine mammals are less vulnerable to being harmed by it."
"At the start of plastic-free July, the plastic shopping bag ban is one step to tackling New Zealand's waste issues. We also need to recharge our materials recovery and recycling systems and shift to a circular economy."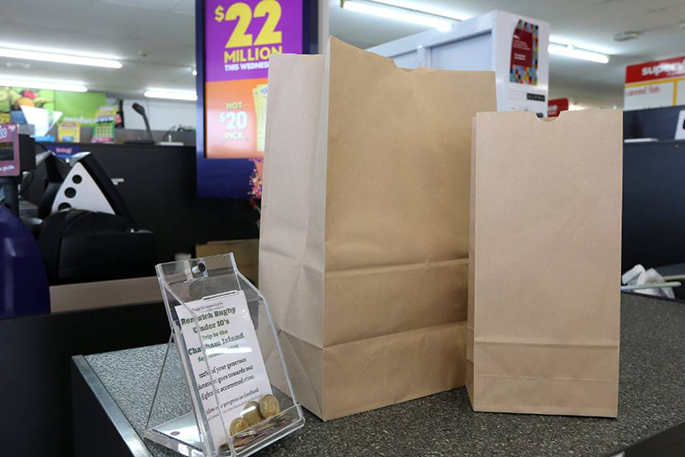 It's paper not plastic at supermarkets across the country. Photo: Scott Hammond/Stuff
Mainstream supermarkets have already made the change away from single-use plastic shopping bags and report that this has stopped tens of millions of bags being handed out for as little as ten minutes use each.
New Zealanders appear to have made a rapid transition to reusable bags, with 56 per cent of shoppers in April 2018 bringing reusable bags increasing to 91 per cent always or often bringing their own reusable bag in September 2018, according to survey research done for the Ministry for the Environment.
"Government regulations and the sum of many individual actions make a difference. New Zealanders remembering to take their reusable bags is stopping tens of millions of single plastic bags becoming waste each year."
"Lightweight single-use plastic shopping bags pollute nature because they are easily transported by wind and water. The phase-out encourages people to act with nature in mind," says Eugenie.
Businesses were given six months ahead of the ban to phase-out single-use plastic bags.
The Ministry for the Environment (MfE) has focused on educating businesses about the ban and have a toolkit for businesses on their website.
There is an online portal on MfE's website so people can report businesses that are still giving out single-use plastic bags after the ban takes effect.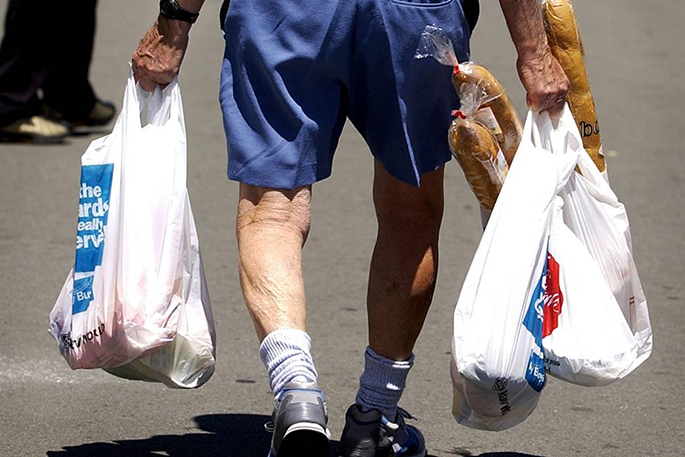 The plastic bag ban comes into force on Monday - but there are many exceptions. Photo: Kent Blechynden/Stuff
Questions about the ban:
How will you enforce the ban?
The Ministry for the Environment (MfE) has been focused on working with businesses to make sure they are aware of the ban. As part of this there's been a toolkit for businesses on our website, and they've introduced a six month phase-out period, to make sure businesses have had enough time to make a transition away from single-use plastic bags.
From July 1, MfE will have an online form, so people can let us know about retailers who are not complying with the ban. MfE will contact businesses they confirm as not complying, and will work with them to figure out why they haven't stopped giving out single-use plastic bags. MfE will also be implementing random retail precinct audits to assess levels of compliance and advise retailers where changes are required.
The Government does not have prosecution targets or a goal to prosecute retailers. Our priority is to obtain compliance, and that's why businesses were given six months to phase-out the bags. In saying that, if MfE end up needing to prosecute, they will – although they don't want to get to that point. If a prosecution is successful, the court is able to determine a financial penalty. Prosecutions are costly and time consuming for both parties, which is why the priority will be ensuring retailers understand the ban and the alternatives available, so they can do what's right for our environment.
What is a single-use plastic shopping bag?
Made of any type of plastic less than 70 microns in thickness
Have carry handles
New or unused
Provided for carrying sold goods (this includes goods given away for free)
Made of bio-based materials like starch, and made of plastics that are degradable, biodegradable or oxo-degradable. These are sometimes marketed as "not plastic."
What is 70 microns in thickness?
We have phased out single-use plastic bags similar to the ones you'd get at supermarkets and stores.
For example, the old yellow Pak N Save bags were about 35 microns.
The ones that you typically find in clothing or department stores are between 50 and 70 microns.
The bags many people are using now are jute or polypropylene bags, that can be reused over and over, and this is a positive change people have already made
Retailers will need to seek clarification from their suppliers on the thickness of the bags that they order. We encourage businesses to opt for reusable.
Why are bio-bags banned too?
Even though bio-based plastic bags are sometimes made from plants, their manufacturing process prevents them from breaking down as quickly or as easily.
Compostable bags, for example, if not composted properly, end up being a problem too.
Not everyone has access to a home compost with the capability to process compostable bags and many New Zealanders do not have access to a Commercial Compost facility
This could be revisited in the future if the right infrastructure is developed
We are encouraging people away from single-use options and towards reusable ones wherever possible
What's not banned?
Lightweight barrier bags (like the ones that you get in the deli or butchery), bin liners, pet waste bags, nappy bags
Bags integral to a product's packaging - like bread bags and pouches for cooked chicken
Why? For hygiene purposes, we know these types of bags are currently needed. We are not considering any other bans, but we'd love if people thought of their own ways to reduce any type of plastic waste. For example, people can choose to bring their own bags when buying produce.
Are there exemptions?
All organisations who sell items for money are covered by the ban
Long-life synthetic fabric multi-use shopping bags are exempt from the ban
This refers to bags between 45-70 microns in thickness and made wholly or predominantly of:

Nylon, polypropylene or polyester fabric and designed to be multi-use; or
Certified by an accredited entity as being capable of carrying 5 kg over a distance of 100m for a minimum of 55 uses

The exemption is intended to cover bags made from synthetic fabrics (ie. nylon, polyester or polypropylene), as these types of bags are reusable and often lightweight and may be able to be folded or scrunched down to easily fit inside a pocket, backpack or handbag.
If made from material other than nylon, polypropylene or polyester the bags will need to be tested in an independent laboratory to confirm that it is capable of being multi-use.
What businesses are affected by this ban?
All retailers selling goods in NZ
Retail shops, eateries, online stores, not-for-profits organisations, community markets, wholesalers, charities who sell items as part of their fundraising.
If they're in NZ, and selling goods, they are affected by the ban
Explain the phase-out period?
Ban first signaled by the Prime Minister in August. The details of the ban were announced in December following consultation. This gave business a six month phase out period.
The six month was to allow businesses and customers time to transition
Phase out period ends on 1 July
A short phase in period was favoured by a majority of submitters
We have seen rapid behavior change – in Sept last year, 91% say they always/often bring their own reusable bags
What about all the other single-use plastic products and packaging? Are you going to introduce more bans?
There are no immediate plans for any other bans. Unnecessary single-use items are problematic. That is why we are encouraging the public to bring reusable shopping bags. Foodstuffs and Countdown have already started allowing the public to take their reusable containers.
More on SunLive...