Four Kiwi Kayakers through in world cup round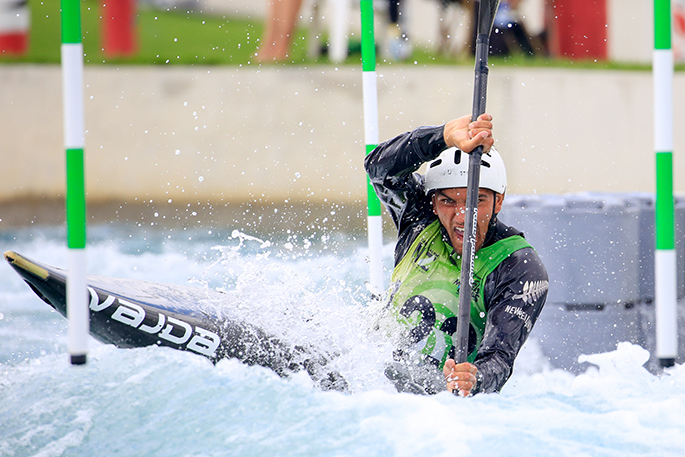 New Zealand's three men's K1 paddlers claimed an unprecedented treble by all qualifying for the semifinals of the latest ICF world cup canoe slalom round in Slovenia, joining teenage C1 paddler Hannah Thomas in weekend racing.
Finn Butcher in Alexandra squeaked in on his first run after posting an 83.89sec time, just inside the top-30 that automatically progressed. It was the second semifinal in succession for the 24-year-old, despite a couple of big mistakes and a 2sec time penalty for touching a gate.
He was joined by Tauranga duo Callum Gilbert and Jack Dangen after they finished inside the top-10 in the repechage run, with Gilbert's 77.67sec time good enough for second and fourth-fastest of the day and Dangen's 83.83sec run good enough for eighth and his first-ever world cup semifinal appearance.
"I'm pretty stoked to get a quality run down and I can't wait to race on Sunday where it starts from ground zero," Dangen said. "It's so good to be alongside Finn and Callum, who are paddling super-fast at the moment, and it's really good for me that we're working together as a group and I'm able to learn so much off them."
Those thoughts were echoed by New Zealand men's coach Pierre Labarelle, who was delighted for Dangen.
"It was definitely a step up for Jack today - he's been chasing after his first semifinal appearance for a while now and has had the speed to do it but never managed to put a run together when needed," Labarelle said. "Now he's finally done it, hopefully he'll be able to race a bit more free, as he's been paddling well the whole week."
Labarelle cautioned his paddlers their job was only half-done, however.
"The real race is starting now so we'll try to stay focused and sharp to have a great result on Sunday. They've shown that the New Zealand K1 programme is definitely part of the game now and it means that the hard work is paying off."
Thomas, meanwhile, also eased through to her second consecutive semifinal appearance, despite picking up two touches in her first run. Her adjusted time of 116.58 was enough for 19th, with the top-20 going through from the first heat.
"It felt a bit more composed than last week," the 17-year-old Auckland schoolgirl said. "It was a hard training week too, having to learn a brand-new course but I felt confident knowing that I can make it to the semifinals and just gave it my best shot."
Thomas was 38th in her first K1 earlier in the day, and 15th in her second run, but has settled on solid race plans throughout the world cup series so far and has shown when she executes them, she's fast enough.
She is also one of only three junior female athletes on the world cup circuit, along with rising American star Evy Leibfarth and Slovenia's Eva Alina Hocevar, with their rivalry set to go up several notches at next month's junior and under-23 world championships in Poland.
Of the other Kiwis in action, Kensa Randle was 44th and 21st in her K1 runs, while C1 paddler Ben Gibb was 36th and 17th in his two runs.
All four New Zealanders remaining will compete tomorrow night, NZ time.
More on SunLive...