Happy 'Tip it Tuesday'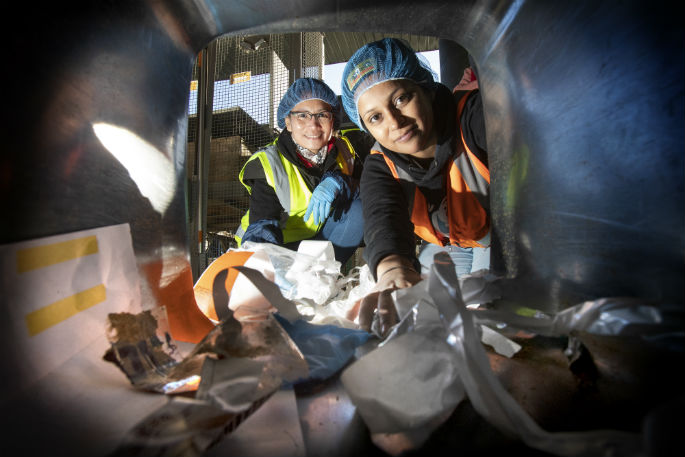 In Adelaide it's called "rubbish shame".
A local council's proposing rolling-out see-through wheelie bins to embarrass residents into better practises. Up the road in Sydney a whole new breed of enviro-fossickers are bums-up and heads-down in wheelie bins recovering containers attracting a 10c refund.
Wheelie fossicking is a huge industry – 607 million containers have been recovered and $54 million paid to consumers since the return-and-earn scheme began six months. Rummagers are making $2000 a week. One made enough to take her family home to Sri Lanka for a holiday.
Out in Te Puke there's a phenomenon called 'Tip it Tuesday' – the office wheelie bin for general waste, and destined for the landfill, is up-ended in front of teams of employees. No, it's not naming and shaming.
"We try not to do it that way," says Rachel Brodie, sustainability and communication co-ordinator. "It's a training exercise - to help staff understand and minimise the waste they produce."
'Tip it Up' Tuesday is a five minute conversation at Trevelyans – the huge kiwifruit and avocado packing and coolstore operation up No 1 Road in Te Puke. It's a company where sustainability and recycling is an entrenched culture.
The contents of the wheelie bin are picked over at this weekly team meeting to see what the biggest sources of waste are and what can be recycled.
"Should everything in that bin actually be in that bin, or should it be elsewhere, in another bin?"
'Tip it Up' is one of the company's 'big little wins' that collectively deliver big environmental gains.
"We truly believe every little bit counts," says eponymous managing director, James Trevelyan. "Even the smallest changes can have a huge impact on the environment in which we work – for good!"
And this huge post-harvest industry believes it is 'at the pointy end.'
"Just 10 per cent of the stuff we throw away goes to the tip," says Rachel. And they're working on breaking through that 10 per cent.
"Trevelyans has reduced its volume of waste to landfill to 33 tonnes per year," says James. "That's less than 10 per cent of our overall waste generated."
So last year the company diverted more than 300 tonnes of waste from the tip through judicious recycling.
"There's probably only a handful of things we don't know what to do with," says Rachel. "Like labelling sticky-back paper, like hairnets, like gloves."
It may require engagement with their suppliers.
"Do you have a compostable one of these or a recyclable one of those?" says Rachel.
Business partners have been asked to finds solutions to waste like plastic strapping, plastic pocket packs and tray liners used in kiwifruit and avocado packing.
The answer to the final 10 per cent might lie in recycling's seven R's bin. 'Reduce' - what can they use less of. 'Repurpose' - give something another use. 'Rot' – taking advantage of nature's natural decomposition process. 'Repair' - fix rather than throw out. Also 'reuse, rehome' and 'refuse' as in refuse to buy products that are overly packaged, disposable or designed to be used only once.
Trevelyan's own canteen is using more compostable packaging. And general waste bins have been removed from the main lunch area so the 170 fulltime staff are encouraged to bring zero waste lunches or take plastic food waste packaging home with them.
It's all contributed to the company dramatically reducing its carbon footprint and helping staff and business partners cut their waste in a bid to operate as sustainably as possible. Its latest annual sustainability report includes reducing its CO2 emissions by 50 per cent per tray since 2010 and diverting over 300 tonnes of waste from landfill last year.
A poll commissioned by the Ministry for the Environment last year showed 50 per cent of New Zealanders are either very worried or extremely worried about the impacts of waste.
Zespri's head of sustainability Rachel Depree likes Tevalyans' leadership on tackling waste.
"Moving from a take, make and throw society' to one which uses, re-uses or recycles is important and sets out what Trevalyans has achieved by making every action count," says Rachel.
More on SunLive...