Paper chain connections at Kollective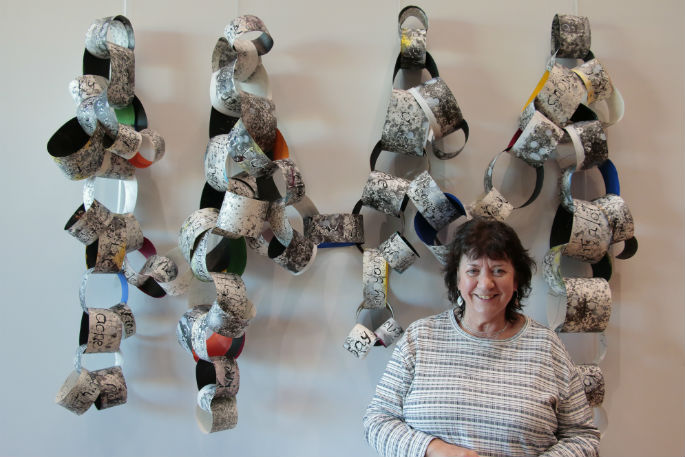 Carol Bisset's art installation at The Kollective speaks of childhood memories and the connectedness that comes through a sense of belonging.
"The use of giant-sized chains is intentionally playful as it touches on those happy childhood memories I have of making paper chains with my mother," says Carol.
The art space at the Kollective is interesting as it draws from light coming in through the large west-facing windows, with shadows being thrown and adding more to the 3D-piece.
Carol has used a monoprint and mixed media on card, incorporating short extracts from family letters which weave themselves through the chains like voices that speak of a time and place both familiar and strange.
She has titled the work: 'The strength, fragility and loss of family connections in the form of a childhood activity of paper chain making'.
"Though the linking of chains seems to suggest strength and connectedness, there is also an absence within the work that speaks of loss, disconnection and change," says Carol.
Carol Bisset is a resident artist with a studio space at the Incubator Creative Hub in the Historic Village.
Some of her most noted exhibitions have been held at Span Gallery, Melbourne, Centre of Contemporary Arts, Christchurch, Auckland University of Technology, and Studio 541 Auckland.
She was selected to become part of the annual 15 artists exhibition at Redcliffe City Art Gallery Queensland Australia, and has exhibited at The People' Gallery at Tauranga Historic Village in November 2018.
She holds a Bachelor of Fine Art (Hons) in Sculpture, De Montfort University, Leicester, Master of Fine Art, Royal Melbourne Institute of Technology, Post Graduate Art Teaching qualification and Master of Art Education, Birmingham Polytechnic UK.
The Kollective, located in 17th Ave near the Historic Village, is NZ's largest co-working space dedicated to not-for-profit, social enterprise and charitable organisations.
Carol's installation will be on show at The Kollective until July 20.
More on SunLive...