Tower battle looms in Te Puna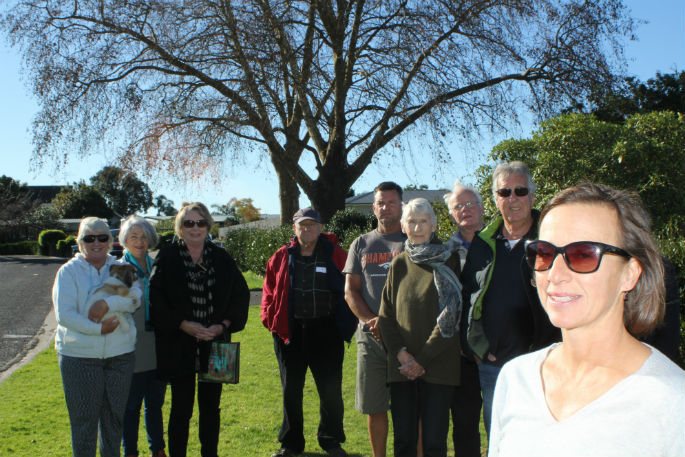 A family in Te Puna is pleading with Spark to stop plans for a large cellphone tower outside their house because their daughter is recovering from cancer treatment.
Jill and Dane Chalmers are just two of about 50 Wallace Rd and Matahiwi Rd residents who are concerned about plans for the new 12.5 metre tower, on the intersection of the two roads.
It would be built only a few metres from their house, in the quiet, established and well-manicured Te Puna suburb.
They received a letter in the mail advising them the verge outside their house was the preferred site. The following day about 20 residents gathered on a frosty morning to discuss the issue.
Jill says legislation was passed in 2016 that allowed telecommunications companies to install cell phone towers on public land without a resource consent and that recently became law.
"Just because they can doesn't mean it's right."
She says her daughter has just finished chemotherapy and has been told to avoid any kind of radiation. And she has, to the point where she has not even had a scan to see if the treatment for Hodgkin's Lymphoma was working.
"I have asked, out of compassion, to please consider any alternative site because I am fearful of the additional radiation."
She also questions why the tower needs to go in such a beautiful spot, when other towers were generally located in commercial areas.
Spark corporate relations partner Arwen Vant says the site was chosen because it was the best place to service the most people, however the site at Te Puna is under review.
"We have had feedback from the community, so we will now take some time to consider this."
He says all of Spark's cell sites operate within national and international safety limits, which incorporate substantial safety margins.
He says Te Puna has seen "unprecedented growth" for digital services with community data usage increasing by over 1000 per cent in the last three years.
Mobile and data connectivity is being delivered to Te Puna by an existing site that is reaching capacity.
"Soon the existing site won't cope and users will start to experience issues like dropped calls, loss of connectivity to services and coverage issues. This loss of service has the potential to effect day to day accessibility to services, business efficiency and connectivity issues during emergency situations," Arwen says. The residents argue that they have just recently had fibre installed in the area and the new tower will only be of benefit to neighbouring suburbs.
More on SunLive...