Daffodil Day a 'change for better'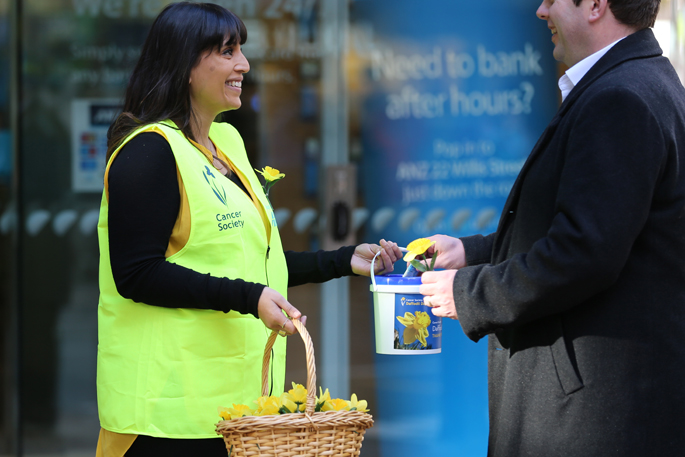 Cancer Society staff and volunteers are preparing for New Zealand's largest fundraising street appeal, Daffodil Day on Friday, August 30.
In the Waikato/Bay of Plenty region, more than 1400 volunteers join in the fundraising efforts, with the aim to give help and hope to those facing cancer in our local community.
This year's theme for Daffodil Day is 'Change for better', recognising that every dollar donated to the Cancer Society helps make hard times a little better for the 1 in 3 kiwis affected by cancer, their whanau and friends.
"By donating your spare change – and more if you can, you are helping to make a direct and positive difference in the life of someone facing a cancer diagnosis," says Catriona Findlay, fundraising manager for Waikato/Bay of Plenty Cancer Society.
"Every day we provide expert information services, counselling, nutritious meals, accommodation for people undergoing treatment at Waikato Hospital, transport to treatment and much more.
"Your donation helps fund these cancer support services for people in our community, providing practical and meaningful assistance during some of the most challenging times in their lives."
Catriona says Daffodil Day donations are also an important investment in a better future.
"Your generosity also makes it possible for the Cancer Society to be a strong and impartial voice for change to improve cancer outcomes in New Zealand, fund important education and prevention campaigns as well as contribute to vital cancer research in New Zealand."
ANZ has been a major sponsor of the Cancer Society since 1990 and the principal sponsor of Daffodil Day. Each year ANZ staff get involved in fundraising activities that fund services and support for kiwis with cancer.
Those interested in volunteering for Daffodil Day preparations and street appeal collection should visit www.daffodilday.org.nz.
Donations can be made at www.daffodilday.org.nz, at any ANZ branch during August, or during the street appeal on Friday 30 August.
More on SunLive...