Further analysis on Mauao base track repair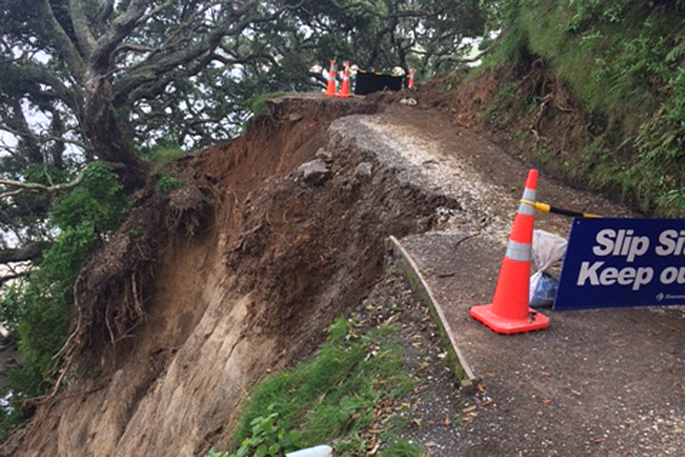 A decision has been made to seek more information on the different options to repair the slip on Mauao that destroyed part of the base track.
At the Projects, Services and Operations Committee today, Tauranga City Council staff sought direction from the committee on the preferred construction option and approval of additional budget to undertake the works.
However, the mayor and councillors unanimously agreed that further analysis should be completed before a decision is made.
Councillor Leanne Brown, Chair of the Projects, Services and Operations Committee says they need to find the best long-term solution to future proof a vulnerable area of the mountain.
"We recognise that Mauao is of special interest to the community and to visitors, and is also of significant importance to Tauranga Moana iwi.
"We need to further explore options to repair the mountain, taking into consideration the archaeological resources, ecological environment and cultural values of Mauao.
"It is not as simple as bringing in a digger and rocks. Whilst in the eyes of the community, it has taken too long to make a decision on the repair; we need to ensure we find a solution that is possible, will be approved by Mauao's owners and Heritage New Zealand, and delivers on community expectations."
Mauao is private land owned by the Mauao Trust, held in the names of the three Tauranga Moana iwi (Ngāti Ranginui, Ngāi Te Rangi and Ngāti Pūkenga with Waitaha a Hei as an advisory trustee). Tauranga City Council works alongside the Mauao Trust to manage the reserve. This administration body is called Ngā Poutiriao ō Mauao.
Background summary
• A significant slip occurred during ex-cyclone weather events in April 2017

• Damage sustained washed away part of the track

• A temporary set of stairs were put in place to provide a short-term solution and enable access

• In 2017, Tonkin & Taylor undertook a high-level options analysis of the possible track remediation options

• The preferred option was presented to the mayor and councillors, who approved the initial budget

• The budget has subsequently increased due to a number of complexities that arose as the design process was worked through – full details in the committee report.
More on SunLive...