BOP clock maker calls time at 93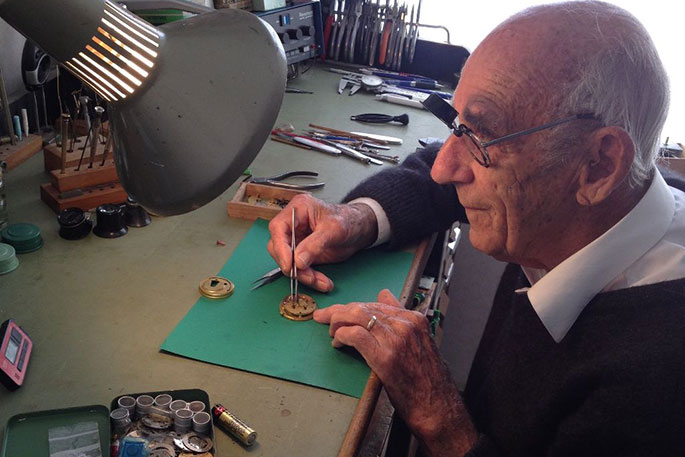 Bill Groves is 93.
Since 1948, making and repairing watches and clocks have earned him a crust.
Some crust, as his weekly wage of 12/6 when the average take home pay was £5.
But if he lived life and earned in a microcosm, he leavened that with bigger projects.
One was a Harvard, the World War 11 fighter used in peace to train pilots.
He replaced tweezers with spanners to restore Miss Marianas, NZ Wing, Confederate Air Force.
Nor was his life confined too little and big tinkering.
For Bill Groves tramped everywhere in the northern reaches of the South Island. He hunted too in the hills of Marlborough.
Bill also drives for the Foundation for the Blind. He is about to retire that role, too. His wife, Sylvia, who died four years ago, was blind. He took not only Sylvia on trips but others, too. After Sylvia died, he continued to drive for the foundation.
Bill continued to inter-tinker with his watches and his hobbies. For over the years he, a former wood turner in war time New Zealand, retained this talent before his avocation with time pieces.
Why clock making? "I was always interested in tinkering – and it meant I also avoided the [workplace) dust," he says.
He worked 62 years in Whanganui. His old shop has been demolished. Two weeks ago, Bill returned to a façade on the site where his shop once stood. A man in a car drew near him. "I said to him 'I used to own the shop', and he replied 'I know – I was one of your customers'."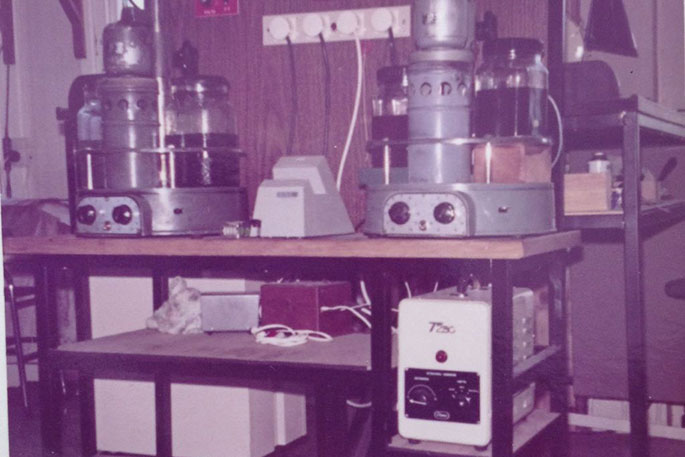 Inside his Wanganui store.
Bill cannot say if he's the oldest clock maker in New Zealand. But he says airily he's the oldest still working until now.
He started as a watch maker in October, 1945, soon after returning from active service in the Pacific (Guadalcanal, Bougainville).
But earlier on leaving school aged just over 14, he began a wood turner apprenticeship. Bill joined the RNZAF in 1943, as an LAC (landing aircraft section) by which time the Pacific conflict was in full flare.
After serving 12 months, though merely a boy by even today's measures, the Atom bomb was dropped on Hiroshima and Nagasaki.
"I was home 12 to13 days after the war was over and that's when I applied for a job as a watch maker with Eric Bulmer."
Bill says he operates on the bench he started with – 73 years later. Remnants of those days remain, with blackened parts of the working area redolent of a heavy smoker – Eric not Bill.
Five apprentices worked for Bill over the years.
"My first apprentice lives over at Papamoa now. He rang me some years ago and said 'I'm an old age pensioner now!'"
His life has been one of precision. From the instruments of torture as it were in aircraft in which he flew, Bill was now becoming adept at watch making and repairs and retail. The Swiss manufactured Quartz became fashionable in the 1950s and 1960s. They had a certain permanency. Sub quality watches – novelty watches, and who has not heard of the Mickey Mouse variety? – became curios and childhood possessions. Why their short shelf/wrist life?
Bill says brass points, which wore down, replaced the diamonds which were durable.
The first Quartz Bill saw was produced by a Swiss agent who showed a watch about an inch cube in size, he says.
"We all thought that was in the future, that we would not have to learn about it straight away, but it came in almost overnight."
Was Bill's best, most satisfied customer was the owner he did not see again?
"I guess that's right but they also knew where they could get it fixed – we were pretty busy then."
Bill's work place is deceptive.
On his walls hang recognitions, along with a sketch of his Harvard and a photograph of Bill beaming atop the real thing he had taken 13 years to restore.
Two certificates mark the week he represented NZ at the American Watchmakers Institute in 1951.
The glass encased certificates are showing their age, mellow in the drenching morning sun. His room looks spare.
As if to disprove the adage that there is much room in small spaces, he stows in multiple draws many thousands of parts needed to repair watches. He takes orders, but they are irregular now.
Today's world renders his old calling a memory. Almost. Orders are no longer taken by the minute or even by the hour or by the day. Instead, in today's world watches are generally replaced by newer, cheaper numbers with sub-standard parts.
Bill Groves is saying goodbye to a world that fascinated Shakespeare (a clock appears in Julius Caesar even though they were not invented until the 14th Century) and London's Big Ben which regularly sucks many thousands of pounds in repairs.
He also leaves "miles of parts" he says, like axles, that will be never be used. Parts for repair were made from other parts.
The days when in Whanganui he repaired watches from all over the North Island except Wellington city are at an end, too.
He shows Rotorua Now how and why diamonds are a watch owner's best friend.
But it is all Swiss to us…
More on SunLive...