Tauranga mother's worst nightmare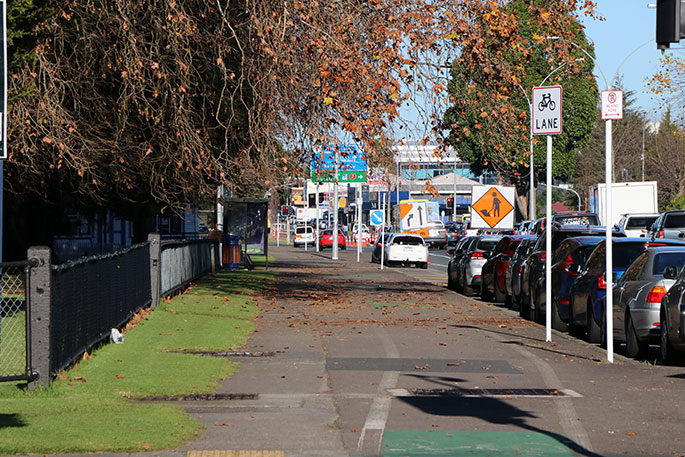 A Tauranga mother says not all "millennials are a lost cause" after her worst nightmare unfolded before hear eyes.
Kerri-ann Tutemahurangi says it was the scariest thing to see a man ran up behind her six-year-old daughter and yanked her off her bike.
Kerri-ann and her daughter Bella were heading to Countdown on Cameron Road, near Tauranga Boys' College at lunchtime on Monday, when a man ran up behind Bella, grabbed her by the arms and yanked her off her bike.
"He was trying to run off with her.
"I have never run so fast in my life. I was about 20-30 metres away from her and all I could think of was 'someone is trying to take my girl'."
Kerri-ann says Bella was screaming and trying to pull away from the man.
"I grabbed her around the waist and pushed the man away. He then he grabbed both my wrists and started talking in gibberish, it was then I realised that he was mentally ill and I tried to speak to him calmly, but he was starting to hurt me as he tightened his grip on my wrists and trying to kick me."
Kerri-ann managed to free herself from the man and ran to her daughter, all the while screaming for help.
The pair made their way to gates of Tauranga Boys' College, when a few boys came over to see what was going on.
"They grabbed Bella and put her on the other side of the fence away from the man, protecting her, while about 10 other boys jumped over and stopped the man from coming any closer," says Kerri-ann.
"I quickly called the police, and the students and teachers kept the man away from us until they arrived."
Kerri-ann says it was like something out of a movie.
She says police took statements at the scene and took the man away.
"It was literally the scariest thing to ever have happened to me.
"I am in tears writing this, I could've lost my girl. She was attacked by an ill man," Kerri-ann says in a message to SunLive's Facebook page.
"To hear her scream and cry the way she did, will haunt me for days and nights."
Kerri-ann is grateful for all the help she received from the students at Tauranga Boys' College.
"I would like to thank the students for reacting quickly and calmly, and especially for keeping my girl safe from harm.
"Thank you for letting her watch movies with you all and showing her how to do tricks on her bike, offering her snacks and keeping her happy while I was with the police.
"I am so very grateful. And thank you to the teachers who came to our rescue as well.
"Thank you to the carers who have offered us support after such an ordeal and to the police who acted so quickly and we're there in a heartbeat! It's a crazy world out there now whanau. Keep your kids close to you at all times."
A police spokesperson says police did take a person into custody following the incident.
"We have spoken to them and the person is receiving ongoing treatment."
As the matter is related to mental health, police are unable to confirm any other details.
More on SunLive...