To scoot or not to scoot in Tauranga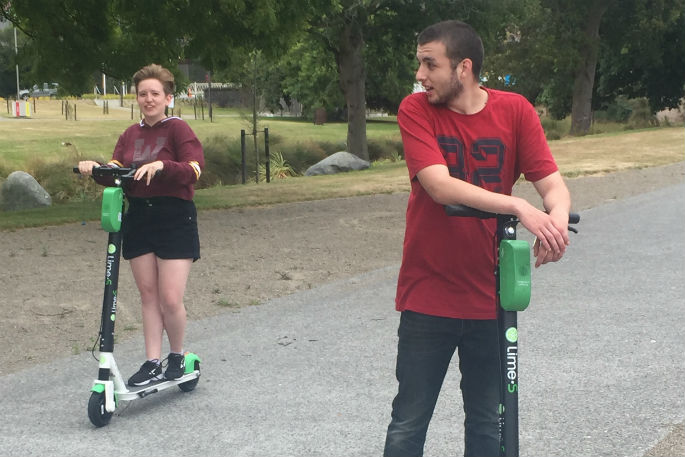 Auckland's got Lime. Wellington's got Flamingo and Jump. New Plymouth has Blip and even Taupo's got Glide, albeit on trial.
But Tauranga? Zilch, nothing! Not yet. And so if you want to ride an e-scooter in the country's fifth biggest city, you have to go buy one.
Four companies have approached the Tauranga City Council seeking permission to start up a ride share e-scooter business in the city. One is the ubiquitous Lime. But Tauranga wants to learn from the experiences of other cities first, so no hire e-scooters anytime soon.
"Currently council is not giving permission to operate such a service in Tauranga," confirms TCC acting infrastructure manager, Martin Parkes. It does see the potential of e-scooters. "However, there are a number of legal and safety issues that need to be resolved before we will give this matter further consideration."
Blip is an e-scooter company started up by Tima Al-saedy and her partner Ahmed Al-Jumaily in their hometown of New Plymouth. Their scooters racked up 10,000 kilometers in the three months they've been operating. So successful in fact, they started looking further afield – to Tauranga which has nearly twice the population of New Plymouth and the quarter of a million cruise ship passengers looking to get around town.
"We are currently in contact with the Tauranga council," confirms Blip director Ahmed. "But we don't have any progress to report on. We would be more than happy to give you more details after completing our initial discussions with the council."
Those initial discussions probably told them 'nothing doing' at the moment.
"We are watching closely what is happening with e-scooter schemes in other cities in New Zealand, in particular Auckland," says Martin Parkes. "The learnings from these cities will help us determine a way forward for Tauranga."
The Blip directors say they just want people to get out of their cars and start exploring the city. All was going very well with the company - 4,000 customers scooting 10,352 kilometers in four months. Blip reports "minimal" bad feedback and was aware of only one crash caused by human error.
The Taupo District Council is punting on e-scooters and a local enterprise. Glide Scooters will be on trial in the tourist town from next month. Glide e-scooters were different to Lime and other scooters in that technology could be used to control their speeds in certain locations, determine places they could and could not go and where scooters had to be returned to.
The speed limit in the Taupo town centre would be limited to ensure safety for other footpath users. The trial runs through to March 2020. The scooters are expected to be a hit with holiday makers over the summer period.
More on SunLive...