Kiwi kayaking teen makes World Cup semi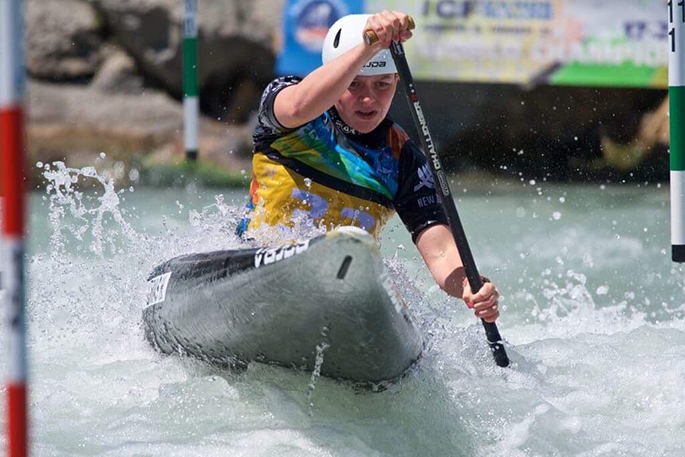 Auckland schoolgirl Hannah Thomas booked a spot in her first ICF World Cup canoe slalom semifinal after finishing ninth in the repechage in Slovakia overnight.
The 17-year-old overcame some tricky gate placements on the harsh Bratislava course, posting a time of 124.40secs to easily qualify in the top-10 that made it through the second run.
She joined teammates Luuka Jones (women's K1) and Finn Butcher (men's K1) in the semifinals after a brutal day which saw some big-name paddlers miss out.
"It is a tricky course and it was hard to adapt to my new C1 boat, as well as the water levels changing each day of training," says Hannah. "But I was feeling really good on the water in both my kayak and canoe and felt solid, despite a couple of touches. I'm really happy with getting into the semifinals and I'm really excited about getting out there and racing on Sunday."
Earlier, she'd missed the seventh gate in her first C1 run to collect a 50sec penalty, as well as picking up two touches, but kept calm in her second run. She finished 36th in her first K1 run and was just 6.19secs off qualifying in her K1 repechage as well.
That K1 repechage was won by Luuka with a classy 99.73sec run, a time that would've put her sixth in the first run.
Germany's Ricarda Funk qualified quickest in the women's K1, posting a 96.51 run to finish just ahead of Slovenia's Eva Tercelj in 96.72, with world champion Jessica Fox third in 98.26.
Finn, meanwhile, qualified for his second consecutive World Cup semifinal after a clean 93.87sec time left him just 5.61secs behind France's Quentin Burgi in 17th spot. Quentin's 88.26sec effort was almost two seconds quicker than Australia's Lucien Delfour (90.22) with Poland's Dariusz Popiela completing a surprise top three in 90.47.
Finn's teammate Callum Gilbert struggled, after the highs of making the final in the opening round in London last week and finishing fifth - he picked up a touch in his first run to finish 40th in 103.52, then was just 1.07secs off qualifying in the repechage, finishing 15th. Jack Dangen was 53rd after missing a gate in an otherwise fast first run, thn 24th in his second.
Other Kiwis in action were Patrick Washer and Ben Gibb in the C1, with Ben missing gates in both his runs and Patrick picking up two touches in his first run to finish 43rd.
Several big names needed second runs to get through to the semi-finals of the men's C1, including five time Olympian Michal Martikan in front of his home crowd, and French duo Cedric Joly and Martin Thomas.
New Zealand's Kensa Randle was also 47th and 30th in her two K1 runs, while Cook Islands duo Jane and Ella Nicholas were 39th and 41st respectively in their first runs, with Jane posting a clean second run to be 18th, just behind Hannah.
Luuka will be the sole Kiwi in action tonight in her K1 semifinal, while Finn and Hannah will race tomorrow.
More on SunLive...