What's on – pets, pois, planting and a book fair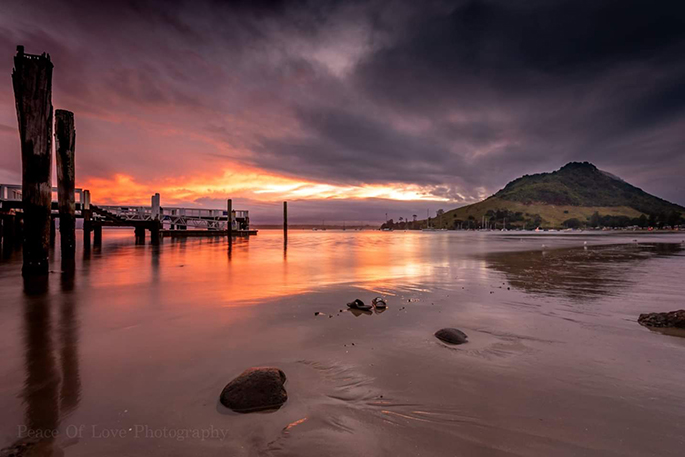 Kia ora and welcome to Saturday. You just made it through 2019's shortest day. From now on, we can start to break out of the winter funk, although we have cold weeks ahead.
In terms of daylight, we should get at most nine hours and 46 minutes of light today, nearly five hours less than on December Solstice. Say goodbye to the sun about 5.04pm.
If you woke before 8.30am you would have found it's below 10 degrees outside, but the great news is we will manage to reach a high of about 13-15 degrees by about 2pm today.
The weather forecast is for high cloud increasing, and southwest breezes which should ease later. It's a three-clothing-layer day with an expected overnight low of 6 degrees.
On Sunday June 23, we're expecting occasional rain, and westerlies developing in the afternoon. Monday through to next weekend are forecast to be mainly fine, with little wind.
Overnight temperatures during the week are expected to average about 5 degrees.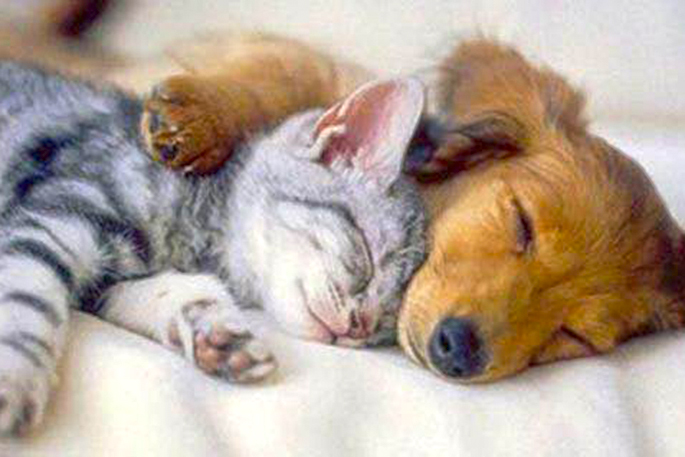 The ever popular Bay of Plenty Pet and Animal Expo is on today and tomorrow from 10am – 4pm at Trustpower Baypark. Home of the cute and cuddly, fluffy and fabulous, this show is bigger and better, with an array of pets and latest pet services to fuss over. More here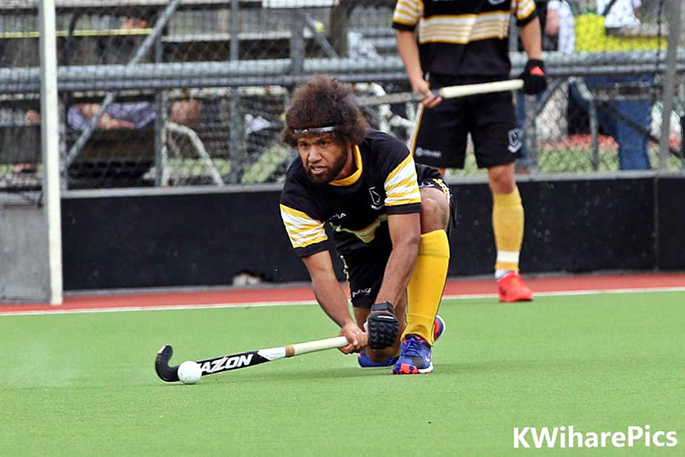 Photo: KWiharePics
Do you love hockey? Today the McLeod Hiabs United Men's Hockey team take on Collegians from Hamilton. The United lads will look to build on a solid performance from last weekend and need the home crowd support to get over the line. Get down to Tauranga Hockey at Kawaka St to catch the game, starting at 3.30pm.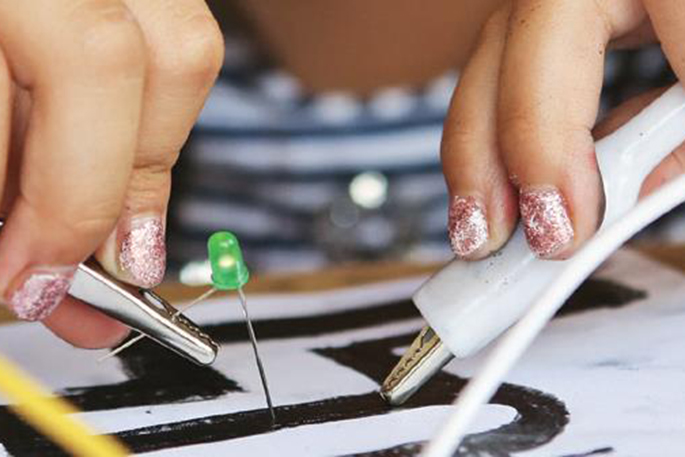 Is sewing more your thing? The Matariki e-Sewing Session is being held at Tauranga City Libraries this morning from 10.30am – 12.30pm. Decorate and sew your very own stuffed toy stars which lights up when being squeezed. More here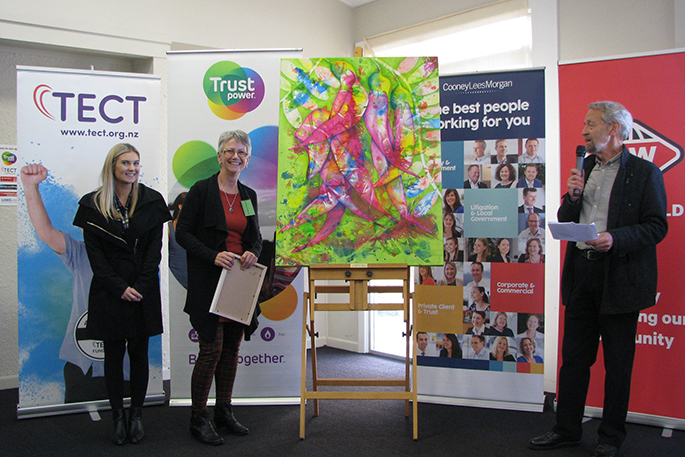 TSA/Trustpower Supreme Award runner up Christie Cramer pictured with Judge Graham Crow
The Tauranga Society of Artists is running their Art Expo including the Trustpower Supreme Art Award at the Elizabeth St Community & Arts Centre from 9.30am – 5pm today and again on Sunday June 23. More here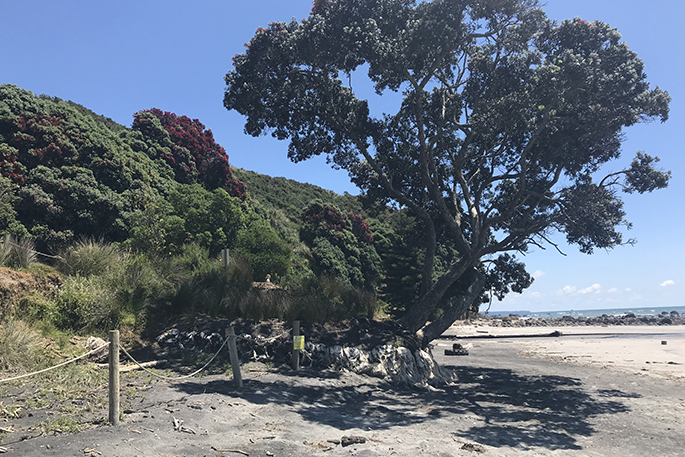 Newdick's Beach
There's a Dune Planting Day at Newdick's Beach, Town Point Rd, Maketu from 9.30am – 12.30pm today, hosted by Coast Care Bay of Plenty. Come and help protect our previous sand dunes and have some fun at the same time. Gloves, equipment and refreshments will be provided. More on this here
Sustainable Coastlines are running a Beach Litter Monitoring Training Workshop at the Mount Maunganui Lifeguard Service, 21 Adams Ave, today from 1-5pm. The free workshop will pass on the skills in surveying, data collection, and Health & Safety that will allow attendees to play an important part in this long-term effort to contribute data to New Zealand's first national beach litter database.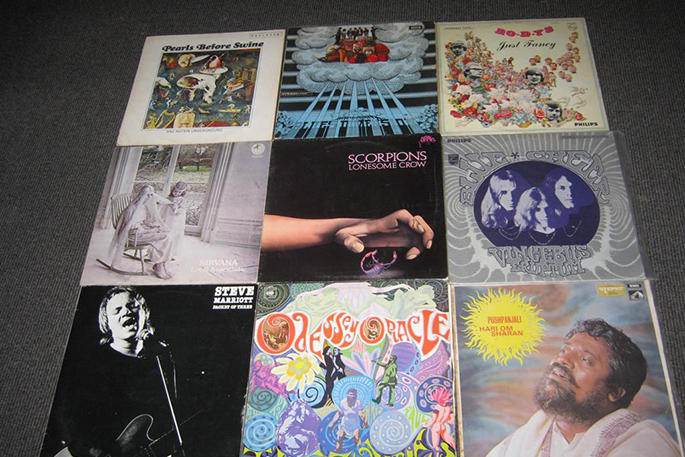 Down at the Tauranga Historic Village today, the Jam Factory is hosting the Tauranga Record Fair from 11am – 4pm. Come and find your groove, trade a few vinyls.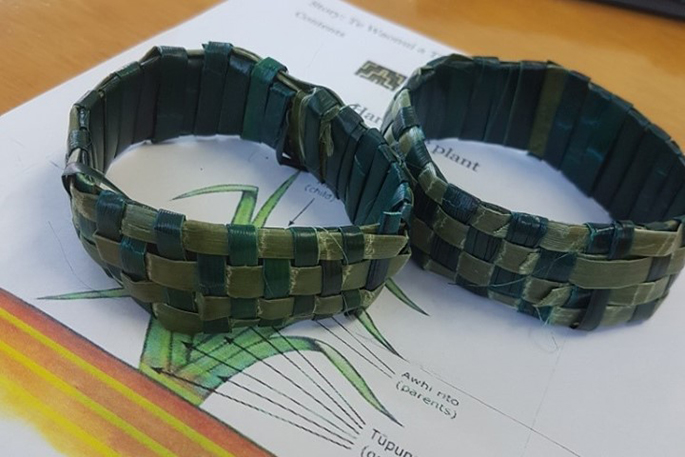 Nearby at the Artery, also located at the Tauranga Historic Village is a raranga – flax weaving workshop from 10am – 11.30am. Come and create a bracelet or basket at this free workshop being organised as part of the 2019 Tauranga Moana Matariki calendar.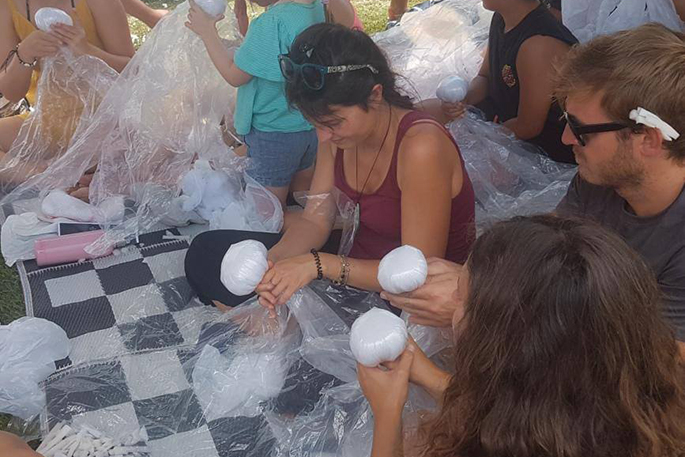 You can also come along to learn Maori poi making at the Artery from 10am – 11.30am, or from 12.30-2pm.
Also at the Tauranga Historic Village is the group exhibition 'Te Whānau O Matariki - An Exhibition' at the Incubator Creative Hub. The exhibition runs from 10am – 3pm today. For more information click here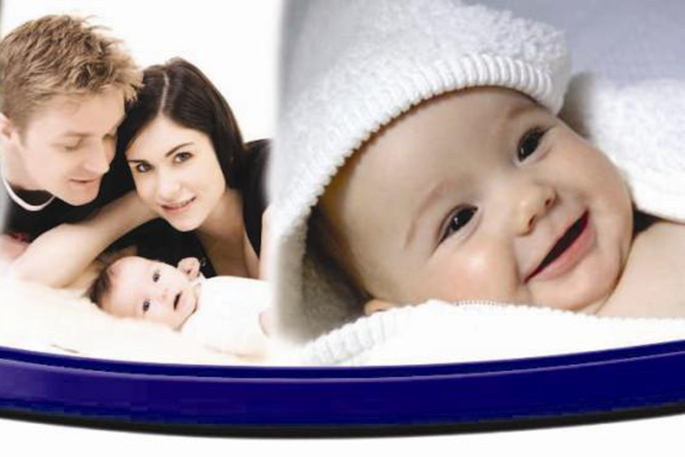 The Tauranga Parent Centre are hosting a Winter Wonderland Family Fun Day from 11am – 1pm at Tauranga Historic Village with rock painting, free sausage sizzle, free face painting, raffles, prizes and much more. They will also be holding their AGM at 1pm following the event; anyone is welcome to attend to learn more about how to get involved.
The Zee Market is on at the Tauranga Historic Village from 10am – 2pm with an array of stalls lining the streets.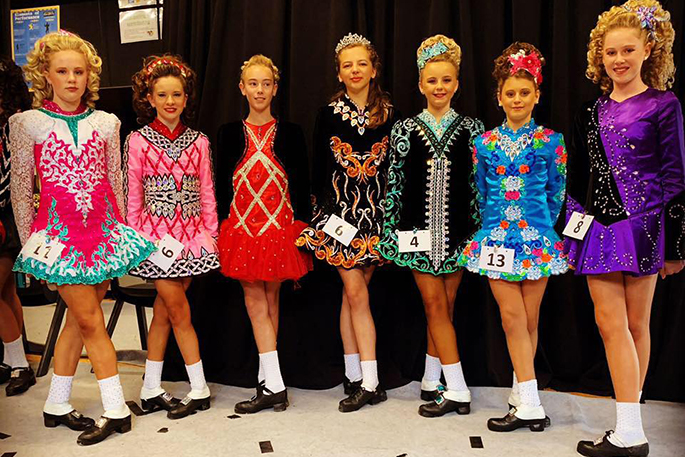 The Scoil Rince Ni Ghabhann Irish Dance group are running their barbecue fundraiser today outside The Warehouse in Cameron Rd, Tauranga from 8am – 2pm. Come and meet some of the dancers and their families.
The Wharf Community House are hosting their annual Backpacker's Midwinter Christmas today from 1pm – 4pm at 24 Wharf St, Tauranga. Bring your favourite International guest/backpacker and come and celebrate a midwinter Christmas with Christmas carols, decorations, and delicious food from all over the world. It's a potluck, so bring your favourite Christmas plate to share with others.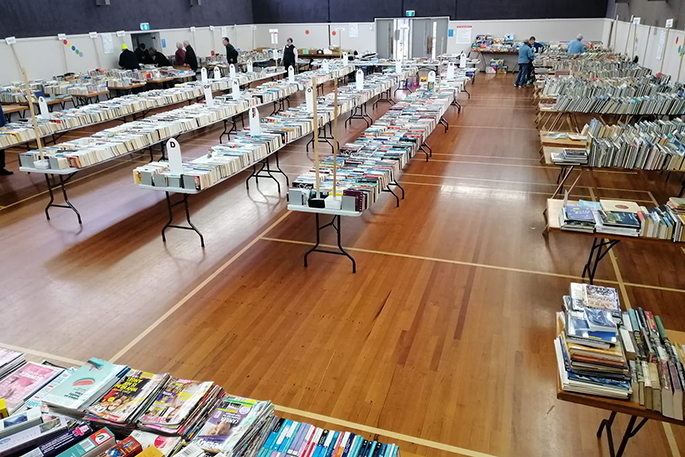 In Te Puke, the Te Puke Kiwicoast Lions Club are hosting a huge Book Fair at the Te Puke Memorial Hall from 9am – 5pm today and Sunday from 9am – 3pm. For more about this click here
For more of what's happening today see below:
Art In The Park
Next Dates 13th & 27th July 9am-4pm. Weather permitting. Coronation Park. Mt Maunganui. Tauranga Society of Artists
---
Art On The Strand
Original Art for sale. Weather permitting. 9:30am-4pm. Tauranga Society of Artists Inc
---
At Zee Market
Today we have an array of stalls lining the street of the Historic Village, handmade, handcrafted, home made, come along 10am-2pm
---
Bay Network Singles Club
Single, over 50? For weekend dinners, barbeques, outings. Ph Jonathan 572 2091, Maureen 021 112 3307
---
Greerton Hall Market
Last Saturday of the month. 8am-12pm. Stalls inside/outside. Discounts for charity groups. Refreshments available. Ph/txt for site. Tricia 543 1487 or 027 908 2952, www facebook.com/greertonhallmarket
---
Huge Book Fair
Today 9am-5pm Te Puke Memorial Hall. Another Te Puke Kiwicoast Lions Project.
---
LOL Laughter Wellness
We don't laugh because we're happy, we're happy because we laugh! Come join us. Arataki Community Ctr, Zambuk Way, Mt Maunganui. 11-11.45am. Ph: Trish 0220366768 or Email: lollaughterwellness@gmail.com
---
New to Tauranga?
Join us for an enjoyable long-table, 3-course dinner at a top Tauranga restaurant, Sat 13th. For more info lynne@wordsplusmore.co.nz or text 021 131 5341
---
Oliver! The Musical
Tauranga Boys' & Girls' Colleges present their combined musical, Oliver! Graham Young Youth Theatre 25-29 June www.oliverthemusical.co.nz
---
Otumoetai Tennis Club
Adult tennis. Start time 1pm. Bellevue Park Windsor Rd (adjacent to swimming pool complex). New players & visitors welcome. Ph Fred 544 5088
---
Petanque
1pm Tuesday & Saturday 45 Kawaka St, Club Mt Maunganui. No Equipment needed, come & try this low-impact sport. Jo Ann 578 3606
---
Rhythm Foxtrot & Waltz
Ballroom dancing at Mt RSA Thurs 10am-12pm & Tga Citz Club on Sat afternoons. Ph 572 4272
---
Social Ballroom Dance Party
All welcome on Sat 13 July 7:30pm Bethlehem Hall, 239A State Highway 2, Bethlehem. BYO drink & nibbles. Strict tempo music. Ph 544 2337 or 027 322 1786
---
Sunshine Sequence Dance Group
Come & enjoy tea dance, Sat June 29, Baptist Church Hall, 13th Ave. 5-9pm. $5pp. BYO food, plates, cutlery, non alcoholic drinks. Jan 544 4379
---
Taoist Tai Chi Tauranga
Beginners Class: 8:30-10am, at 15 Koromiko St, Judea. All welcome to join in any time. Great for stress, balance, flexibility. Friendly group. Ph 578 9116
---
Tauranga Scottish Society Sequence
Dance, Wesley Church Hall, 100 13th Ave, 7-10pm, Entry $7 includes supper & raffles, warm welcome. Ph Lucy 07 218 1318
---
Ten
Join Inzpire Dance Company for something extraordinary, as they celebrate 10 years. 3:30pm & 7:30pm Addison Theatre. www.baycourt.co.nz for tickets.
---
TeWhanau O Matariki Exhibition
Group Exhibition celebrating Matariki. The People's Gallery - Toi ka rere.
---
The Sociables
A group for females & males in their 30s/40s/50s age group that meet up for dining, bushwalks or local activities. Ph 022 012 0376
More on SunLive...