It's art from the heart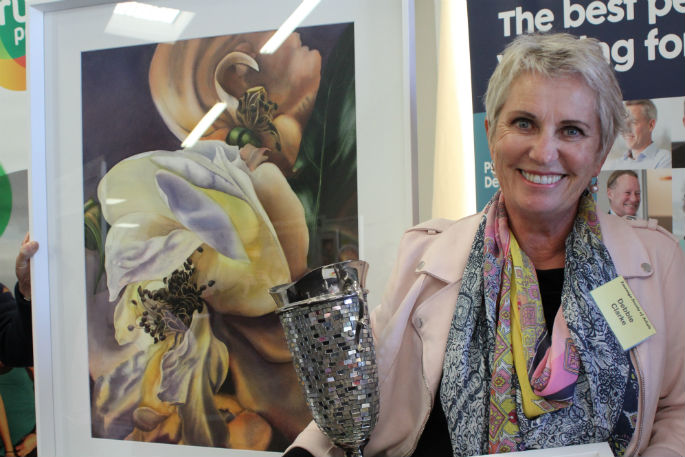 Tauranga Society of Artists launched into its five-day Art Expo this week and announced the winner of its Trustpower/TSA Supreme Award.
It was up to local artist Graham Crow to decide who would take home the winning prizes.
Tauranga Society of Artists president Debbie Clarke won the Trustpower/TSA Supreme Award, with her close-up watercolour painting of dying roses.
"I didn't know that Debbie was the president," says Graham.
"I just kept returning to this piece. I couldn't go past it. It is such a great composition and I like the detailing of the subject matter.
"It's an organic subject matter but it becomes abstract. It ticks all the boxes of balance, symmetry and harmony so that's why it won."
Debbie told The Weekend Sun she loves getting up close and personal with nature, and in her painting, she tried to represent the beauty of the latter stages of a flower's life.
She feels humbled by the win, "because there are so many other wonderful artworks in such an incredible range".
Debbie has been painting for just over three years and has learnt the majority of her skills through online courses and workshops.
"I am quite new to the world of art. I went to a watercolour demonstration a while back and it just lit a fire in me."
Debbie encourages artists of all levels to join the TSA.
"It's a really vibrant bunch of fantastic artists, and we encourage anyone to come along."
Recipients of the Merit Certificates were Robin Purllant, Bob Benge, Brendan O'Farrell, Leanne Adams and Marilyn Muirhead. Christie Cramer won the Runner Up Supreme Award.
The Art Expo includes 249 other works, not in the Supreme Award Section, which are also for sale.
The event is being held at the Elizabeth St Community Centre and runs until Sunday, June 23.
For more information, visit: www.taurangasocietyofartists.org.nz
More on SunLive...