Greerton Marist dare to believe in 2019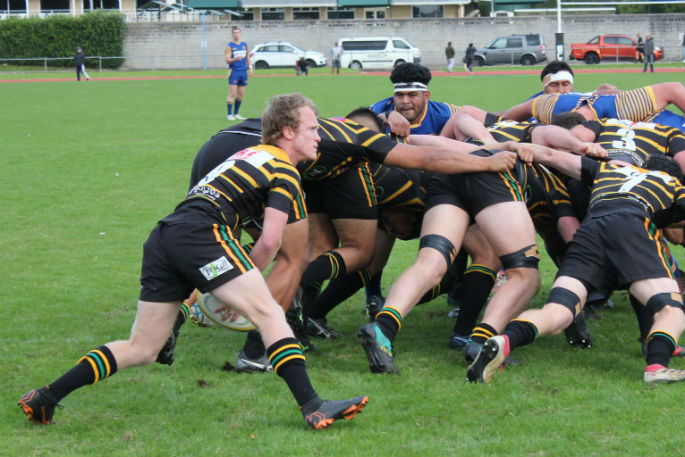 For the loyal and patient supporters of Greerton Marist rugby it has been a long time coming.
In the seven previous seasons since the club made it up into the top division of Baywide club rugby they have never made a semifinal.
But that may be about to change next month.
It is too early to start counting chickens or any other animals for that matter, but after last Saturday's defeat of defending champions Te Puke Sports it is Greerton Marist who lead the Championship table with four wins from four games.
Still to come are Mount Maunganui at Blake Park on Saturday, then Te Puna away and Rangataua Sports at Greerton Park before hopefully the semifinals.
Past President Terry Meredith, who began playing for Greerton as a bare foot kid, says it is no coincidence that things have clicked on the field with the return of coach Kane Parker.
He was last in charge in 2014 and has built an excellent coaching partnership with his assistant coach Phil Salamoe.
"The big difference this year has been Kane back at the helm. I think he is Level 3 Chiefs qualified and has coached the Bay Development team," says Terry. "He has a lot of knowledge but I think his strength is around structures, defence, set piece which are all key to developing everything."
The Greerton club hierarchy has been working on building up playing strength over many years and the local players are the centre of it all.
"We have guys who have come through the Colts and Development grades and Phil Tuigamala has some good contacts in North Harbour which has helped," says Terry.
"It is great for the supporters. We have been trying to do this for a long time and have had a lot of the same people, all on board on the same journey. These are pretty exciting times for us as a club."
Kane says it has been a challenge since the start of the season but they have exceeded expectations.
"There have been many times we have been really tested as far as our depth went, especially in the first six or seven rounds of round one, but now we have probably used about 10 players out of the Development side who have all had Premier debuts this year.
"They have all done well and it has forced us as coaches to really coach. Now we are benefitting from it and it is setting us up good for the future as well."
Kane says allowing the, mostly younger players, to enjoy their rugby and not get too bogged down in technicalities has been another reason for the Greerton resurgence this year.
"The more they enjoy it and the more freedom they get to work with their strengths, then the more they love it and that's why they play the game.
"We also have a good balance. We have five or six centurions who have played over 100 games and that has definitely helped with leadership.
"But we have won nothing yet. The next three weeks are big for everybody."
More on SunLive...