Coastguard camaraderie recovers stricken vessel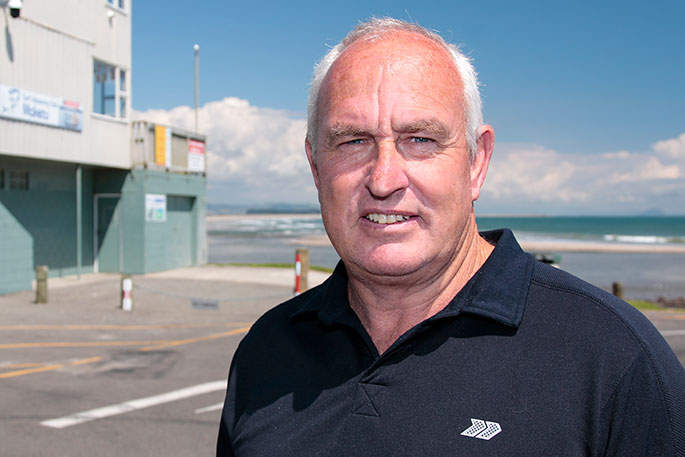 Three Bay of Plenty coastguard crews came to the aid of a Tauranga comrade after 16m launch got into trouble near White Island.
Shane Beech was the Maketu Volunteer Coastguard duty officer working Thursday afternoon when the call for help came from a stricken boat off the coast.
"We got the call just before 3pm," says Shane. "A 16-metre launch with seven persons on board with possible motor trouble off White Island and needing assistance back to Tauranga."
The owner of the struggling vessel was a member of Tauranga Volunteer Coastguard, which means for just a $10 membership payment, members are covered by every unit in the country, even if out of the Tauranga area.
Membership means that should a member need assistance on the water for them and their boat, in a non-emergency situation, they can be assured that the Coastguard volunteers will come to their assistance. This includes recovering them, and if possible their vessel, to the nearest port of safety.
"Unfortunately, it wasn't an option to bring it in to Whakatane because the draft was too big," says Shane. "
The decision was made to combine all three Coastguards to get this vessel back, firstly, because of the sheer distance, and being mindful of the fuel we have on board for towing such a big boat.
"And secondly, we knew the conditions were deteriorating quickly. It was important that we try and get this craft back as quickly as we could."
The Whakatane Volunteer Coastguard crew headed out about 3pm, found the launch, and then towed it for several hours, meeting up with the Eastpack Rescue Boat from Maketu.
The conditions were challenging with 25 knot winds, gusting to 35 knots, resulting in some rough sea.
"It was about 80 minutes from departure for them to reach the vessel," says Shane.
"There was good communications with the stricken vessel. No issue with that, obviously all the rescue boats have rescue equipment that can assist in finding the vessels."
Dane Robertson, the operations manager for Tauranga Volunteer Coastguards, says they got the call from the Eastern region Coastguards to prepare their volunteers about 3.50pm.
"We were told that there was a vessel about three nautical miles east of White Island, and they were going to need a hand," says Dane.
"Whakatane Volunteer Coastguard were unsure whether or not their vessel would be able to tow it because of its size. But they felt that they probably would be able to and they definitely did. So we just coordinated with each of the units so that we'd stay in communication and know when to start heading out so we could meet each other."
The Tauranga Coastguard TECT Rescue boat left Sulphur Point at 7.50pm with five volunteer crew on board.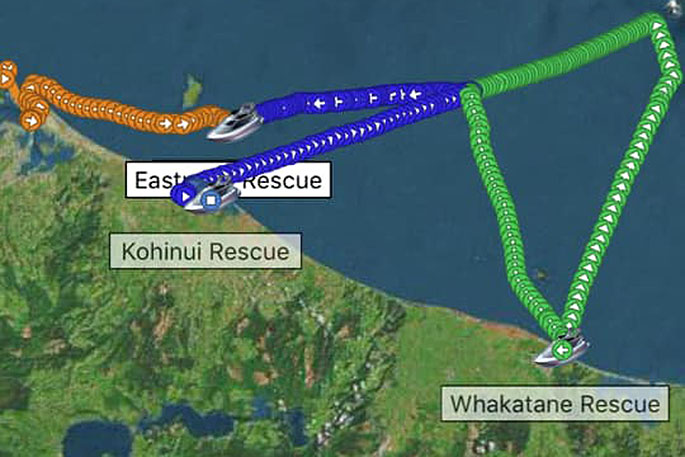 Eastpack rescue showing coordination between the three volunteer Coastguard units.
"The Maketu Eastpack unit towed the vessel for several hours heading towards Motiti Island, and met up with Tauranga Coastguard which finished the tow back into port," says Shane.
"They met up with Tauranga's TECT Rescue boat at 9.46pm," says Dane. "They were back at Sulphur Point at 12.23am."
"It took that long because of fuel and time. You don't want to be caught out there towing a big launch with really gnarly weather," says Shane.
Each of the volunteer Coastguard crews had five or six on board, with about another six ashore following the rescue and operating the radio. In total, about 21 volunteers involved, with many of them back to their day jobs the next morning.
It's not unusual for the Coastguard units to team up.
"All three of us have worked together before in search and rescues looking for missing boats and people in the water," says Shane.
"It's not unusual for two of us to work together.
"Because of the sheer distance and time, I think it was great for three Coastguard units to work together to achieve a very positive outcome."
Dane is taking the opportunity to remind boat owners that it's worthwhile to become a member of a local Coastguard unit.
"A 16-hour tow would cost almost $4500 in assist fees to a non-member!" says Dane. "Membership to Coastguard is a no-brainer. Just $10 membership, plus we ask for a donation and suggest $90. Save yourself huge fees and have the peace of mind Coastguard will be there when you need them. Join today.
"We are eternally grateful to all the volunteers at Whakatane, Maketu and Tauranga Coastguard that helped in the assist last night. Almost 16 hours of vessel time were dedicated to ensuring a Tauranga Coastguard member was able to get home safely. Thank you to James Berthelsen, Simon Barker, Gareth Johnson, Gary Gore and Vaughn Penman, who were on TECT Rescue for five and a half hours, and helped tow the 16 meter vessel through 2.5 meter swells in the Tauranga Harbour Entrance at midnight.
"I was talking to some of the crew members this morning and they said going through the Tauranga Harbour entrance- they didn't think it was going to be as rough as that," says Dane. "They've gone through rougher but they were a little surprised when they came in and thought yeah this is a bit bigger than what we thought we were going to see."
Fergi Fergusson, the duty officer at Tauranga Volunteer Coastguards, is very appreciative of the crews' hard work during the night.
"An excellent result showing the commitment and comradeship required for three different Coastguard units to work together for a great outcome," wrote Fergi on the Tauranga Volunteer Coastguard Facebook page.
"Being the Tauranga duty officer last night it was great to hear my old Whakatane crew involved as well. Well done guys all of you. Plenty of miles covered by the Tauranga and Maketu boats after last week's exercise too, another great cooperation exercise."
Back at Maketu this morning, it's a new day, with volunteers again ready for anything that comes.
Shane says they've had a bit of everything happening lately, with someone recently hitting the sand bar needing medical treatment, boats needing a tow, and boat roll-overs.
"We've got a bit of sleep last night. Today, we'll go down and wash the boat," says Shane.
More on SunLive...